Testing mattresses to find the best one to suit your needs shouldn't be a difficult process, but it can often be lengthy and tedious. According to the National Institutes of Health, humans spend approximately one-third of their entire lives sleeping or wanting to sleep, yet many people find themselves sleeping in beds that are too flat, too soft, or just generally uncomfortable.
Sleeping in a bed that's not tailored to your needs can lead to bad sleep patterns and overall poor health. "A good mattress is an investment in your daily health and overall wellness. It can make all the difference in how your body feels when you wake up. It provides adequate support to your back, neck, spine, and legs," Christina Heiser, content director for Saatva, told Homes & Gardens. This is why it's so important to try before you buy, especially when it comes to mattresses. Here's how you can ensure you find that perfect one.
Read Reviews
As a consumer, you should read the reviews of other customers before buying a new mattress. Oftentimes, customers may have the same concerns you have. You don't want to waste your money on a mattress that doesn't fit your particular needs just because it's in your budget or the newest trend on the market. Reviews can also give you insight into things like durability, customer service, and any potential issues that may arise with the mattress over time.
Test It in Person
When possible, the most obvious way to know if you're going to like your new mattress is if you test it yourself. If you're able to shop in-store, lay on the mattress in a number of positions, including the one you sleep in most often. Remember to wear comfy clothes, too. Notice how much the bed sinks or doesn't when you lie on it. If you can comfortably toss and turn without feeling like you are sinking, you are on your way to finding the best mattress.
It's also easy to get distracted by a salesperson in the store, so it's best to rely on your personal preferences no matter what. "As mattress comfort and preferences are personal, it's important to make sure that you find the type and style that's right for you and test it to make sure that it provides the personalized rest and comfort experience you need," explained Heiser.
Listen To Your Body
Most importantly, listen to your body. If you are prone to backaches or other body pains, lie in positions that may trigger your aches and see if the bed soothes you. Look for a mattress that provides the right amount of support for your spine, while also being comfortable enough for a good night's sleep. Don't be afraid to ask for recommendations from experts or friends who have similar issues.
Keep Temperature in Mind
Also, keep an eye on the temperature the bed releases when you lay on it. Does it remain cool? Does it feel hot quickly? Some mattresses can trap heat and cause discomfort during the night, while others are designed to promote airflow and regulate body temperature. If you tend to sleep hot or cold, consider choosing a mattress with cooling technology or breathable materials. The thickness and density of the mattress can also affect its ability to retain heat, so pay attention to that as well.
Look for Generous Return Policies
If all else fails, buy a mattress that has a generous return policy. Whether it's 30 days or a full year, knowing you can return a mattress if it isn't for you can prevent any extra hassle in the long run.
---
---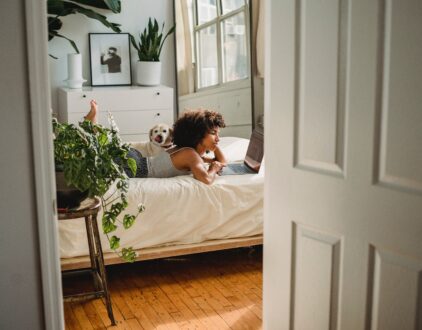 ---
Spaces
Whether it's luxury or ease, every area of your home should be as fabulous and unique as you.
FOLLOW ALONG ON INSTAGRAM
Find us on social for more home inspiration where culture, personal style, and sophisticated shopping intersect to help you create a home where you love to live.