Bathroom decor is a hot commodity, especially your countertop space. The countertop is essentially what grabs the attention of your guests and brings the bathroom together for a flawless, elevated look. Decorating your bathroom isn't as difficult as it may seem, either. It takes very little effort and time, all while transforming the overall look. An empty countertop space accompanied by only your soap dispenser is not enough. While you're on the right track, there's still more to go. Home and Texture curated a list of bathroom countertop decorating ideas to help you achieve your best look.
Build a bathroom counter vignette.
One of the most popular ideas used for bathroom decor is a counter vignette. A vignette is a collection of decorative objects displayed in an appealing way to make a statement. These objects can include candles, flowers and flower vases, hand towels, and more, all strategically placed in a tier or tray. Opt for at least three items. It's a beautiful way to really spruce up your bathroom and add style and personality.
Counter vignettes are easy to create and you can update them according to seasonal themes or when you have guests. When creating your vignette, it's important to balance practicality and stay connected to your style through your decor. Choose decorative objects that are aesthetically pleasing but are also useful and have a purpose. Consider items for storage, like vases or jars, to display on your counter. Depending on the design of the jar you choose, it'll be a modern look. Not too much or too little.
Add fresh flowers with a stylish vase.
If your bathroom counter is on the smaller side, a nice dozen of your favorite flowers and a chic flower vase is all you need. Most counters with double sinks don't allow any room for bathroom decor, but you don't need a lot to make a statement. Adding flowers is a great way to add color to what might be a very minimal bathroom. A pop of color in a neutral-majority area is necessary and will always be a great touch. This is also a great opportunity to bring nature to your bathroom. If you'd prefer greenery over colorful flowers, switch them out. Both can serve the same purpose.
Add trays to your countertop.
Adding a tray or tiered tray of some sort is the item you need to help combat clutter and organize your bathroom essentials. Trays add personality and can add texture. For example, if most of your decor items are neutral colors like whites, browns, or blacks, add a wooden tray for contrast and implementing that texture in your bathroom. It makes the area a little more homey, while also offering a little flair to your area.
On the other hand, if you're looking to go all modern themed with your decor, think about a marble or stone tray that fits best with the style of your bathroom and blends right in. For an industrial feel, think about using metal. Whatever you decide, a tray is a decorating piece that translates very well on a bathroom countertop.
Tiered trays are extremely useful for storage. While you'll want to watch out for clutter, a tiered tray is great for holding your hand towels, skin care products, or hygienic items, all while making your counter look organized.
Use modern hand soap dispensers.
Something so simple, like coordinating soap dispensers, can make a huge impact and change the look of your bathroom counter. Throw out the brand-named soap bottles and invest in matching soap dispensers—it's a purchase you won't regret. This little change adds a practical decorative element that speaks volumes. You can fill these liquid containers with your favorite product, whether it be hand soap, lotion, or hand sanitizer. Plus, when sold together, most liquid dispensers come with sticker labels to help indicate what liquid is in the bottle. These add a nice contemporary touch.
---
---
Decorate
Access design inspiration that infuses personality and culture into your spaces.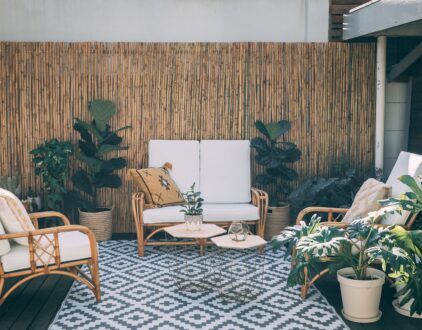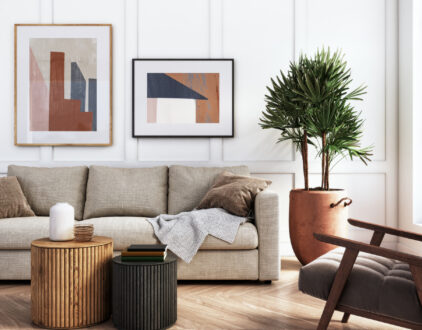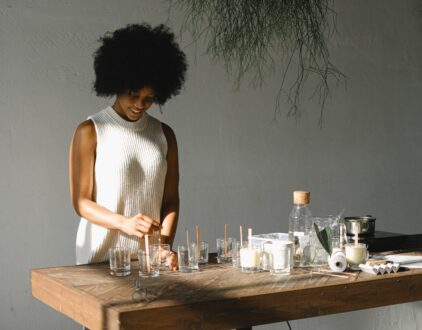 ---
Spaces
Whether it's luxury or ease, every area of your home should be as fabulous and unique as you.
FOLLOW ALONG ON INSTAGRAM
Find us on social for more home inspiration where culture, personal style, and sophisticated shopping intersect to help you create a home where you love to live.