Attention to detail is extremely important when curating a home that represents your design style and showcases your taste. One of the most overlooked aspects of a room when it comes to design is ceilings. The ceilings in your home are a chance to make your space appear larger, surprise and delight, and be a source of inspiration for visitors.
If you want to explore ceiling design ideas for a room in your home, start with your bathrooms. Bathrooms are great for experimenting with various colors and layers. They're a chance to create a fun, signature room in your home that doubles as a retreat.
Here are some bathroom ceiling ideas to add style, visual interest, and depth to your space.
Painted Ceilings
Add a pop of color to your bathroom by painting the bathroom ceiling. This adds depth to the room and creates a focal point and visual interest. Use a bold color or soft shade that complements the overall aesthetic of your bathroom.
Wallpaper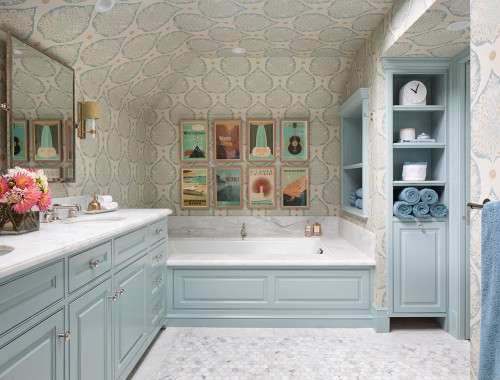 Add texture to your bathroom with wallpaper or decals specifically designed for highly humid areas. Look for designs that work well with the style of your bathroom. Opt for a bold pattern for eccentric bathrooms or a subtle design for minimalist bathrooms.
Molding
Install molding or trim along the edges of your ceiling for an elegant and luxe look. Crown molding can elevate the overall aesthetic of your bathroom.
Faux Tin Ceiling Tiles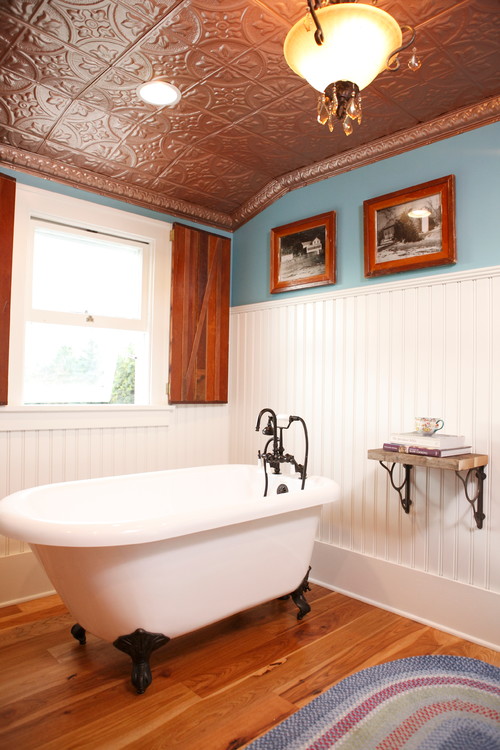 Add an industrial vibe to your bathroom with the addition of faux tin ceiling tiles. These tiles are lightweight and easy to install, creating a focal point on the ceiling. You can find these tiles in various designs and finishes to align with your bathroom's aesthetic.
Recessed Lighting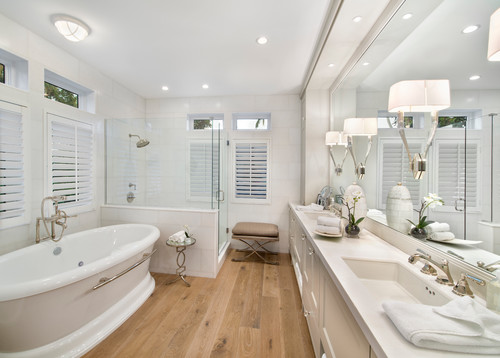 Give your bathroom a sleek and modern look with the addition of recessed lighting. These light fixtures give your bathroom a spa-like vibe with soft and ambient lighting.
Wood Paneling
If your design style can be defined as bohemian, install wood paneling on your bathroom ceiling. This adds warmth and a touch of nature to your bathroom. You can choose from wood veneer or reclaimed wood. There are many finishes to choose from to align with your preferences.
Mirrored Ceiling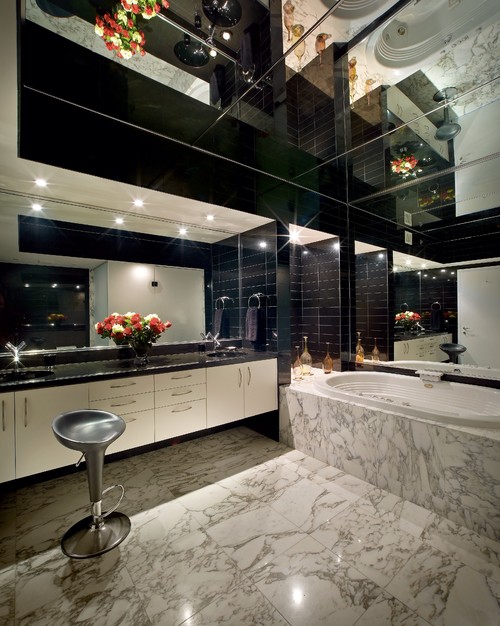 Mirrored ceilings are great for small bathrooms. They make your bathroom feel larger and brighter. You can install a framed or borderless mirror on the ceiling or use mirror tiles for a reflective, retro flair. Mirrors on your bathroom ceilings will make you feel like you're part of Beyoncé's Renaissance.
Skylight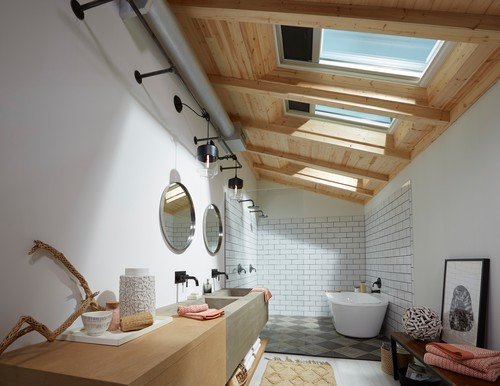 Skylights are a great way to bring natural light into your bathroom, creating an open atmosphere. It's a great way to bring nature into your bathroom, adding a serene element to your bathroom space.
---
---
---
Spaces
Whether it's luxury or ease, every area of your home should be as fabulous and unique as you.
FOLLOW ALONG ON INSTAGRAM
Find us on social for more home inspiration where culture, personal style, and sophisticated shopping intersect to help you create a home where you love to live.