There's nothing quite like having friends or family stay over at your place. The joy of hosting, the warmth of camaraderie, and the excitement of shared experiences can make for an unforgettable time. But what if you don't have enough guest rooms or beds? Air mattresses are a quick fix to instantly turn any space in your abode into relaxing sleeping quarters, especially if they're paired with buttery soft linens and other thoughtful details to make them feel at home.
Worried about providing your loved ones with restful accommodations? Air mattresses have come a long way since the lumpy, half-deflated messes you might remember. You can transform your home into a luxurious haven for your guests with these best picks for air mattresses.
Types of Air Mattresses
Oh, you thought there was just one type, where you're breaking your back over an air pump for hours? You might be surprised at just how many high-quality options there are to choose from when it comes to finding a comfortable air mattress.
Raised or Double-Height Air Mattresses
Raised air mattresses, as the name suggests, are elevated from the ground, providing a bed-like experience. They often come with built-in pumps for easy inflation and deflation. The raised design makes it easier for guests to get in and out of bed and gives the feeling of sleeping on a regular mattress.
Since they are closer to the height of traditional beds, it makes them more comfortable and easier to get on and off, mimicking the experience of a regular bed even further.
Self-Inflating Air Mattresses
Self-inflating air mattresses are equipped with special valves that automatically inflate the mattress when opened. This makes the setup process a breeze, saving you time and effort. They are also known for their consistent firmness and support.
Luxury Air Mattresses
Luxury air mattresses are crafted with premium materials, providing the ultimate sleeping experience. They often come with advanced features such as remote-controlled inflation, adjustable firmness, and plush pillow tops for added comfort.
Factors To Consider When Choosing an Air Mattress
First, think about the size of the one you need, depending on the number of guests it will accommodate. Also, choose the height that suits your preferences and makes it easy for guests to get on and off the bed.
Next are the materials. You'll want to shop for types made from durable and puncture-resistant materials, so they can withstand regular use without losing their shape or integrity.
This is the part that was once dreaded—the inflation and deflation mechanism. Built-in pumps are convenient and user-friendly, while external pumps may require more effort but are often more affordable.
And finally, be sure to read reviews or try out the mattress if possible to assess its comfort and support. Look for features like adjustable firmness settings to cater to your guest's individual preferences.
1
Englander Air Mattress
Supporting up to 300 pounds, this durable microfiber surface and interior beam construction promise a restful night's sleep for anyone who lays on it. Say goodbye to awkward mattress descents — unlike other air mattresses that leave you struggling to get down to the surface, the Englander air bed stands tall at 20 inches when fully inflated. You can effortlessly slide into bed, so it's the perfect solution for a seamless bedtime experience. This air mattress was designed with rapid inflation in mind. Thanks to the self-inflating air mattress pump, you can have your bed fully inflated in just about 90 seconds.
2
Simpli Comfy EZ Air Bed Self-Inflating Queen Size Air Mattress
Prepare to experience unmatched stability and comfort throughout the night with this air mattress that comes with a secure steel base. The air bed's innovative comfort coil technology ensures you sleep soundly, free from any discomfort or disturbances. Crafted from heavy-duty PVC and boasting a waterproof flocked top, this air mattress is designed for years of overnight comfort for you and your guests. Thanks to the self-inflating feature, you can watch as the air mattress quickly inflates and deflates in under three minutes. Simply plug the built-in pump into a 120V outlet, and before you know it, your guests will be counting sheep and drifting into dreamland.
3
OlarHike Queen Air Mattress with Built in Pump
OlarHike is committed to top-notch customer service, promising excellent sleep experiences for all. The self-inflating feature makes setup convenient and easy, with the built-in 110V electric air pump quickly inflating and deflating the mattress. The innovative air coiled design provides superior head-to-toe support for both kids and adults for a comfortable and rejuvenating sleep. Leak-resistant inflation, thanks to the high-quality reinforced seam stitching, guarantees uninterrupted comfort throughout the night. Crafted from durable materials, this mattress promises years of use and reliable support.
4
SoundAsleep Dream Series Luxury Air Mattress with ComfortCoil Technology
Experience the industry-leading design, exclusively utilizing ComfortCoil Technology and a SureGrip bottom for firmness and stability. Say goodbye to slipping and sliding thanks to the 40 internal air coils that add durability and support, keeping your bed flat and firm and allowing you to stay SoundAsleep. Enjoy the convenience of the patented one-click internal pump, ensuring quick and easy inflation and deflation. Whether for in-home use or camping adventures, the Queen Size Dream Series mattress reaches full inflation in under four minutes and remains inflated for days. For those who prefer a firmer surface, the pump allows for a quick top-up.
5
A-ER-FA Queen Size Air Mattress with Headboard
With thoughtful design in mind, the three-section headboard brings you the comfort of a real bed, offering enhanced comfort for your neck and waist. The double cup hole design allows you to keep cups and small objects close by. The snap connection enables easy disassembly for added convenience. Equipped with a high-performance air pump, this mattress can be fully inflated in about three minutes. The soft flocking process adds to your comfort, providing a relaxed and enjoyable sleep. Rest easy, as this mattress can withstand a maximum weight of 700 pounds, catering to the various needs of your guests. You'll also enjoy what's included: two comfortable inflatable pillows, one puncture repair patch, one air pump, and one sturdy storage bag.
6
Sebor Luxury X-Long Twin Air Mattress
The ultra lightweight and portable nature of this mattress allows for easy deflation in just three minutes. Store it effortlessly in any corner of your home using the accompanying storage bag, without occupying unnecessary space in your home or car. The top is covered with soft flocking, providing excellent dual air cushion technology for enhanced softness and anti-slip stability. With its sturdy construction, this mattress will give your loved ones a good sleeping posture and offers waterproof and puncture-resistant features. Enjoy the convenience of this self-inflating mattress, featuring a high-powered built-in electric pump that allows for easy inflation and deflation.
7
Nautica Home Cloud Supreme Air Mattress
Now this is pillow-top luxury at its finest. It features a fully removable pillow-top cover made with Cool-Tek fabric, providing a cooling sensation for a blissful night's sleep. The zip-off quilted cover provides a soft and machine-washable sleep surface, offering convenience and comfort. Rest assured with Nautica Home's air-tight and 100% leak-tested, built-in pump, keeping your bed firm all night long. The pump comes with an easy dial control for convenient inflation and deflation, achieving full inflation in just two minutes. The Cloud Supreme is constructed with extra-thick Duratex vinyl. This air-tight technology combines vinyl and fabric to minimize stretch and prevent deflation. The heavy-duty design supports up to 800 pounds, providing the feel of a traditional bed while remaining foldable for easy storage and transport.
Our editors love finding you the best products and offers! If you purchase something by clicking on one of the affiliate links on our website, we may earn a commission at no extra cost to you.
---
---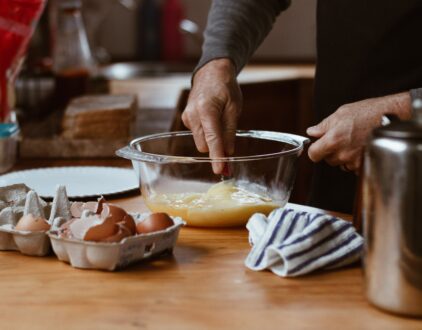 ---
Spaces
Whether it's luxury or ease, every area of your home should be as fabulous and unique as you.
FOLLOW ALONG ON INSTAGRAM
Find us on social for more home inspiration where culture, personal style, and sophisticated shopping intersect to help you create a home where you love to live.