The "Big Game" may be just around the corner, but it's not too late to prepare for a classy Super Bowl party.
As football fans can attest, the Super Bowl is the singular defining event of the season. It's contentious, it's loud, and it's the perfect opportunity for devout fans to cheer — and jeer — for their respective teams.
And along with this sense of camaraderie and friendly ribbing comes the inimitable party featuring your closest family and friends.
No longer just a haven for hoagie rolls, chips, and dips, savvy homeowners know that it's all but essential to host a proper Super Bowl party on the "Big Game" day.
From elegant recipes from world-class chefs to decor that involves a lot more than just a plastic tablecloth, a Super Bowl party is — in a very real way — part and parcel of "adulting" that people rave so much about. Gone are the days when a cold pizza was enough to tide your guests over. You're no longer in high school!
Whether you're hosting a few people or a few hundred people, Home & Texture's definitive list of luxe essentials will prove to be a lifesaver.
Here are our top five picks for the perfect classy Super Bowl party.
Jump to Products
---
1
Disposable Dinnerware by JOLLY PARTY
We get it: nobody wants to wash hundreds of dishes after a Super Bowl party. And running the dishwasher is both noisy and expensive. But nobody wants to bust out paper plates, either. So how do you have a classy Super Bowl party without the place looking like a kid's pizza party? Enter this classy disposable dinnerware by JOLLY PARTY. Featuring team-neutral black and gold colors, this disposable dinnerware feeds up to 30 guests and is made of BPA-free plastic. The JOLLY PARTY collection comes complete with glasses, silverware, and even dessert plates for the ultimate classy Super Bowl party experience.
2
Sequined Gold Table Runners by Fivenl
No classy Super Bowl party would be complete without the perfect decorations. And since you're already going for the gold with the plates, why not complete the embellished look with these sequined gold table runners? This package comes with 12 (count'em!) table runners in total, meaning you can drape them everywhere you see a bare surface. They're durable and stain-resistant, and each runner can cover a table up to 72 inches long. (You can also put two or more together to cover up longer tables.) But best of all, they also come in a variety of colors — so if gold isn't your thing, you're sure to find a color that better suits your style.
3
3 Tier Serving Tray by Manspdier
Gone are the days when you would just chuck a platter or two on a paper tablecloth and call it a day. Thanks to this 3 tier serving tray by Manspdier, your snacks can now be displayed in a classy, tasteful way. The tray is both lightweight and durable and made of trendy, long-lasting bamboo that's both easily stored and washed. It's even nice enough to give as a housewarming present — in the event, of course, you go to a classy Super Bowl party and want to be the consummate well-mannered guest. Best of all, you can even add decor to the trays if you so choose, so it's a perfect conversation piece long after "the big game" is over.
4
Luxury Faux Fur Blanket by Inchgrass Luxury
While you can't be sure about who's going to win the Super Bowl, you can be sure that one (or more) of your guests will get cold at some point. It is February, after all. And if you don't want to turn up the thermostat (in which case, we understand — especially with the price of heat these days), you can offer your chilly companions this lovely faux fur blanket by Inchgrass Luxury. In addition to being warm, the blanket is both machine-washable and cruelty-free, plus it's large enough to fit two people snugly underneath it. And hey — if you don't have guests to entertain at your classy Super Bowl party, it's perfect for just you and your honey.
5
Anthem Home Theater Seating by Seatcraft
Now this is the ultimate in luxury and a must-have for a classy Super Bowl party. This home theater seating by Seatcraft has been carefully — and precisely — made with the finest hand-stitched leather, and comes complete with a center fold-down table that includes two cup holders, wireless and AC/USB charging and overhead lights, and hidden in-arm storage. There's also a loveseat option available for those who are a bit more limited in space. Best of all, complimentary delivery is included in the price! (You can also get it professionally assembled upon delivery for a small fee.) If you're looking to spoil your favorite football fan before the Big Game, this is definitely the way to do it!
Our editors love finding you the best products and offers! If you purchase something by clicking on one of the affiliate links on our website, we may earn a commission at no extra cost to you.
---
---
Decorate
Access design inspiration that infuses personality and culture into your spaces.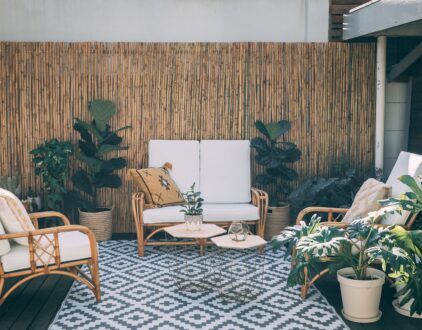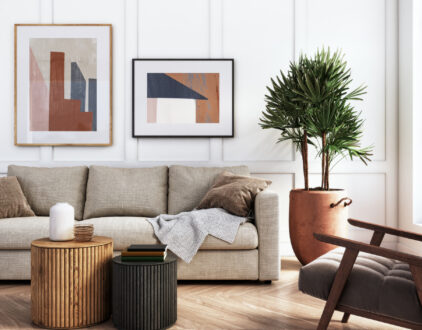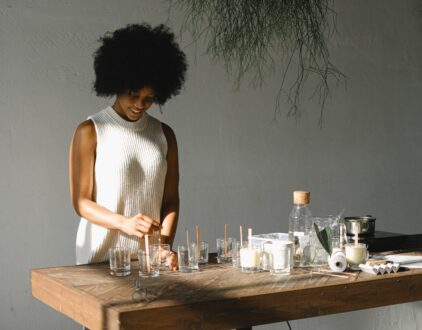 ---
Spaces
Whether it's luxury or ease, every area of your home should be as fabulous and unique as you.
FOLLOW ALONG ON INSTAGRAM
Find us on social for more home inspiration where culture, personal style, and sophisticated shopping intersect to help you create a home where you love to live.