Efficiency has become a major part of many of our lives. As our responsibilities grow both professionally and personally, being able to complete tasks and chores as quickly and efficiently as possible is a must. When it comes to daily routines, like making coffee, oatmeal, or tea in the mornings, electric kettles are a vital tool. If you're still using a traditional kettle, but looking for a more efficient alternative, here's why you should consider an electric kettle:
Boils Water Quickly
Electric kettles are intentionally designed to heat water quickly. They can bring water to a boil in a few minutes, which is much faster than stovetop kettles. They also have precise temperature control and powerful heating elements so you can personalize your water boiling experience. The speed of electric kettles can save you time in the mornings when making breakfast and your favorite warm beverage.
Energy-Efficient
Using direct heat transfer, electric kettles allow water to heat up quickly, which minimizes heat loss. They have automatic shut-off functions, which shut the kettle off automatically after it has reached its desired temperature. This saves you money and energy in the long run. Many electric kettle models have boil-dry protection, which prevents the kettle from heating up if there is no water inside. This is great for preventing overheating and damage.
Ease of Use and Convenience
It is extremely easy to use electric kettles. All you have to do is plug them in and press a button to begin boiling. This eliminates the need for the stove or a tedious setup process. These kettles are user-friendly, and some designs have cordless bases that are great for easy pouring.
Temperature Control
Perfect for tea enthusiasts, electric kettles have temperature control options. This allows you to set your desired water temperature to perfectly make different types of drinks.
Easy to Maintain
Electric kettles are usually easy to clean and maintain. There are white openings, which makes it easy to clean the interior. There are also filters that work to remove impurities from the water.
If you're interested in getting an electric kettle for your kitchen, keep scrolling.
Jump to Products
---
Fellow Stagg Pro Studio Electric Gooseneck Kettle
This chic kettle is the perfect addition to your modern or minimalist kitchen. It comes with customizable brew settings, pouring control, and precision temperature. You can even update this electric kettle over WiFi. The kettle's sleek pointed spout is perfect for a powerful and precise flow of water. The handle is designed to encourage a slow pour. You can customize this kettle to your needs. You can adjust how long you want the water to stay hot, schedule when to boil water, and set your altitude. This kettle has multiple color way choices to match your kitchen's color palette. From matte black to copper — there is a stunning choice for your abode.
Cuisinart Cordless Electric Kettle, Fast Heat Up
If you're looking for an electric kettle that heats water up quickly, this stainless steel cordless electric kettle is a great choice. It has a concealed heating element which is great for preventing mineral buildup. There is also a 30-minute option to keep water warm and a nonslip handle that stays cool while your water gets hot. This kettle has six preset heat settings and is perfect for steeping tea at the perfect temperature. A two-minute memory function allows the kettle to be off the base for up to two minutes without shutting off or stopping brewing. This cordless electric kettle is BPA-free and has a limited three-year warranty.
COSORI Glass Electric Kettle
This kettle is made from borosilicate glass and stainless steel and will keep your water safe and pure for years. The kettle shuts off automatically 30 seconds after boiling. There's boil-dry protection that prevents the kettle from turning on without water. It's designed with a wide-open mouth, which makes it easy to clean up. To prevent residue or limescale, use lemon juice or baking soda. This kettle makes it great for quickly boiling water for your coffee, tea, and oatmeal. The kettle takes seven cups to heat up enough water to serve the entire family. The glass kettle design goes well with most design styles.
Cordless Hamilton Beach Electric Tea Kettle
This cord-free electric tea kettle boils water faster than a microwave. It's also a safer option than using a stovetop kettle. The cordless feature keeps your kitchen sleek and organized. There is an auto-shutoff feature that keeps the kettle from boiling dry. It has a wide opening, making it easy to clean. The drip-free spout keeps your hands safe from being burned by hot water while you pour. There is also a push-button lid which is great for preventing spills. There are three design options and colorways to choose from, including red and stainless steel, to align with your kitchen aesthetic.
Mueller Ultra Kettle With SpeedBoil Tech
Made with stainless steel and a heat-resistant copolyester, this kettle is premium and great for boiling water. The high-quality borosilicate glass is made to last a lifetime. It has a long-lasting lid that stays shut. It has a thermostat controller that shuts off within 30 seconds after the water is fully boiled. The kettle is built with a heat-resistant anti-slip grip handle, so you won't have to worry about it slipping out of your hands. The bright LED lights indicate that the kettle is heating. It's great for making tea, coffee, oatmeal, and more in a jiffy. The kettle is completely cordless when it's off the base.
Our editors love finding you the best products and offers! If you purchase something by clicking on one of the affiliate links on our website, we may earn a commission at no extra cost to you.
---
---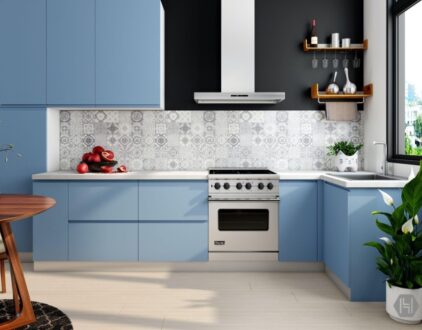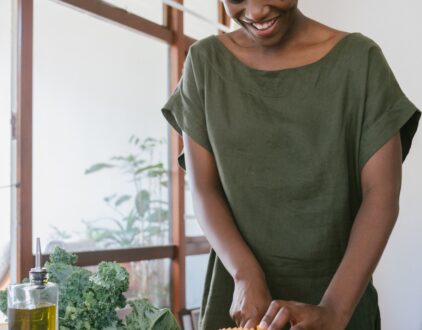 ---
Spaces
Whether it's luxury or ease, every area of your home should be as fabulous and unique as you.
FOLLOW ALONG ON INSTAGRAM
Find us on social for more home inspiration where culture, personal style, and sophisticated shopping intersect to help you create a home where you love to live.