Did you know that Sofia Vergara has a home collection at Walmart? Apparently, many have been sleeping under a rock because the home collection is both underrated and absolutely stunning. Now that summer is almost here, Vergara has rolled out some new additions to her kitchenware collection.
Her new essentials are a burst of high-spirited decor pieces that are perfect for entertaining. The actress has stated that her latest pieces are inspired by Isla Barú, her favorite island in her homeland of Columbia.
Sofia Vergara's Expanding Walmart Collection
View this post on Instagram
This summer, you too can capture the tranquility and vibrancy of Columbia with these select decor pieces. Liven up your next cookout or feast with essentials from Sofia Home by Sofia Vergara collection. The newly added pieces introduce an unforgettable pattern, and the enchanting colors represent Vergara's love for entertaining indoors and outdoors.
When Vergara launched her Walmart home collection, she played it safe with her initial kitchen decor pieces. She stuck to colors like white and gold and used embossed textures on her dinnerware to elevate her kitchen decor essentials.
Not only are these new pieces gorgeous, but they are an entire mood. You will enjoy many taco nights this summer with these festive kitchenware pieces. Now, you can bring the beach spirit to your own home with these playful pieces that can easily function as decor items as well.
It's hard not to love a celebrity collection, especially when it's done right at an affordable price point. The entire collection will certainly brighten the mood and your tastebuds without hurting your pockets.
Not only that, but it's a collection that you'll be using long after the summer season. Here are five must-have essentials from her recent release that can really turn up the vibe at your next outdoor feast.
Jump to Products
---
Sofia Home 12 Piece Indigo Stoneware Dinnerware Set
Let's start off with this beautiful dinnerware set that you can use all throughout the year. The Sofia Home 12 Piece Indigo Stoneware Dinnerware Set comes in a captivating color and pattern. You'll enjoy how this beautiful blue shade can take you from season to season with ease. This set includes dinner plates, salad plates, and bowls that can accommodate up to four people. You'll find yourself using this attractive dinnerware set on a daily basis. In addition to being an eye-catching set, it's also durable. Because this set is microwave and dishwasher-safe, you'll be using these plates indoors and outdoors.
Sofia Home 2-Gallon Clear Acrylic Dispenser
Get ready to turn up with the Sofia Home 2-Gallon Clear Acrylic Dispenser. Serve your refreshing drinks and cocktails in this stunning dispenser that's adorned with a gorgeous pattern inspired by an island off the coast of Vergara's homeland in Columbia. This dispenser can be used out on your patio or it can be placed in your kitchen. Whether you fill it with infused water or some delicious bar drinks, you will feel confident that your guests will enjoy pouring themselves a nice, cool refreshment from this dispenser. It also holds up to two gallons so you can have enough to replenish multiple people before you need a refill.
Sofia Home 3-Piece Melamine Serve Bowl with Utensil Set
Finally, a roomy, vibrant bowl to use as a centerpiece for your summer dinners. The Sofia Home 3-Piece Melamine Serve Bowl with Utensil Set includes a serving bowl that is roughly 13 inches in diameter. With this size of a serving bowl, you can use it to serve a tasty salad, potato salad, or pasta. The set also comes with a pair of utensils, one fork, and one spoon. The utensils will make it easy to toss your favorite greens or allow visitors to make their own plates. You will enjoy the colors of this serving bowl because the outside color is a lovely and elegant ocean blue tone, while the inside of the bowl is an unforgettable burst of coastal glamour that will encourage everyone to eat what you serve.
Sofia Home 8-Piece Multicolor Acrylic Drinkware Tumbler Set
Nothing screams summer backyard fun like a beautiful set of tumblers to set the mood with. The Sofia Home 8-Piece Multicolor Acrylic Drinkware Tumbler Set looks like a fiesta in a glass. The 8-piece set comes in four elegant colors: red, blue, green, and clear. Each color comes in two sizes—14 ounces and 19 ounces—that will give you options when deciding what beverage to serve. Because these tumblers are so stunning, you can also opt to use these as mini jars and vases for your plants, too. Whether you choose to use these as decorative pieces or as part of your serving ensemble, you will be thrilled either way.
Sofia Home Gold Satin 20-Piece Flatware Set
If you ever wanted some flatware that had the perfect touch of bling to it, then you are going to be over the moon with the Sofia Home Gold Satin 20-Piece Flatware Set. This gold is a beautiful and timeless finish that works well for summer or any season in the year. Having an elegant flatware set like this will only enhance the food you make which will bring attention to all the love and spice you put into preparing your feast. The set can accommodate up to four people and it's dishwasher-safe. This flatware set also makes for great gifting.
Our editors love finding you the best products and offers! If you purchase something by clicking on one of the affiliate links on our website, we may earn a commission at no extra cost to you.
---
---
Decorate
Access design inspiration that infuses personality and culture into your spaces.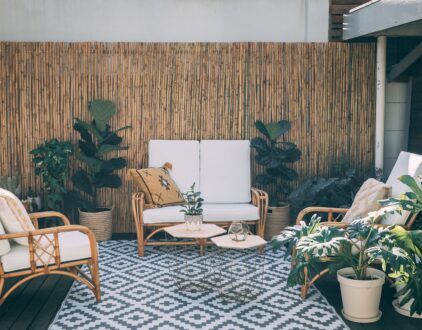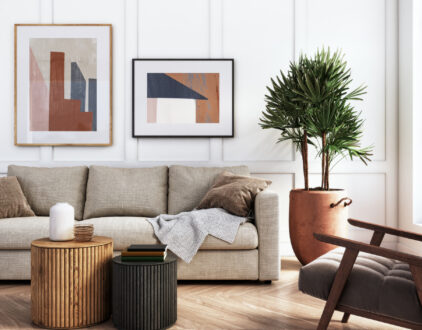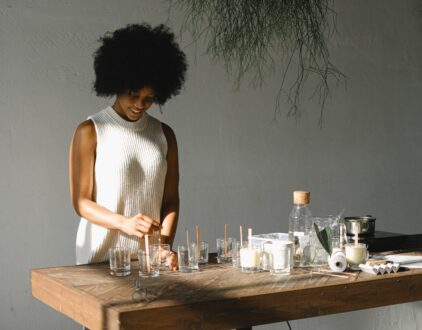 ---
Spaces
Whether it's luxury or ease, every area of your home should be as fabulous and unique as you.
FOLLOW ALONG ON INSTAGRAM
Find us on social for more home inspiration where culture, personal style, and sophisticated shopping intersect to help you create a home where you love to live.