The world of kitchenware has been dominated by big-name brands for years, with a lack of representation for minority-owned businesses. However, the tides are turning with the rise of black-owned kitchenware brands. These innovative companies are challenging the status quo and bringing diversity to the kitchen.
The Importance of Representation
Representation matters, both in the media and in the products we use. For too long, the voices of minority communities have been overlooked in this industry. This has led to a lack of representation in the products available. It also highlights a lack of diversity in the marketing and advertising of these products.
By supporting other black-owned kitchenware brands, we are not only promoting diversity in consumerism, but we are also amplifying the voices of underrepresented communities. We are reinforcing that their ideas and perspectives deserve a place at the table.
The Rise of Black-Owned Kitchenware Brands
Despite the challenges of breaking into a white-dominated industry, several black-owned brands are making waves with their innovative products and unique design. These companies are redefining what it means to cook and creating products that are not only functional, but also beautiful.
Ayesha Curry might be one of the most well-known, "main-stream" leaders currently in the kitchenware space. However, you'll find several other brands on the market that have made and continue to make a name for themselves.
Supporting Black-Owned Kitchenware Brands
As millennial consumers, we have the power to support other minority-owned businesses and promote diversity in this industry. By seeking out and purchasing products from black-owned brands we admire and respect, we are sending a message to the industry that diversity and representation matter.
In addition to supporting these brands financially, we can also show our appreciation by sharing their stories and products on social media, and by advocating for more diversity in the kitchenware industry as a whole.
Jump to Products
---
1
Ayesha Curry Home Collection Porcelain Enamel Nonstick Covered Deep Skillet
This kitchenware set is part of the Ayesha Curry Collection, which is a line of kitchenware products that are designed and developed by Ayesha Curry, a renowned chef, cookbook author, television personality, and wife of basketball player Steph Curry. Ayesha Curry is a well-known advocate for diversity and inclusivity in the culinary industry and has used her platform to raise awareness about the importance of supporting black-owned businesses. This skillet is designed to make cooking easy and enjoyable with its nonstick surface that ensures food doesn't stick to the pan. I'ts made with durable porcelain enamel that is oven safe up to 500°F, making it ideal for cooking a wide range of dishes. Another standout feature is its stylish design. These pans comes in a range of vibrant colors that will brighten up any kitchen. The kitchenware also features sleek handles that are comfortable to grip and provide excellent control when cooking.
2
Goodee Kitchenware Mortar & Pestle
This mortar and pestle from Goodee World is a beautiful and functional kitchen tool that is perfect for anyone who loves to cook with tons of herbs and spices. It's is made from natural soapstone, which is a durable and heat-resistant material that is ideal for grinding and crushing spices and herbs. The soapstone is sourced from a small quarry in rural Kenya, where it is carefully handcrafted by local artisans. It's sold by Goodee World, a black-owned business that is committed to promoting sustainable and ethical products. They believe in the importance of promoting sustainable practices and supporting communities around the world.
3
Dance Hall Unique Salt and Pepper Shaker set
This unique salt and pepper shaker set is a stylish and functional kitchen accessory that will add a touch of flair to your table settings. It's designed and produced by 54kibo, a black-owned business that is dedicated to promoting African-inspired home decor and lifestyle products. The set itself is inspired by the vibrant and colorful culture of Jamaica's dancehall scene. Each shaker is made from high-quality ceramic material and is hand-painted to ensure that no two shakers are exactly alike. It comes in a beautiful gift box, which also makes it a perfect gift for any occasion. 54kibo is a black-owned business that is dedicated to promoting African-inspired home decor and lifestyle products. They believe in the importance of promoting diversity and inclusivity in the design industry and showcasing the rich cultural heritage of Africa.
4
Middleton Made Knives
The Middleton Made Knives paring knife is a high-quality kitchen tool that makes a great addition to your set of knives. The knife is made from premium materials, including CPM 154 steel and stabilized spalted pecan wood. The blade is handcrafted and is designed to last for years. It is lightweight and easy to handle, making it ideal for intricate cutting tasks such as peeling and trimming. It comes from a line of handcrafted knives that are designed and produced by Quintin Middleton, a black-owned business owner who is dedicated to creating high-quality and unique knives. He started his business in 2008, and since then, he has become known for his attention to detail and his commitment to producing knives that are both functional and beautiful.
5
Tom Bullock's 5-Piece Cocktail Shaker Bar Set
This is a must-have for any cocktail enthusiast! The bar set includes a cocktail shaker, a jigger, a strainer, and a recipe book, all designed and produced by Tom Bullock, a black bartender during the prohibition era who is widely recognized as one of the original tastemakers of the cocktail world. In fact, he was the first black bartender to write a cocktail book, The Ideal Bartender, in 1917. The cocktail shaker is made from stainless steel and has a capacity of 24 ounces, which makes it perfect for mixing up your favorite cocktails. The jigger is made from durable and lightweight metal, and the strainer is designed to fit perfectly over the cocktail shaker.
Our editors love finding you the best products and offers! If you purchase something by clicking on one of the affiliate links on our website, we may earn a commission at no extra cost to you.
---
---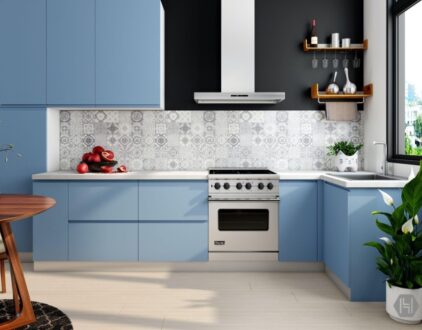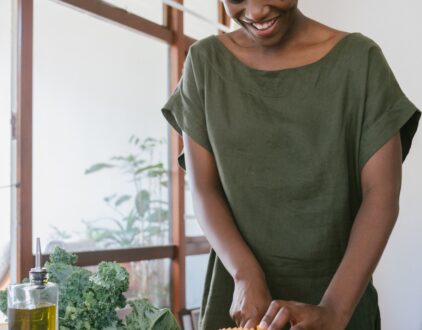 ---
Spaces
Whether it's luxury or ease, every area of your home should be as fabulous and unique as you.
FOLLOW ALONG ON INSTAGRAM
Find us on social for more home inspiration where culture, personal style, and sophisticated shopping intersect to help you create a home where you love to live.