Washing and drying clothing while living in a small space can feel complicated, but it doesn't have to be. Getting a portable dryer for your home is a game changer. This is especially true for spaces where it may not be possible to install a traditional dryer, like many homes in New York City. Portable dryers come with many benefits to make doing laundry efficient and convenient.
Here is why you should get a portable dryer if you live in a small space:
Saves Space
The compact size of portable dryers makes them perfect for fitting in small spaces. You can also store them away when not in use. This means you can have more space to keep more things in your home.
Time-Saving
If you live in a big city like New York, going back and forth to the laundromat can be a drag. Having a portable dryer allows you to conveniently dry clothing from the comfort of your home. This saves you time and energy, especially on days when the weather is rainy or cold.
Efficient Drying
Although portable dryers are small, they are designed to dry your clothing quickly. They have powerful drying capabilities, which allow your clothing to be fully dried in a fraction of the time it would take to air dry them.
Easy To Move Around
Portable dryers are versatile and can be easily moved around your home. You can place them in the bathroom or kitchen and store them away to get more space when not used. The ease of portable dryers allows you to optimize your small space more effectively and do laundry wherever you please.
Lower Utility Bills
Since portable dryers tend to be more energy efficient than conventional dryers, they can result in lower utility bills. This saves you money and reduces your energy consumption.
Gentle on Clothing
One of the best things about using a portable dryer is that you won't have to compromise the quality of your clothing. There are different settings so you can customize the drying process of your clothing based on the fabric needs. This ensures that your clothing is properly dried without being damaged or shrinking.
Keep scrolling to see our favorite portable dryer picks.
Jump to Products
---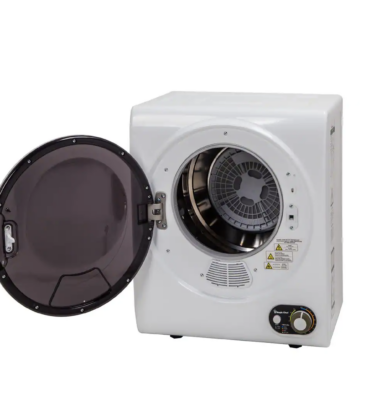 Compact Electric Dryer In White
This compact electric dryer is the perfect solution for a small space. Whether you're staying in your vacation home this summer or in an apartment, this compact dryer gets the job done. You can mount the dryer on a wall or place it on a countertop to optimize space. It has three temperature settings for proper care of your clothing. There is also an ECO Mode and Sensor Dry Selector to save energy. The lint filter is easy to access when cleaning. There's a see-through window so you can monitor your clothing as it dries. There is also an air-dry option to ensure that your clothing stays fresh. This dryer comes with a one-year warranty on parts and labor.
Compact Electric Portable Clothes Dryer With Stainless Steel Tub
This 37.3-pound portable dryer is suitable for small spaces, bedrooms, and vacation homes. It perfectly dries baby clothes, underwear, T-shirts, workout clothes, towels, socks, and more. It can be mounted on the wall, on a rack, or placed on the floor. It can hold up to 10 pounds of clothing at a time. There are different drying modes to suit the types of fabrics you'll be washing. The modern style of the portable dryer adds functionality and style to your space. The door has a see-through window, so you can observe your clothing while it dries. There is a safety feature that stops the dryer if you open the door mid-cycle.
Mini Compact Dryer Machine With Stainless Steel Tub
This clothes dryer was intentionally designed to maximize your living space and simplify your life. The compact size makes it easy to dry your clothing in the smallest of spaces. You can set various time lengths to suit the needs of your laundry. Settings like cool, warm, hot, air dry, and anti-wrinkle ensure your clothing dries and maintains its freshness over time. The silent functionality of this dryer allows you to use this dryer at any time of the day without interrupting your family. The dryer also comes with a wall mounting kit, so you can hang it to save even more space.
Portable Spin Dryer, Stainless Steel
This portable spin dryer is the perfect space saver made with a stainless steel drum to ensure longevity. It has a large capacity and is easy to carry around. It's great for use in RVs, boats, apartments, vacation homes, and other small spaces. While it doesn't dry clothing 100%, it's a great way to get your clothing semi-dry. You can air dry your clothing afterward to get it completely dry. This portable dryer has gravity draining, which means that it can be placed anywhere and work without being hooked to a sink or a drain. Place a small bucket under the dryer's spout to catch water.
Compact Laundry Dryer With 4 Automatic Drying Modes
With a weight of fewer than 40 pounds, this portable dryer is perfect for small spaces, apartments, and vacation homes. It can be mounted on the wall, placed firmly on the horizontal ground, or mounted on the rack. It has the capacity to dry 10 pounds of wet clothing. It is recommended not to put in more than 5.5 pounds of clothing at one time. There are four different modes for drying: cool, warm, anti-wrinkle, and hot. You can choose the mode that appropriately fits the fabrics you'll be drying. The noise on this dryer is minimal, so you won't have to worry about interrupting family or guests. The package includes a dryer, two hanging brackets, two plastic spaces, an exhaust connector, and long screws for mounting.
Our editors love finding you the best products and offers! If you purchase something by clicking on one of the affiliate links on our website, we may earn a commission at no extra cost to you.
---
---
---
Spaces
Whether it's luxury or ease, every area of your home should be as fabulous and unique as you.
FOLLOW ALONG ON INSTAGRAM
Find us on social for more home inspiration where culture, personal style, and sophisticated shopping intersect to help you create a home where you love to live.