When it comes to shopping for the best robot mops that money can buy, it may be hard to know whether they're worth it for you and your home. If you're trying to decide if a smart robot is for you, think about how you feel about cleaning. Some people find mopping and cleaning therapeutic, while others find it daunting and tedious.
But as technology evolves, it can help everyday tasks such as cleaning become easier, no matter your personal preferences. While Millennials aren't quite living "The Jetsons" life yet, many are embracing the ways smart home devices can elevate their home life, and you might want to hop on the bandwagon too.
How To Pick The Best Robot Mops for Your Home
Selecting the ideal robot mop for your home can be a game-changer in terms of convenience and cleanliness. When navigating the market for these intelligent cleaning assistants, it's important to consider several key factors. Firstly, evaluate your specific flooring type, as some robot mops excel on hardwood floors, while others are better suited for tiles or carpets.
Next, think about the size of your home and the mop's battery life to ensure it can cover the necessary area in a single charge. Additionally, pay attention to advanced features like smart navigation, which can optimize cleaning routes, and app compatibility for remote control and scheduling. Lastly, consider the maintenance aspects, such as the ease of cleaning the robot mop itself and the availability of replacement parts. By taking these factors into account, you can confidently select the best robot mop to elevate your home's cleaning routine.
To get you started, here are 11 of the best robot mops that you can buy that cost less than $1,000 that will clean your home without leaving you exhausted.
iRobot 611020 Braava Jet M6 WiFi Connected Robot Mop
There's no argument that iRobot cleaners are some of the best smart cleaning devices. Now you can sweep your floors and activate the mop to clean up any sticky grime.
Roborock Robot Vacuum with Sonic Mopping
Now you can mop and vacuum your home from the comfort of your couch. You can program this robot hybrid mop using its app to map out your home.
MAMNV Robot Vacuum and Mop Combo
Tackle dirt and debris on hardwood floors, tiles, or carpets with this vacuum and mop combo. You can adjust the suction level to clean and mop stubborn areas.
Samsung Jetbot Cordless Robot Floor Cleaner
If you are interested in a robot mop to keep your floors clean and want something more cost-friendly, then this Samsung can help you on both accounts. With its automatic water dispenser, this robot mop can mop for up to 50 minutes without a refill.
eufy Auto Charging Pet Robotic Vacuum and Mop
This hybrid mop and vacuum cleaner is perfect for homeowners who have pets that shed a lot. This mop has the ability to auto-empty itself in a self-contained bag that lasts up to 60 days before you need to replace it.
iRobot Braava Jet M6 Ultimate Robot
If you are set on owning one of iRobot's cleaning robots but want to spend less than $500 for a device, then this is your best option. You can control this robot with your smart home devices like Alexa for flexibility.
SHARK Ultra Robot Vacuum and Mop with Matrix Clean Navigation
This two-in-one vacuum and mop has incredible suction ability to clean the toughest stains on your floors. With its CleanEdge capabilities, it can blow dirt and dust out of stubborn corners and cracks.
bObsweep Robot Vacuum and Mop
This sleek robot vacuum and mop duo is designed to clean up tough stains and pet hair, especially cats. This robot uses a UV-C light to ensure floors are clean, which is a great selling point for people who aren't completely sold on robot mops.
Laresar Robot Vacuum and Mop with Auto Dirt Disposal
Here's a robot mop you can tuck away on the side without thinking twice about it. This smart robot mop and vacuum can switch between mopping and sweeping with ease all from the convenience of your phone.
Everybot Edge2 Robot Mop
When you find out you are having unexpected company and need to clean your floors in a hurry, this Everybot Edge2 will have your floors spotless in no time.
Yeedi Mop Station Pro Robot Vacuum and Mop
While this robot vacuum is ideal for carpets, it works just as well for those kitchen grease stains and coffee spills. This robot is equipped to give you up to 180 minutes of cleaning time without needing to recharge.
Our editors love finding you the best products and offers! If you purchase something by clicking on one of the affiliate links on our website, we may earn a commission at no extra cost to you.
---
---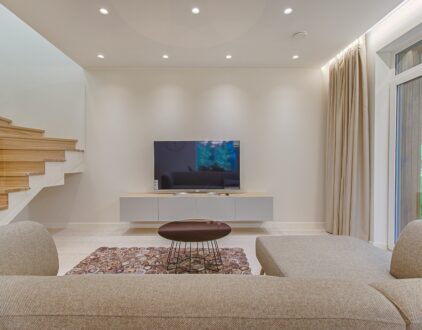 ---
Spaces
Whether it's luxury or ease, every area of your home should be as fabulous and unique as you.
FOLLOW ALONG ON INSTAGRAM
Find us on social for more home inspiration where culture, personal style, and sophisticated shopping intersect to help you create a home where you love to live.