Spring and summer months are best enjoyed with friends and family, laughter and the simple things in life. To prepare for the warmer months, refreshing your space may be on your to-do list. Getting rid of the old and bringing in the new is a great way to usher in new life into your home, and CB2's spring collection will help you do just that.
CB2's spring collection's new arrivals have everything you need to revive your space. The collection is filled with artfully designed, stylish and functional items. From a sculptural bird bath to a sleek resin desk, CB2's spring collection offers something for every design style.
Standout Pieces
One of the standout pieces from the collection is the sculptural bird bath. This stunning piece doubles as a work of art. It's a great focal point for your garden and outdoor area. Designers crafted the bird bath with the durability to withstand outdoor elements. It welcomes winged creatures to stop by for a while and refresh.
The collection's sleek resin desk makes the work-from-home days during the summer bearable. With its minimalist design and clean lines, this desk is perfect for focusing on your work.
If you're looking for a way to upgrade your bedroom this spring and summer, CB2's spring collection has a beautiful neutral 4-drawer chest. The color and texture are ideal for a bohemian style room.
With the weather getting warmer, the right outdoor furniture is a must. CB2's spring collection includes a range of beautiful patio pieces, including lounge chairs, sectionals and tables. Whether you want to create a cozy outdoor space for leisurely self-care time or an area to host your friends for a barbecue, the CB2 spring collection has perfect chic and durable items.
Keep reading for the items Home and Texture's eyeing from CB2's spring collection.
Jump to Products
---
Jaxx Green Marble Side Table
If you're looking for a side table that exudes class, character and art, then this green marble piece is it. It's simple and sleek enough to work well in minimalist households and unique enough to work in an eccentric design-styled home. Whether by itself or with a stack of books on top, this side table is an art lover's dream. The green marble has bits of cream tones and veining. Each piece's marbling will vary, making them all stunning works of art. With three rounded legs, this side table is hand-finished and will make your home look like an art museum. This piece comes in a short and tall versions to work in any space.
Bowtie Green Velvet Sofa
If you're tired of seeing the same couches when scrolling social media and websites, you're in for a treat. This furniture find is absolutely stunning and is designed for those who love standing out from the crowd. This mid-century sofa has a bowtie-shaped back, which complements eccentric and maximalist homes. The stunning verdant green color works well with earthy color palettes. Place the couch against a bold color palette, layer it with textured pillows and a throw blanket to make the couch pop. This CB2 exclusive has legs with a black satin finish and is upholstered with a plush velvet.
Matra Camel Velvet Lounge Chair
Spend your spring and summer days sitting back and relaxing blissfully in your home. Whether you're reading a novel, listening to a podcast, or scrolling social media for inspiration and laughter, lounging in comfort is a must. This camel velvet lounge chair isn't only great for lounging. It's absolutely stunning and inspired by architecture. This chair is designed to look like a single piece that has been folded and manipulated into the shape of a lounge chair. A CB2 exclusive, this camel color and velvet texture works beautifully in minimalist and contemporary households. Add a plant for a pop of color.
Rocca Stone 4-Drawer Chest
Spring is the perfect time of year to give your bedroom a refresh. Start by cleaning out your closet and dresser, giving away clothing that you haven't worn in over a year, doesn't fit, or doesn't bring you happiness. After getting rid of your clothing, it's time to upgrade your furniture. If you've been in dire need of a new dresser, this 4-drawer chest is refreshingly beautiful. With a mix of materials, this piece is made of certified sustainable oak frames and crushed agate fronts. The unique finish is the perfect addition to bohemian design-styled homes.
Remoli Swirled Cream Resin Desk
This multi-functional desk can work well in a home office or as an entryway table. If you feel uninspired in your current home office, upgrade it with this sleek desk. It will make taking Zoom calls more bearable during the spring and summer months. If you decide to use this swirled cream resin desk as an entryway table, accessorize it with a dried flower bouquet, coffee table books, a lamp and an abstract sculpture. French design inspired this desk, which evokes an art deco vibe with its architectural silhouette and rounded edges. This desk is special because you don't have to worry about it getting damaged. Although it looks like marble, it's made out of resin, which requires less care.
Bonelli Teak Outdoor Lounge Chair With Ivory Sunbrella Cushions
This summer, enjoy your home's patios and decks. Activities like grilling out, hosting friends for a wine night in the backyard and playing music while lounging outside are on the summer agenda. Give your outdoor space some love with new pieces of furniture, like this outdoor lounge chair. Made from stained teak, this chair was inspired by Brazilian modernism, bringing sophistication to any outdoor space. The tailored cushions and pillows are fade-resistant and low maintenance. This CB2 exclusive is perfect for the homeowner who loves a beautifully designed space that doesn't need constant attention and care. With this chair, your patio will look so much better.
Sonya Outdoor 3-Piece Sectional With Neutral Sunbrella Cushions
If you're looking for an outdoor sectional that is a minimalist's dream, look no further than this 3-piece beauty. Inspired by Italian modular sofas, this sectional is as comfortable as it is stunning. It looks and feels like indoor furniture but is made with outdoor-friendly materials such as quick-dry foam cushions. You won't have to worry about outdoor elements running this work of art. This CB2 exclusive has a polished stainless steel frame, has sectional connectors, and is made with fabric that is UV-resistant and easy to clean. After a long day at work, head to your patio for an evening of leisure. Kick back your feet with a cold drink in hand and enjoy the fruit of your labor.
Flatform Charcoal Cement Birdbath
What better way to usher in the summer than by spending more time in nature? Listening to birds chirping, having a picnic in the backyard, and lounging with friends and family is what summer is all about. Provide a retreat for birds with this charcoal cement birdbath. In addition to being a place where birds can stop by to cool off and bathe, it adds a modern statement to your patio area. This sculptural piece doubles as art and is made from sand and stone composite. It is weather-resistant and safe for outdoor use. If there is inclement weather or if it won't be in use, bring the birdbath inside to prolong its life. This CB2 exclusive is frost-resistant.
Our editors love finding you the best products and offers! If you purchase something by clicking on one of the affiliate links on our website, we may earn a commission at no extra cost to you.
---
---
Decorate
Access design inspiration that infuses personality and culture into your spaces.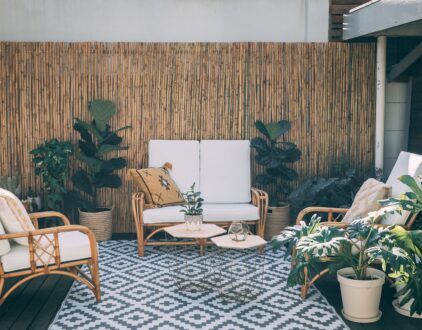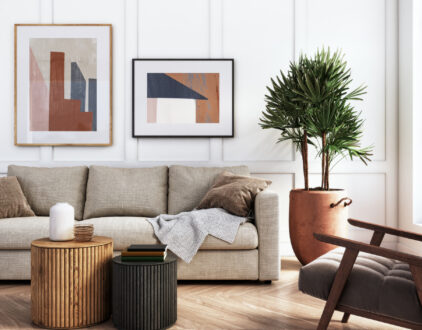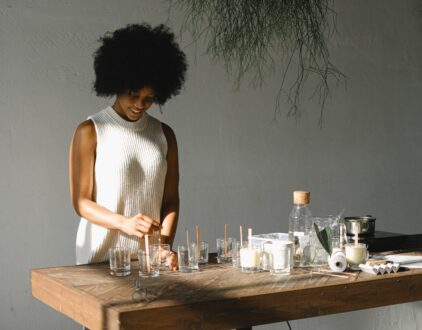 ---
Spaces
Whether it's luxury or ease, every area of your home should be as fabulous and unique as you.
FOLLOW ALONG ON INSTAGRAM
Find us on social for more home inspiration where culture, personal style, and sophisticated shopping intersect to help you create a home where you love to live.