Over the years, ceiling fans have gotten a bad reputation. Rickety, loud, and just plain tired, the fans of yesteryear seem like a relic of a time gone by. But believe it or not, if you're looking to keep your home cool without switching on the central air conditioning, a ceiling fan just might be right for you.
Unlike many other home renovations, installing a well-placed fan is both relatively simple to do and provides both form and function.
Today's ceiling fans are a long way away from your mother's — and grandmother's! — fans. We no longer have to repeatedly pull on a chain to get the blades going and we've thankfully moved past the times when a dim light took forever to change. Today's ceiling fans come equipped with remote controls, LED lights, and even timers to give you full control over your space.
But according to Hauslane, today's fans also offer a variety of other benefits, too. In addition to keeping your home's air circulating and your utility bills down, ceiling fans come in a wide variety of styles and shapes, making them perfect for every homeowner of every stylistic stripe.
Home & Texture's top fan picks are both budget-friendly and well-designed and are sure to please even the most discerning of tastes.
Jump to Products
---
1
Bordeaux Downrod/Semi-Flush Mount Heavy-Duty 52″ Ceiling Fan by Craftmade
Looking for a ceiling fan with more contemporary leanings? Look no further than the Bordeaux ceiling fan by Craftmade! Made of sturdy acrylic material and furnished with gorgeous brass trimmings, the Bordeaux has three blades that work overtime to circulate air effectively. With three fan speeds and full-range light dimming, the Bordeaux is one of the finest offerings in Craftmade's full line of ceiling fans. This offering is perfect for homes with a more sleek & minimalist style, or for homes that aren't interested in following trends or changing out the "look" every five years. And if that seems like a long time, never fear: all Craftmade products are backed by a one-year warranty!
2
DC Motor Indoor Outdoor Modern Smart Large Ceiling Fan by reiga
For homeowners looking for ceiling fans that are perfect for indoor/outdoor living, look no further than this massive 65-inch offering by reiga. The fan can come either with or without a light, and its remote control allows you the ease of transition of both airflow and speed. Durable, stylish, and easy to install, the reiga fan is sure to delight even the most finicky of homeowners. And best of all, its simple design and rustic appeal will work in homes of all decor styles.
3
Espy Ceiling Fan by Prominence Home
Homeowners with contemporary and modern style flair, this ceiling fan is for you! The Espy ceiling fan by Prominence Home comes in a sleek black design (though brown — in a faux wood pattern — is also available on the other side of the blade!) and is perfect for medium to large-sized rooms. Its design is quite a sight to behold, and homeowners will love the simplicity of controlling the fan from a remote control. Its included LED light provides just the right amount of illumination for even the darkest of spaces. Best of all, the Espy is compatible with both Alexa and Google Home, so "smarthome" owners can take comfort in knowing that this fan will be easily integrated into their fully digital setup!
4
Farmhouse Ceiling Fan by IYUNXI
For homeowners who prefer a farmhouse flair, IYUNXI's ceiling fan is a perfect choice. Combining industrial and farmhouse styles for both safety and function, the farmhouse ceiling fan contains an impressive eight blades and is perfect for bedrooms and kitchens. Don't let its small size fool you: the IYUNXI is a powerhouse, capable of reversing speeds and bright lights in rooms up to 200 square feet. Best of all, it comes with a one-year, no questions asked replacement warranty, so you can shop with ease and knowing that you'll be covered if something should go wrong. This ceiling fan is definitely one of our favorites!
5
Smart Ceiling Fan by LENIVER
Finally, the LENIVER smart ceiling fan is the perfect accessory for homeowners that are anything but ordinary. If you're the type of homeowner that needs something sexy and sleek in every room, this fan is the perfect choice for you. With an appearance of LED lights built into the blades — and kudos to the company for this incredible design! — LENIVER's crown jewel is the perfect addition to rooms that need more than a little jazz and pizazz to "wake them up." Obviously, this fan is most popular for bedrooms, but homeowners have also found this fan to be the perfect addition for bathrooms and kitchens, too.
Our editors love finding you the best products and offers! If you purchase something by clicking on one of the affiliate links on our website, we may earn a commission at no extra cost to you.
---
---
Decorate
Access design inspiration that infuses personality and culture into your spaces.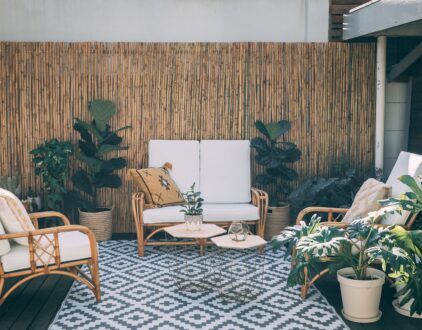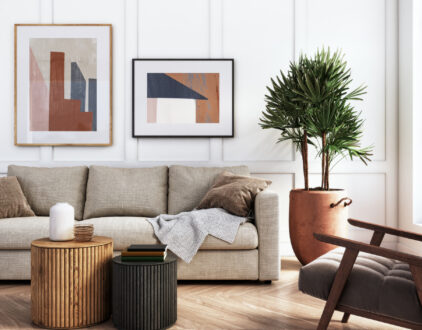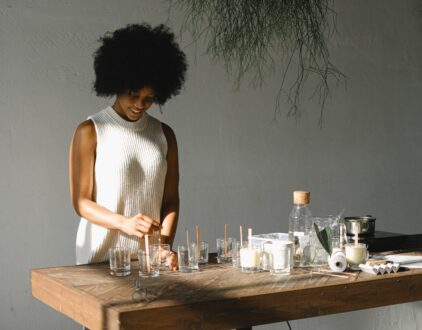 ---
Spaces
Whether it's luxury or ease, every area of your home should be as fabulous and unique as you.
FOLLOW ALONG ON INSTAGRAM
Find us on social for more home inspiration where culture, personal style, and sophisticated shopping intersect to help you create a home where you love to live.