Ceiling fans are not only functional, but also aesthetically pleasing additions to any room. They provide a refreshing breeze during hot summer days and help circulate warm air during the colder months. All ceiling fans are not created equal, and they each have various features and sizes to consider. This guide walks you through everything you need to know to make an informed decision when selecting ceiling fans for your home.
Assessing Room Size and Ceiling Height
Before purchasing a ceiling fan, it's crucial to think about the size of the room and the height of the ceiling. Larger rooms require fans with bigger blade spans, while smaller rooms can accommodate fans with smaller blade spans. Ceiling height also determines the appropriate mounting type, such as flush mount, standard mount or angled mount.
Determining the Fan Size and Blade Span
The size of the ceiling fan is determined by its blade span. The blade span should be proportionate to the room size. A general guideline is to use a 52-inch fan for rooms larger than 400 square feet, a 44-inch fan for rooms between 225 and 400 square feet and a 42-inch or smaller fan for rooms smaller than 225 square feet.
Considering Ceiling Fan Styles and Designs
Ceiling fans come in a variety of styles and designs to complement any room decor. From sleek and modern to rustic and traditional or bladeless and non-bladeless, there is a wide range of options available. Take into account the overall theme and aesthetics of your room when selecting the style and design of your ceiling fan.
Understanding Noise Levels and Quiet Operation
A noisy ceiling fan can be a significant annoyance. When choosing a fan, read up on the noise levels mentioned in the product specifications. Look for fans with quiet operation features that won't disrupt your activities or interfere with conversations.
Factoring in Lighting Options and Other Features
Ceiling fans often come with built-in lighting fixtures or the option to add one. Gauge the lighting needs of your room and choose a fan with appropriate lighting options. This can eliminate the need for separate light fixtures and provide functional and decorative illumination.
They also may offer additional features and accessories that enhance their functionality. These can include remote controls, wall-mounted controls, reversible blades and variable speed options. Evaluate these features to determine which ones align with your preferences and convenience.
1
YANASO Bladeless Ceiling Fan with Light
Experience the benefits of this modern two-in-one bladeless ceiling fan design. Its low profile and modern aesthetics keep your home interior stylish and inspired. With integrated LED lights, you don't need to worry about purchasing extra bulbs. Take control of your comfort with the convenience of the included remote control or the FanLampControl app. Adjust the fan's three speed settings, set timers, and enjoy stepless dimming of the light output, all at your fingertips. Safety is prioritized with the smart enclosed design of this ceiling fan. Unlike traditional exposed blade fans, this enclosed fan provides a safer option, especially suitable for loft beds and low ceilings. Enjoy the silent and comfortable operation of the high-quality copper motor. With strong airflow and no noise, this fan helps circulate indoor air, creating a tranquil and peaceful sleeping environment.
2
Hunter 44-Inch Fan Dempsey Low Profile Bedroom Ceiling Fan
This modern ceiling fan offers a range of benefits that will enhance your living space by bringing a contemporary vibe to your space. With its LED light covered by cased white glass, this fan adds a current and inspired atmosphere to any room. The multi-speed reversible fan motor is a standout feature. It delivers powerful airflow while operating quietly, thanks to the Whisper Wind technology. You can switch the fan's direction from downdraft mode in the summer to updraft mode in the winter for year-round comfort. It also includes energy efficient and dimmable LED light bulbs, so you can control the lighting and create the desired ambiance in your living space. These long-lasting bulbs have a longer lifespan compared to traditional bulbs, saving you money on replacements.
3
Honeywell Ceiling Fans Xerxes, 62-Inch Contemporary LED Ceiling Fan with Light and Remote Control
Cool large rooms with this contemporary ceiling fan. With its bold body and dual-finish fan blades, you can easily customize the look to suit your specific space. Featuring an integrated LED, this fan provides ample lighting for your room. The fully integrated LED board offers 1400 lumens of brightness and consumes only 18 watts of energy. You can adjust the brightness to create the perfect ambiance as it is dimmable from 10 to 100 percent. Controlling the fan and its lighting is easy with the included remote control. For added convenience, the fan is compatible with Google Home and Alexa when used with a Bond Home. Batteries for the remote control are included, making setup hassle-free.
4
reiga 52-in Bright White Large Ceiling Fan with Dimmable LED Light
Experience powerful air movement, quiet rotation, and energy efficiency with the Silicon steel DC motor of this ceiling fan. Take control of your comfort with the included remote control. Easily adjust the lighting switch, dimming options where you can can choose from white light, warm light, and yellow light, and select six different wind speeds. The fan also supports timing features, allowing you to set it to automatically shut off after one, three, or eight hours. You can also enjoy the benefits of two-way rotation. During the summer, set the fan to downward airflow to create a refreshing breeze. In the cooler winter months, switch to upward airflow to reclaim lost heat from the ceiling, resulting in energy savings and reduced heating costs.
5
Honeywell Living Room Ceiling Fan
This fan features a stylish bronze finish and five ETL wet-rated wicker blades, for a tropical design that enhances the look of any room. Experience quick and hassle-free installation with the "Quick 2 Hang" technology, where you can quickly attach the fan blades to the motor housing. That means no complicated setup with this option! Enjoy a quiet and comfortable environment with the conveniently quiet, four-speed reversible motor. This allows you to adjust the fan's speed according to your preferences and create the desired airflow in the room. Designed for medium to large-sized rooms, the 52-inch blades provide optimal airflow and cooling for large bedrooms, living rooms, dining rooms, or common areas.
6
WAC Smart Fans Eclipse Indoor and Outdoor Ceiling Fan with Five-Blades
Take control of your ceiling fan like never before with WAC Smart Fans. These innovative fans can be effortlessly controlled using the app, available on iOS and Android devices. Simply download the app and pair it with your fan to enjoy smart features and full control right at your fingertips. The WAC Smart Fan app is compatible with popular smart home technologies including Google Assistant, Amazon Alexa, Samsung Smart Things, Ecobee, Control4, and Josh AI. You can seamlessly integrate your fan into your existing smart home ecosystem. Using the WAC Smart Fan app, you can sync with your ceiling fan to control fan speed, utilize smart features like breeze mode and adaptive learning, create fan groups, and even reduce energy costs. It's a convenient and efficient way to customize your fan experience.
7
Big Air 96-Inch Industrial Indoor Ceiling Fan, 6 Speed with Remote
This is not just a fan, but a statement piece that effortlessly blends into both casual and sophisticated settings. Whether it's for your shop, barn, office, or living room, this fan offers a sleek and modern look that complements any space. Designed for indoor use, this ceiling fan features large diameter blades that provide powerful cooling circulation. It's perfect for both summer and winter seasons, ensuring optimal comfort year-round. To enhance convenience, the fan includes a 6-speed remote control, allowing you to customize your comfort with ease.
Our editors love finding you the best products and offers! If you purchase something by clicking on one of the affiliate links on our website, we may earn a commission at no extra cost to you.
---
---
Spaces
Whether it's luxury or ease, every area of your home should be as fabulous and unique as you.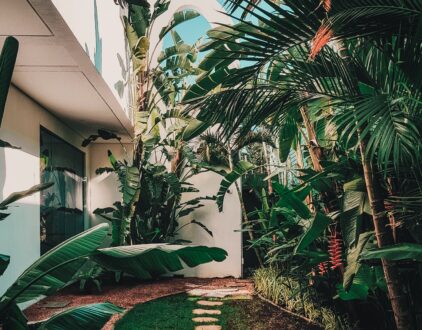 ---
Spaces
Whether it's luxury or ease, every area of your home should be as fabulous and unique as you.
FOLLOW ALONG ON INSTAGRAM
Find us on social for more home inspiration where culture, personal style, and sophisticated shopping intersect to help you create a home where you love to live.