Hassan Hilat moved to Marrakesh in 2010 to pursue his passion for selling authentic Moroccan rugs.
"Every carpet has its own story and its own pattern," the Essaouira native said. He owns Moroccan Berber Carpet, a store in the Medina of Marrakesh. Hilat opened the store after the COVID-19 pandemic in the Medina of Marrakesh, a UNESCO World Heritage Center that has been around since 1070-72.
The Medina is a bustling cultural center with cobblestone lanes, street food, vendors, folk dancers, and more. It's easy to get lost in what feels like a maze but getting lost brought me to Hilat's store.
While finding my way through the Medina, I came across souks with spices and home decor, but Hilat's rugs made me stop in my tracks. I'd never quite seen the bright colors and beautiful patterns in a rug like the ones in Hilat's Medina storefront. I entered the store, browsed around, and met Hilat, who introduced himself as the owner. He was welcoming, warm, and eager to talk about the rugs made in his home country of Morocco but celebrated across the globe. We sat down with cups of traditional Moroccan mint tea in hand. We talked about his inspiration for having a rug store, the difference between contemporary and vintage berber rugs, and how you can decorate your home with these rugs.
Why Moroccan rugs?
Moroccan rugs are hand-woven and uniquely made by indigenous tribal people. They are famous among designers, collectors, and homeowners because of their intricate folk art designs, beautiful colors, and geometric patterns. These rugs have been a major part of Moroccan culture for generations and are now a coveted item to enhance spaces in homes, retail spaces, and beyond.
Berber carpets, made by the Berber people in the Sahara and North Africa, are especially popular among collectors.
"American shoppers mostly ask for Berber carpets. People say, 'Wow! That is a good carpet,'" Hilat shared.
These carpets are popular because they are handmade by artisans without formal training who weave from memory rather than patterns.
Hilat calls Berber carpets vintage and says that contemporary rugs differ.
"The new ones tend to have the same patterns. Vintage carpets are long, not wide, and have different patterns. Contemporary carpets are wide," Hilat said.
Every Berber tribe uses natural minerals for dyes, plants, and vegetation to create distinct patterns according to their climate. These designs have been passed down for generations.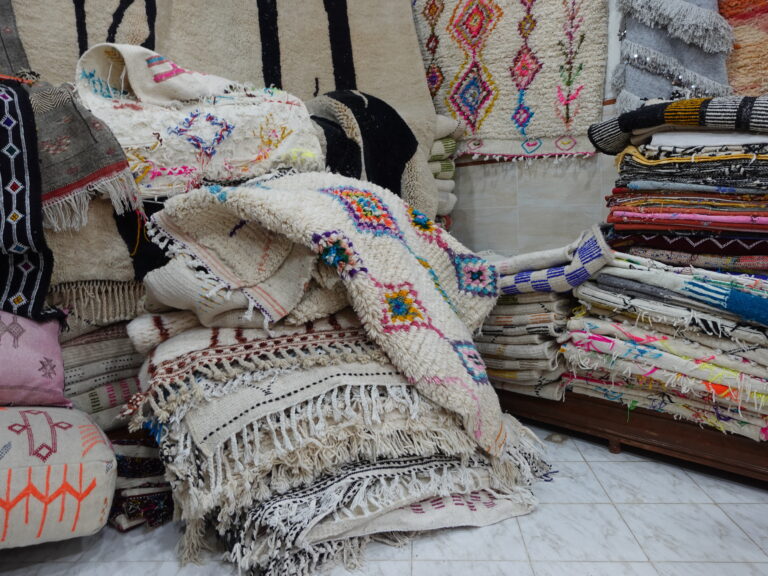 Traditional Berber rugs are woven with pure sheep's wool. Thicker rugs are used in cold areas like the Atlas Mountains. Lighter rugs are used in hot areas like the Sahara Desert.
According to Hilat, vintage rugs are very hard to find. You know it's vintage by its patterns and work.
"It takes up to a year to make a vintage carpet. Families keep the Berber carpets for when they have a guest. Most of the new carpets are made with factory wool. They're mostly made by hand, but machines are also used," Hilat explained.
Caring for Moroccan rugs
Collectors love Moroccan rugs because they are stain-resistant and durable.
"The best way to care for your rug is to open it and air it out. Put it in the sun once every six months to keep it in great condition," Hilat suggested. "The vintage rugs are made with natural colors, so they won't change. Spot clean with mild soap and water."
How to spot authentic Moroccan rugs
If you cannot travel to the Medina of Marrakesh, you can still purchase these rugs online or at various shops around the U.S.
There are things to consider when shopping for an authentic Moroccan rug.
Authentic Moroccan Berber rugs are made from 100% natural wool. Some places will market a rug as authentic but have synthetic materials like polyester, viscose, and nylon. To determine if a rug is authentic Moroccan, touch it to feel its softness and read the materials it's made of.
Turning the rug over is a sure way to determine if it's authentic. The back of the rug's knitting should be irregular and have a fringe. If the back's knitting looks perfect, then chances are it was manufactured.
If the price sounds too good to be true, it usually is. Inauthentic rugs are made with cheap materials, so the price will be lower. A great quality, authentic Moroccan rug with an average size of 5.9 x 8.9 will cost you between $450 to $500.
How to use Moroccan rugs in your home
There are many ways to add Moroccan rugs to your home to elevate and add character to a space.
"You can use rugs for your floors, put it on the wall as an art piece, on the bed as décor. Handira rugs can be used as a blanket or worn for warmth," Hilat said.
Handira rugs are also referred to as Berber shawls and wedding blankets. The Arabic word handira refers to hand-loomed cotton and wool blankets or shawls. Today, blankets, rugs, pillows, and more are made from handira.
Jump to Products
---
Interested in owning a Moroccan rug, but not sure where to look? We've got you! Here are 5 Moroccan rugs we're loving right now.
Vintage Moroccan Rug, Purple Boujaad Rug
This 6.4 feet x 12.8 feet rug is a collector's dream. The vibrant colors are great for eccentrically designed homes. If your color palette is muted and you want to add a pop of color, this rug is a great way to pull your room together while adding just enough color. It also suits Bohemian design styles and can be paired with rattan furniture, succulent plants, and beautiful baskets.  The authentic rug is handwoven in Morocco and is made from 100% wool. You won't find synthetic dyes or chemicals in this rug, which is a sign that it is authentic. This one-of-a-kind piece is the perfect addition to your home and a conversation starter. 
Boujad Abstract Multicolored Rug
This rug comes in various sizes, and prices range according to the size. The lowest price is $142.50 for a rug with dimensions of 2.5 x 3 feet. The most expensive cost is $1,575, with the rug's dimensions being 12 x 16 feet. You can also choose if you want fringe on one side, both sides, or none.  This rug's beautiful combination of colors works with any design style, whether bohemian, contemporary, minimalist, eccentric or luxe legacy. Pair it with pieces that match your design style to make it work for your space. Each piece is uniquely made; while the pattern may be similar, no two rugs are the same. 
Moroccan Berber Wool Checkered Runner
An example of a contemporary rug design, this checkered runner is chic and simple and can work with most design styles. The lowest cost is $114 for a rug with 1.6 x 3 feet dimensions. The most expensive can run you $504 for a rug with the dimensions of 3 x 17 feet.  This rug was handmade with wool and cotton and will be shipped from Morocco. After purchasing a rug, the maker usually takes two to three weeks to make and ship the rug. The design is inspired by the weaving of the Beni Orin tribe in Morocco's Atlas Mountains. You can choose to have tassels on one side only (the traditional way), tassels on both sides, or no tassels. 
NADOR Rug
Made from 100% New Zealand sheep wool, this runner is a must to add to your home. It's perfect for the artsy creative who wants their home to tell a story of the places they've traveled, the places they've been inspired by or the places they've yearned to visit. The rug has a 3-D effect, and its rich colors will complement any design style. Add to a beige or white color palette for a beautiful pop of color.  The rug was made in Marrakech by artist Laurence Leenaert, who migrated to Morocco from Belgium. Each piece is sourced and produced in Morocco. The brand also has great pieces for your home, such as ceramics, mirrors, lamps, tiles, etc. Visiting the showroom is a must if you're in Marrakech. 
Custom Boujad Rug, Abstract Multicolored
This stunning green and beige rug is designed to work in any design style. Made from 100% natural sheep's wool, this rug is made by Berber craftswomen and is hand-woven in Morocco's snowy Atlas Mountains.  Prices for this rug range from $85 to $3,100, depending on the size. You can also choose fringe on one side, both sides, or no fringe. Having fringe on one side of the rug is the traditional way.  Create an at-home library by building a DIY bookshelf and adding this rug to the room to pull the design together. The abstract art on the rug would also work well in minimalist, contemporary, and eccentric spaces. 
Our editors love finding you the best products and offers! If you purchase something by clicking on one of the affiliate links on our website, we may earn a commission at no extra cost to you.
---
---
homeownership
Home is a safe place where relationships flourish and the cornerstone of neighborhoods. We believe it's the setting that surrounds your phenomenal story.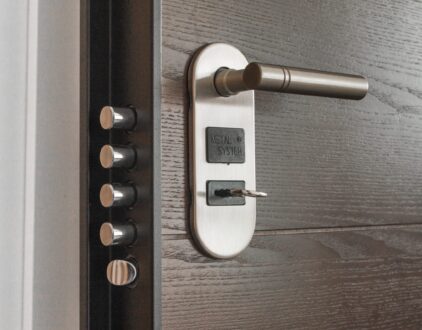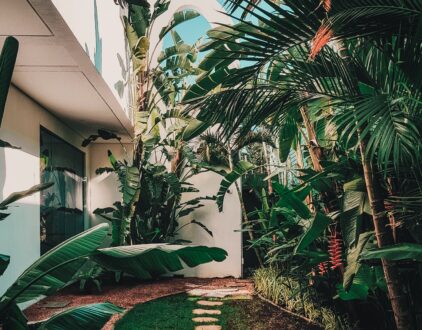 ---
Spaces
Whether it's luxury or ease, every area of your home should be as fabulous and unique as you.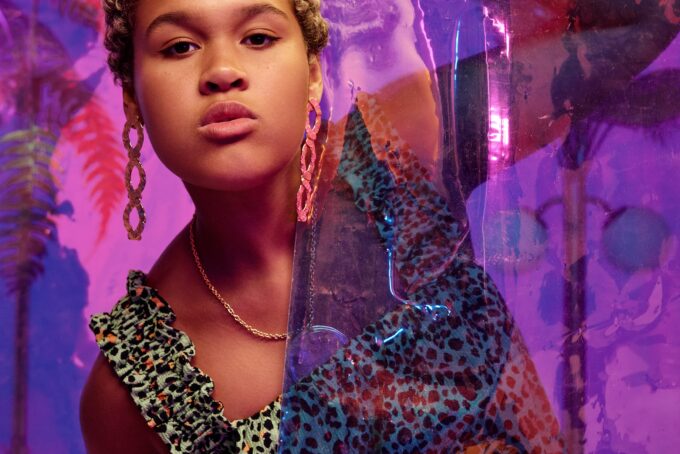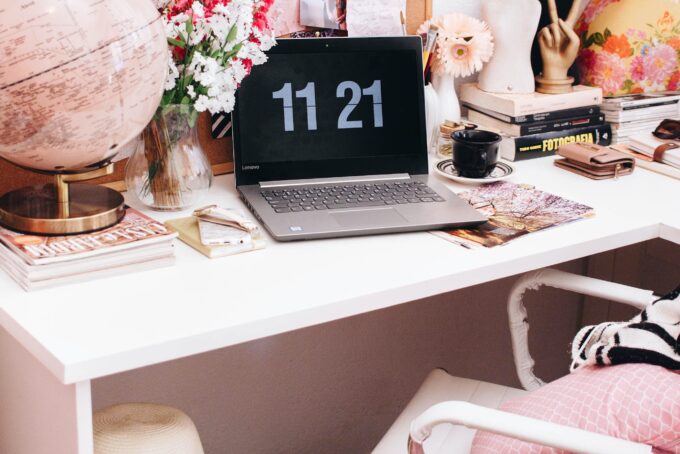 FOLLOW ALONG ON INSTAGRAM
Find us on social for more home inspiration where culture, personal style, and sophisticated shopping intersect to help you create a home where you love to live.