It's not easy to pick out our favorite cookbooks by Black authors, but we did it. We picked five cookbooks that every Black home should have. Now, these cookbooks range from recently released books to books that came out in the late part of the 20th century. Nonetheless, these cookbooks by Black authors can certainly help you elevate your cooking skills.
Preserving and Creating New Recipes
Sure, you can cook, but it's also good to explore new recipes that can help cultivate new dishes. Do you know where mac and cheese originated from? Or do you know why so many Black southerners love cornbread? There is a reason we enjoy and eat what we do. Depending on the region you live in, your family's migration history may play a huge part in what you eat.
Some chefs are incorporating more plant-based and vegetarian recipes into their soul food repertoire. Swapping out beef for mushrooms and tofu may sound less appetizing but with the right seasonings it can work.
Black Culture, Storytelling and Food
View this post on Instagram
Black culture is vast and multilayered so it should come as no surprise that storytelling is a big part of cooking and preserving recipes. All those days of spending time in the kitchen with the matriarchs of your family weren't just because they needed extra hands in the kitchen. Cooking is good for the soul and a lot of recipes that we enjoy are attached to a piece of history.
Next time you find yourself cooking with your elders, you can impress them with your new recipes. We know they might be resistant to change but you never know, you might just encourage them to tell you a long-lost family story you've never heard of before.
We know that you can't wait to add these amazing cookbooks to your home, so check out who made our list of favorite cookbooks by Black authors.
Jump to Products
---
Carla Hall's Soul Food: Everyday and Celebration
Carla Hall is a chef that has been featured on ABC's "The Chew" and Bravo's "Top Chef." Hall bridges food and culture together and places an emphasis on Black and Southern culture. She explores the concept of soul food by offering comfort foods and researching the origins of the Black diaspora's  favorite meals. The chef also inserts vegetarian and plant-based alternatives for people looking to expand their taste palate. With over 140 recipes, Hall shines with her Nashville fried chicken, coconut cream cake and black-eyed pea salad. She finds the perfect balance between healthy and comfort food, which makes indulging in new meals easy.
The Black Family Reunion Cookbook
The National Council of Negro Women published this book in 1993, and the recipes withstood the test of time. This cookbook is filled with rich, Black cultural dishes that are best served at a family gathering. If you enjoy cooking for a lot of people and love not worrying about how much sugar and butter you use, then you need this cookbook. You'll love the recipes that Black historical figures, such as Mary McLeod Bethune, Patti LaBelle and Wilma Rudolph, enjoyed eating and serving to their communities. Some of the recipes include the classic chicken and dumplings, peanut sauce, mustard greens and gumbo.
Eat Plants, B*tch: 91 Vegan Recipes That Will Blow Your Meat-Loving Mind
Pinky Cole, owner of the Slutty Vegan, recently released a cookbook with tons of vegan recipes. In her cookbook, the Clark Atlanta University alumna is attempting to motivate foodies to add more plant-based recipes and foods into their everyday diet. This cookbook has 91 mouth-watering recipes that range from avocado egg rolls to oyster mushroom parmesan. Cole will convince you and your taste buds that plant-based and vegan foods don't have to be bland or boring. This is a great cookbook to have on hand to offer alternative, but delicious food options to your vegan or vegetarian guests.
Cooking from the Spirit: Easy, Delicious, and Joyful Plant-Based Inspirations
The New York Times bestselling author and everyone's favorite auntie Tabitha Brown shared a lot of tips and love in this cookbook. This book not only is filled with yummy pictures, but also teaches you how to stock your pantry. One of the key things to making plant-based and vegan foods is spices and seasonings. Brown's transparency allows the reader to take a deep dive into what is needed on-hand all the time to cook. Between sharing her favorite must-have pantry goods to her recipes for candied vegan bacon made with carrots, this cookbook is filled with wonder and surprises.
5
Black Food: Stories, Art and Recipes from Across the African Diaspora
Is your partner a master in the kitchen? Is the kitchen the life of your home? If so, you're going to want to add this book, "Black Food: Stories, Art and Recipes from Across the African Diaspora" by Bryan Terry to your home library. With mouth watering recipes, thought provoking stories and beautiful photography we have a feeling this piece is going to be moving back and forth between the coffee table and the kitchen!
Our editors love finding you the best products and offers! If you purchase something by clicking on one of the affiliate links on our website, we may earn a commission at no extra cost to you.
---
---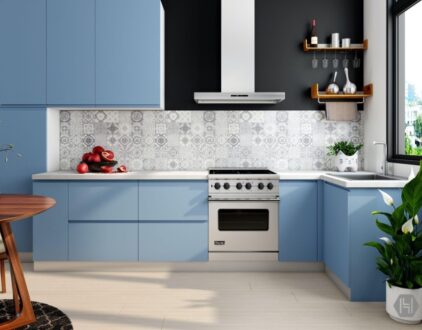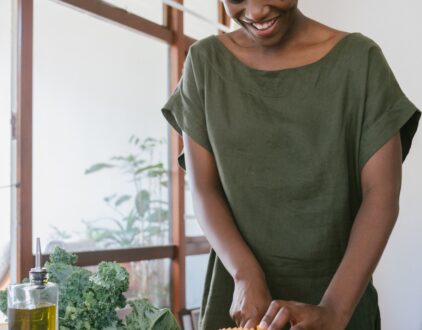 ---
Spaces
Whether it's luxury or ease, every area of your home should be as fabulous and unique as you.
FOLLOW ALONG ON INSTAGRAM
Find us on social for more home inspiration where culture, personal style, and sophisticated shopping intersect to help you create a home where you love to live.