Coffee table books can add some fun details to your home's already unique design style and personality.
When designing the interior of your home, each room should tell a cohesive story of your interests, passions, and lived experiences. If you love welcoming people into your home, your living room is a space that gets a lot of foot traffic. It's a room where people come together to spend quality time, laugh over past memories and create new ones. Incorporating coffee table books in your design elevates and curates your living room to represent your personality.
Coffee table books are pieces of literary art that transport us through history, culture, whimsical destinations, and beyond. This investment is also a way to proudly communicate who you are with your family, friends, and loved ones.
Coffee Table Books To Suit Your Design Style
Consider how the cover will fit your design style when choosing these books. For example, if your design style is luxe legacy, a search for books with bold, gold font and opulent cover art would be ideal. If your design style is bohemian, consider books focusing on travel, with the cover art having neutral tones.
Remember, these books are art and should be displayed as such. Make it work with your home's design by considering the cover art and the book's contents. A coffee table book about destinations is excellent if you're an avid traveler. Fashion enthusiasts should collect books for their coffee table that are about their favorite designers and fashion history. Art lovers should curate a collection of coffee table books focused on artists that they're inspired by, as well as art history, and pieces that they admire.
Adding these books to your home is a love story of sorts – from you to the people visiting your home. Keep reading for a list of our favorite coffee table books for the art, fashion, and culture enthusiast.
Jump to Products
---
5 Coffee Table Book To Add To Your Collection
"Fashion In Color" by Harlem's Fashion Row (HFR)
Harlem's Fashion Row (HFR), a premier agency bridging the gap between brands and designers of color, recently released Volume 1 of its epic coffee table book, "Fashion In Color." The beautifully designed book pays homage to legendary Black designers like Dapper Dan, Sergio Hudson, Kerby Jean-Raymond, and more.  The designers featured are highlighted through brilliant paintings by Brooklyn-based fine artist Ashley Buttercup. With a cover rich in color, this book is an excellent addition to your coffee table. It is not only stunning on the exterior. The book's contents are also substantial and give Black fashion designers the flowers they so rightfully deserve. 
"Vogue on Location: People, Places, Portraits"
Fashion and travel go hand-in-hand in "Vogue on Location: People, Places, Portraits." This book highlights the places and people the legacy publication took over decades. With travel writing and stunning images, the content of this book spans a century of epic experiences. This book features work by icons like photographer Annie Leibovitz and Peter Lindbergh and journalists like Jan Morris and Frances FitzGerald. Flip through the pages of this book to be transported to dreamy locations like Bali, Morocco, India, and Iran. If you love Vogue, this coffee table book is essential for your home. It's a love letter to travel and fashion history.
"Vital Voices: 100 Women Using Their Power to Empower" by Gayle Kabaker
Celebrate the power and impact of women all year with "Vital Voices: 100 Women Using Their Power to Empower" by Gayle Kabaker. The coffee table book celebrates 100 women worldwide who are leaders across generations, cultures, and industries. Some of the iconic women featured in this book are tennis star Serena Williams, former presidential candidate Hillary Rodham Clinton, and environmental activist Greta Thunberg. Each leader mentioned in this book shares their insights, ideas, and personal stories. The book explores how women can lead differently yet powerfully impact the world in their own right. It's a great book to have in your home to inspire future generations of women, showing them that anything is possible.
"The New Black Vanguard: Photography Between Art and Fashion" by Antwaun Sargent
This book by art curator and critic Antwaun Sargent, "The New Black Vanguard: Photography Between Art and Fashion," amplifies the transformation taking place in art and fashion. The book is filled with gorgeous editorial images of Black runway and cover models. It celebrates the inclusion of Black people in fashion and art. The book tells a visual story of how Black beauty, art, and fashion are celebrated worldwide. Not only are Black models celebrated in the glossy pages of this book, but incredible Black contemporary fashion photographers take each image. Featured in this book are images by photographers like Renell Medrano, Tyler Mitchell, Mickalene Thomas, and Micaiah Carter, to name a few.
"Black Futures" by Kimberly Drew + Jenna Wortham
Art and culture critics Kimberly Drew and Jenna Wortham collaborated to curate a collection of work telling the story of the brilliance Black creatives are bringing to the world today. The book includes photos, essays, poetry, tweets, memes, recipes, dialogue, and more. Dive into the book to enjoy conversations with activists and academics, then shift gears to being entertained by Instagram posts, tweets, and memes. "Black Futures" by Kimberly Drew and Jenna Wortham is a culmination of what it means and looks like to be Black, alive, and creative. The book has over 100 contributors, including singer Solange Knowles, writer Teju Cole and activist and co-founder of Black Lives Matter, Alicia Garza.
Our editors love finding you the best products and offers! If you purchase something by clicking on one of the affiliate links on our website, we may earn a commission at no extra cost to you.
---
---
Decorate
Access design inspiration that infuses personality and culture into your spaces.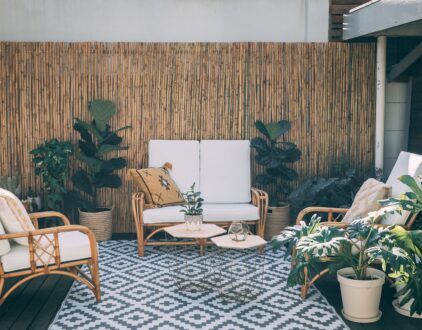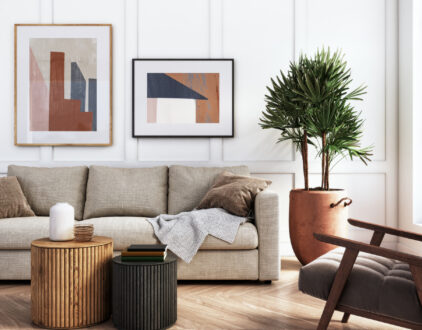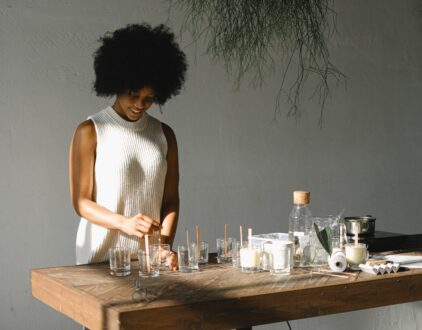 ---
Spaces
Whether it's luxury or ease, every area of your home should be as fabulous and unique as you.
FOLLOW ALONG ON INSTAGRAM
Find us on social for more home inspiration where culture, personal style, and sophisticated shopping intersect to help you create a home where you love to live.