If you enjoy hosting, having an entertainment center at home can take your gathering to the next level. Or perhaps you want a designated area for entertainment, whether that be for gaming or watching your favorite movies.
An entertainment center is a great way to have a centralized hub for all your entertainment needs. With this immersive type of setup, you can enjoy movies, gaming, music, and so much more from the comfort of your home. This is also beneficial for saving money as you can spend less on having to go out for entertainment.
What You Need To Create an Entertainment Center
Creating an entertainment center is relatively simple. All you have to do is consider what you want out of your setup and find the right products and components for it.
For example, many homeowners add a television to their entertainment hub. When selecting a TV, shop for quality models with resolutions that fit your viewing needs, whether that be an extra-large flat screen or a stunning QLED display.
A quality sound system is another important addition to your entertainment center. It can enhance your audio experience when watching movies and sports games or listening to music.
If you enjoy gaming, consider adding a gaming console or two to your setup. There are so many to choose from, including popular ones such as Playstation or Xbox.
To take your setup to the next level, you can also incorporate a media player like a Blu-ray player or a streaming device such as Apple TV, Roku, or Amazon Fire Stick. With these devices, you can access a wide selection of movies, TV shows, and streaming platforms.
Home Theater Systems and Audio Equipment To Upgrade Your Entertainment Center
Your entertainment center should be a space where you can relax and unwind or host your family and friends. It can provide hours and hours of fun, whether that be playing games, watching movies, or even listening to music.
If you want to take your entertainment center setup to the next level, consider investing in quality systems and equipment. To get started, here are some top home theater systems and audio equipment to shop:
1
Roku 720p Smart Wi-Fi Home Theater Projector
Host a movie night with this 720p Smart Wi-Fi Home Theater Projector from Roku! You can enjoy 50,000 hours of entertainment with this projector and stream your favorite movies and TV shows in a stunning display. Whether watching a movie or listening to music, its 5-watt speakers are perfect for amplifying every sound. Plus, it also includes integrated Bluetooth support so you can connect to your Bluetooth speaker for an optimal listening experience.
2
iLive 5.1 Home Theater System
Create a fun and exciting home theater experience with this system from iLive. The perfect addition to your entertainment center, this powerful speaker system can make you feel like you're right in the middle of all the action. An added benefit is that it includes a wireless Bluetooth feature so you can stream your content from a smartphone, tablet, laptop or other enabled device. And it measures 32 inches, making it a small but mighty addition to an entertainment center of any size.
3
VIZIO V-Series 5.1 Home Theater Sound Bar
For a more affordable option, the Vizio V-Series 5.1 Home Theater Sound Bar can provide you with a quality audio experience. Its sound bar has a clean and simple design that can complement any TV. Plus, it includes powerful full-range speakers and surround speakers so you can enjoy an immersive listening experience with deep bass and crisp dialogue. This incredible home theater system has a wireless 5-inch subwoofer that provides powerful bass and voice assistant input for your convenience. And because it also includes Bluetooth connectivity and a sophisticated LCD display remote, you can turn a boring room into an attractive entertainment hub.
4
Multimedia Desktop Powered Speakers
These Multimedia Desktop Powered Speakers can take your audio experience to the next level. It features front and rear panels with multiple input jacks, including a stereo input jack, RCA jacks, and balanced TRS jacks. The speakers have an incredible output with 4-inch woofers and 0.75-inch silk dome tweeters, powered by a 60-watt class AB amplifier to deliver clear and full audio. And the rounded and ported MDF cabinet has a sleek design that is sure to complement the rest of your equipment.
5
Samsung Wireless Surround Sound System
Experience a real cinematic audio experience with this Wireless Surround Sound System from Samsung. It features 11 front-facing speakers, a subwoofer, and four up-firing channels to provide an extraordinary Dolby Atmos sound. And when you pair it with your Samsung TV and soundbar, its powerful Q-Symphony sound takes your audio to new heights.
Our editors love finding you the best products and offers! If you purchase something by clicking on one of the affiliate links on our website, we may earn a commission at no extra cost to you.
---
---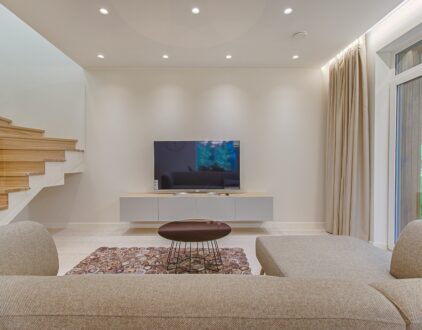 FOLLOW ALONG ON INSTAGRAM
Find us on social for more home inspiration where culture, personal style, and sophisticated shopping intersect to help you create a home where you love to live.