As the summer heat approaches, nothing sounds better than lounging in the sun with a cold drink in hand. But let's be honest, not all chairs are created equal when it comes to ultimate relaxation. Enter chaise lounge chairs—the epitome of comfort and relaxation. This makes them a perfect choice for lounging around during the summer season.
Chaise Lounge Features: Designed for Comfort
The purpose of the chaise lounge is to provide maximum relaxation. They have a long, reclining seat so that you can fully stretch out. And their backrest is soft yet firm for optimal support. Chaise lounges also have an ergonomic design so they contort with your body perfectly. This ensures that you receive the proper support for your lounging experience. Whether you prefer a fully reclined position or a slightly elevated one for reading or enjoying a refreshing beverage, chaise lounges can accommodate your preferences.
Chaise lounges are also versatile as they come in a wide range of materials including wicker, metal, rattan, and more. This is great for homeowners who prefer to personalize their outdoor space, as they can customize it according to their liking. Ideal for sunbathing by the pool or enjoying a breeze on the patio, these chairs are what you need for a tranquil spot to enjoy the summer weather.
During the summer, you can use your chaise lounge outdoors as they're designed to withstand multiple weather conditions. And because the chairs are made with weather-resistant materials, they can last for quite some time when properly maintained.
6 Chaise Lounge Chairs for Lazy Summer Days
In other words, chaise lounges are perfect for summer. Their impeccable design is made with durability, versatility, — and of course, comfort in mind. They can enhance any space, whether you're enjoying a snack on the patio or having a backyard barbecue.
From modern and minimalist to luxe and sophisticated, options are endless when it comes to shopping for a quality chaise lounge. To find attractive seating that also keeps you comfy, here are six chaise lounges to consider for your indoor or outdoor space:
Metal Chaise Lounge with Table
Enjoy the ultimate lazy day with this Metal Chaise Lounge with Table. Made from quality metal, this chair and table set is strong and durable. It has an ergonomic design to ensure your comfort. And it comes with a protective powder coat finish for added protection so it lasts longer. The set is also available in multiple colors so you can mix and match it with your color scheme or existing furniture.
Acacia Double Chaise with Cushions
This double chaise lounge set with matching cushions is the perfect way to relax outdoors in style. This set is fully adjustable so you can recline back and relax in the comfort of your own backyard. Bright lime green cushions can brighten up any outdoor area, whether for a summer party or a date night. Plus, with its easy assembly, you'll be able to enjoy it in no time!
Harnden Outdoor Metal Chaise Lounge
To experience the ultimate relaxation experience, try this Harnden Outdoor Chaise Lounge Chair from Freeport Park. Designed to provide comfort and convenience, its double-seated design and sunshade canopy is perfect for cozying up with your beau. The polyester canopy also protects you from sun damage by preventing UV rays from penetrating your skin. It's also waterproof so you can avoid getting it soaked if you sit near the pool.
Yoga Chair
Sit back and relax in this innovative Yoga Chair designed to strengthen and rejuvenate your body. It helps to stretch your muscles and joints for a healthier seated position. Its sturdy steel frame is coated in a quality leather exterior to give you a sophisticated design that matches any home aesthetic. Its cushions are soft and plush so you can feel like you're sitting on the clouds all day long.
5
Gurmukh Upholstered Chaise Lounge
Add a dash of luxury to your room with this stunning chaise lounge from Rosdorf Park. Upholstered in premium velvet fabric, it features a plush rolled backrest and armrest for added comfort. And the modern silhouette of the piece gives it a contemporary look that is sure to enhance the decor of any room.
6
Dubeck Upholstered Chaise Lounge
This spacious chaise lounge is perfect for reading a book or catching up on a TV show. It's made from solid wood for a strong and secure frame. It also includes high-density padded foam to support your body and add comfort. Its modern design means it can complement a variety of decor styles, and its upholstery is soft to the touch for a truly relaxing experience.
Our editors love finding you the best products and offers! If you purchase something by clicking on one of the affiliate links on our website, we may earn a commission at no extra cost to you.
---
---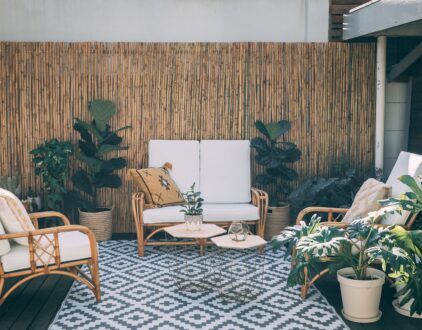 ---
Spaces
Whether it's luxury or ease, every area of your home should be as fabulous and unique as you.
FOLLOW ALONG ON INSTAGRAM
Find us on social for more home inspiration where culture, personal style, and sophisticated shopping intersect to help you create a home where you love to live.