As we strive to celebrate and support Black-owned businesses, we couldn't help but fall in love with Harlem Candle Company. Harlem Candle Co. is a line of candles that draws inspiration from the Harlem Renaissance Era.
The Harlem Renaissance remains one of America's greatest eras of Black enlightenment. It sparked a generation of Black intellectuals and creatives that still influence us today. As a Black homeowner, finding home decor and items that celebrate Black culture is an option many of us are looking for, and the Harlem Candle Co. provides just that.
About Harlem Candle Co.
Teri Johnson, founder, and CEO of Harlem Candle Co. has always had a penchant for exotic perfumes and fragrances. As a professional jet setter, Johnson concluded that throughout all her travels, there is power in scents and smells. Born in Texas, now living in Harlem, Johnson is inspired by her new home which reflects in the care she has for her line of candles.
Once Johnson settled into Harlem, she decided to do some intense research on her new home. That led her to a path of meeting fragrance experts, who she would work with to provide products that were missing from the market.
How To Buy Quality Candles
So how do you know what is and what isn't a quality candle? We asked Johnson to give us some tips on what to look for. She taught us that we need to understand how the hot throw impacts how effective a candle will be. She also encourages consumers to read reviews. "The only way you're going to know is by reading reviews. I think it's impossible just to see when you're at a store by picking up a candle, you won't know if the hot throw is going to be great (or not). You'll only see the cold throw, which is how the candle smells when it's not illuminated," she confirmed.
Soy Wax Vs. Others
"It burns clean and it's good for the environment. It does very well with the fragrance oils that we use because we use a lot of raw ingredients and raw materials and so it allows for the fragrance to work," Johnson explains. The soy wax doesn't have the same toxins as other waxes and that gives more sensitive people a cleaner option.
What's Next For Harlem Candle Company?
Everybody that discovers Harlem Candle Co. raves about it and it's no surprise that fans of the line want to know what's next. With so many iconic figures that lived during the Harlem Renaissance, Johnson has more than enough options to pick from.
"We are working on a candle inspired by Zora Neale Hurston," she confirmed. However, just like the historical literary giant, it's not easy to perfect the essence. "The magnolia flower is hard to capture the headspace of that fragrance. So we've been working on it for a while. White florals are more difficult to perfume in a space. There's so much science [to it]. Our Billie Holiday, the Lady Day candle, took us probably nine months to get. We went through a lot of different modifications to try to get the fragrance to come through," explained Johnson.
We know you can't wait to dive into these scents so check out some of the consumers' favorites on Amazon!
Jump to Products
---
Harlem Candle Co. Josephine Scented Candle
Now, you can capture the essence of the legendary late, great Josephine Baker. This candle is packed with the delicious and seductive notes of warm amber, tonka beans, jasmine and rose to create a long-lasting fragrance that's subtle enough to enjoy for hours. Inspired by the iconic legends of the Harlem Renaissance, this candle will whisk you away to the vintage boudoirs of yesteryear and the glam of old, Black Hollywood. You'll enjoy this candle in the evening as you listen to some jazz or when you want to pamper yourself with a much-needed spa at home. Embrace your inner icon with this iconic candle.
Harlem Candle Co. Langston Scented Candle
For those of you that enjoy burning the midnight oil, this Langston candle by Harlem Candle Company will put you in a mood that will jumpstart your creativity. Bask in the glory of this candle that is named after one of the greatest poets and notable writers of the Harlem Renaissance. This candle will tap into the aura of the late writer with its tantalizing notes of tobacco and amber that will inspire your midnight creative juices. If you enjoy a soft, woodsy smell that isn't overpowering, yet makes a statement, this candle will put your spirit at ease with its alluring scent.
Harlem Candle Co. Savoy Scented Candle
Allow the beautiful scents of the Savoy candle by Harlem Candle Co. to take you back to the dark and lively nights of Harlem's Savoy Ballroom. The Savoy was known as the place to be during the height of the Harlem Renaissance and it frequently hosted legends such as Langston Hughes, Clark Gable, and Dizzy Gillespie. This candle encompasses the brilliance of the Savoy with notes like mandarin, black currant, and vibrant cassis. The candle also has the unforgettable scent of fruits such as apple, jasmine and pear that is topped with a slight touch of sandalwood and jasmine. It smells like a great time out with the most legendary crew.
Harlem Candle Co. Speakeasy Scented Candle
Check out Harlem Candle Company's most popular candle on Amazon. The Speakeasy candle is inspired by those beautiful secretive, after-hours spots in Harlem. This candle has a beautiful and complex layer of notes that combines sweet and citrus notes like mint, lemon and pine. Fans of frankincense will fall in love with the exotic scent of Palo Santo since they are closely related. The candle doesn't stop there. It also is perfumed with the scent of tobacco and cardamom that will certainly transport you back to a time of after-dinner coffees, cigars and jazz music. This candle will make for a beautiful gift and you can save the candle jar, too.
Our editors love finding you the best products and offers! If you purchase something by clicking on one of the affiliate links on our website, we may earn a commission at no extra cost to you.
---
---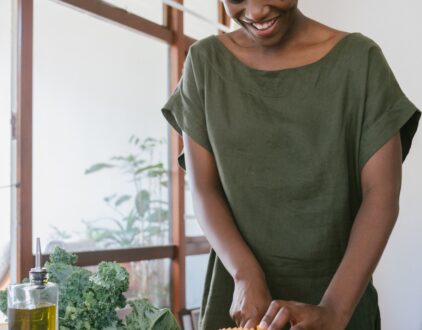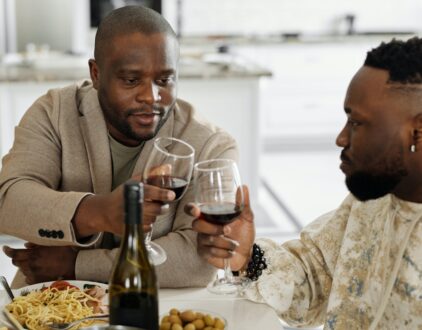 ---
Spaces
Whether it's luxury or ease, every area of your home should be as fabulous and unique as you.
FOLLOW ALONG ON INSTAGRAM
Find us on social for more home inspiration where culture, personal style, and sophisticated shopping intersect to help you create a home where you love to live.