Why Choose Non-Toxic Candles for Your Home?
Living a toxic-free lifestyle is the energy we're all about. So while we've been doing the most by letting go of harsh cleaning products like non-stick cookware, it turns out one of our simplest self-care staples has been polluting the air in our homes this whole time. Yes, candles have entered the chat as one of the seemingly innocent household products that could actually be terrible for you.
But don't worry, you don't have to give up the relaxing ambiance or rich scents. Clean, all-natural candles not only exist, but they're also superior to traditional candles in many ways. See why, and check out our picks for the best non-toxic candles for a safe and cozy home.
Benefits of Non-Toxic Candles
So, how bad are traditional candles for your health? Most candles are made with paraffin wax, a petroleum-based product that releases chemicals and toxins like phthalates when burned. These toxins can cause respiratory problems, irritate the eyes and skin, and aggravate asthma and allergy symptoms.
On the other hand, non-toxic candles are made with natural and renewable ingredients such as soy wax, beeswax, or coconut wax, which burn cleanly. They also come in a wide range of scents and styles, from soothing lavender to invigorating peppermint and warm vanilla, so you can choose the perfect candle to match your mood and decor.
More so, non-toxic candles typically last longer than traditional candles because they burn more slowly and evenly than petroleum-based candles – due to the use of natural ingredients. So now you can enjoy your candles for longer periods of time, which can save you money in the long run.
Jump to Products
---
1
ESNA HOME Luxury Natural Soy Scented 3 Wick Candle
Enhance the ambiance of your home while having peace of mind for you and your family. Made with natural soy wax, this candle is eco-friendly, biodegradable, and also safe for the environment. You'll enjoy the luxurious scents made with natural essential oils that provide various aromatherapy benefits. The fragrances can help in relaxation, and stress relief, and promote better sleep. With a burn time of up to 50 hours, this candle is long-lasting and cost-effective. It also comes in an elegant glass jar that adds a touch of sophistication to your home decor.
2
Calyan Wax Soy Wax Candle Gift Set
Who doesn't love a company that gives back? Caylan Wax Co. donates five percent of its profits to help fight human trafficking, making it an ethical and socially responsible choice for consumers who want to make a difference while enjoying a high-quality candle. Made with a proprietary blend of USA-grown natural soy wax, the candle burns cleaner and up to 35 hours in each seven-ounce jar! They come in a set of six with refreshing scents including Evergreen + Eucalyptus, Oakmoss + Amber, Aspen + Fog, Cedar + Tobacco, Vetiver + Tonka, and Lavender + Bergamot. Each candle is hand-poured in small batches by skilled artisans, resulting in consistent quality and attention to detail.
3
Candles for Cleansing Your House and Meditation
Speaking of clearing out toxicity, these soy candles are designed to remove all the negative energy in your space. Their earthy scents make a great companion to your meditation or yoga practice. If that sounds a little too woo-woo for your taste, you'll still appreciate the comforting aromas of this candle trio. The combination of lavender, rosemary, and sage creates a refreshing and calming scent that promotes relaxation and mental clarity. These scents are often used in aromatherapy to reduce stress and anxiety, making this candle perfect for those who want to unwind after a long day.
4
Living Good Natural Beeswax Candle
Made from 100 percent pure beeswax, these candles burn cleanly and emit a natural, subtle honey scent without the use of synthetic fragrances or harmful chemicals. Beeswax candles are known for their air-purifying properties, as they release negative ions when burned that help to neutralize pollutants in the air. This can be particularly beneficial for those with allergies or respiratory issues. Each candle is made with a lead-free wick and has a burn time of up to 90 hours. They produce a bright, warm flame that creates a cozy and inviting ambiance in any room.
5
Jo & Back Premium Scented Candles
Jo & Back candles offer a unique aromatherapy experience that's non-toxic, eco-friendly and luxurious. Made with pure soy wax and natural essential oils, these candles provide a clean burn for up to 46 hours that's safe for both you and the environment. The unique scent combinations of these minimalistic, colorful candles are designed to evoke a sense of relaxation and well-being. The combination of coffee and vanilla, for example, creates a warm and invigorating ambiance that helps to energize and uplift your mood. Other scents include Champagne & Strawberries, Sandalwood Oud & Spices, and Sea Salt & Bergamot. The packaging is also made of eco-friendly materials that are biodegradable and recyclable.
6
Crackling Wood Wick Candle
Indulge in a unique sensory experience with a candle that burns with a cozy crackling sound for extra ambiance in your space. Burn guilt-free with this minimalist piece of home decor that's organic coconut wax, a sustainable and renewable resource free from harmful chemicals. Enjoy the cozy crackling sound that's produced from the sustainably sourced wooden wick for up to 45 hours. The packaging is also eco-friendly, made of recycled materials and can be recycled after use. The candle is long-lasting and has a beautiful, subtle fragrance that adds to the sensory experience.
7
Pacific Jade Hand-Poured 100% Natural Soy Candle
Add this chic candle to your space and enjoy a luxury scent that's made from 10 percent fragrance oil. It's made from 100 percent hand-poured wax with unique scent combinations like Sunkissed Sandalwood, Sea of Sage, Lavender Cove, and Golden Vanilla. And if you're looking to support a good cause, you'll appreciate that this feminist-founded company donates 10 percent of its profits to women's rights organizations. The packaging is also eco-friendly and made from recycled materials, making it an excellent choice if you also value sustainability. The elegant and simple design of the container also makes it a perfect addition to any home décor.
8
Harlem Candle Company Luxury Scented Candle
The Harlem Candle Company's Langston Luxury Candle is not only a beautiful addition to any home, but it is also a black-owned product that celebrates the cultural richness and history of Harlem. With a blend of scents that include jasmine, sandalwood, and musk, this candle is designed to transport you to the vibrant energy of the Harlem Renaissance. Founded by black entrepreneur Teri Johnson, the company's mission is to celebrate the rich cultural history and legacy of Harlem through fragrance, and each candle is named after a prominent figure in the Harlem Renaissance. The candle's elegant and sleek black glass vessel adds a touch of sophistication to any space. It is made from soy wax and features a cotton wick.
Our editors love finding you the best products and offers! If you purchase something by clicking on one of the affiliate links on our website, we may earn a commission at no extra cost to you.
---
---
Decorate
Access design inspiration that infuses personality and culture into your spaces.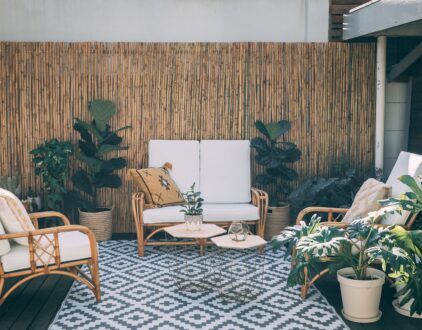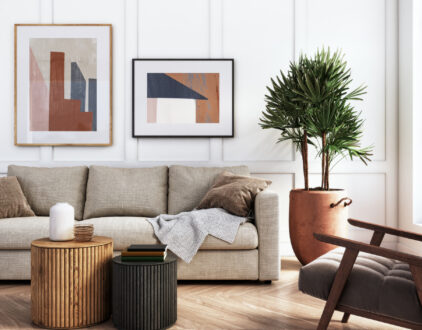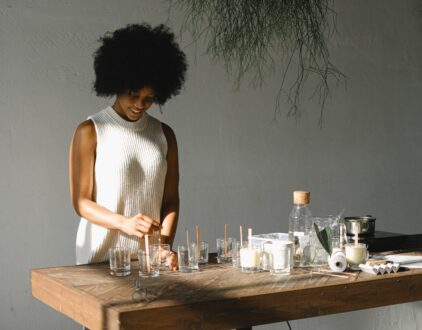 ---
Spaces
Whether it's luxury or ease, every area of your home should be as fabulous and unique as you.
FOLLOW ALONG ON INSTAGRAM
Find us on social for more home inspiration where culture, personal style, and sophisticated shopping intersect to help you create a home where you love to live.