Who says pool cleaning is only for the summer? The season of pumpkin spice, crisp air, and autumnal hues is crucial for pool maintenance. If you're a pool owner, fall brings additional responsibilities that are easy to overlook but vital for the long-term health of your pool. Ignoring these tasks can lead to potential damage and much more work later on. According to Thomas Reesbeck, head of technical product management for Kokido, a leading name in innovation pool cleaning solutions, maintaining your pool during the fall season is essential for several reasons.
Here's why you should consider fall pool cleaning and some expert tips from Reesbeck to keep your pool in top condition.
More Leaves, More Debris
As trees shed leaves, your pool can become a catch-all for pine needles, acorns, and twigs. These catch-alls not only impact your pool's aesthetics but also clog filtration systems and disrupt water circulation. Reesbeck recommends using a pool cleaner like Kokido's Xtrovac 910, which is specifically designed for leaf removal in medium to large pools.
Algae Takeover
Lower sunlight and cool temperates make fall a peak season for algae growth. You may need to pay attention to your pool in this season to avoid ending up with green, cloudy water. Algae can throw off the pool's chemical balance and may require a lot of work to get rid of.
PH Levels
The fall seasons often bring a lower pH level in pool water due to organic debris like leaves accumulating. These leaves release acidic compounds as they decay. Regularly testing the water chemistry and adjusting pH and sanitizer levels are essential steps in fall pool maintenance, according to Reesbeck.
Winter Is Coming
If you live in a colder climate, you should winterize your pool. Closing your pool for winter without proper cleaning and chemical balancing can lead to staining, scaling, or even damage to the pool's surfaces during freezing temperatures.
Stay Healthy
Regular pool cleaning fosters a healthier environment by preventing the growth of harmful bacteria and microorganisms. Reesbeck suggests using the Kokido Xtrovac 710. This high-power vacuum can run for 75 minutes on a single charge and is equipped with a 6x suction and flow rate of 19.8 gallons per minute.
As you prepare for the joys of autumn, remember to include your pool in the seasonal maintenance plans.
Our editors love finding you the best products and offers! If you purchase something by clicking on one of the affiliate links on our website, we may earn a commission at no extra cost to you.
---
---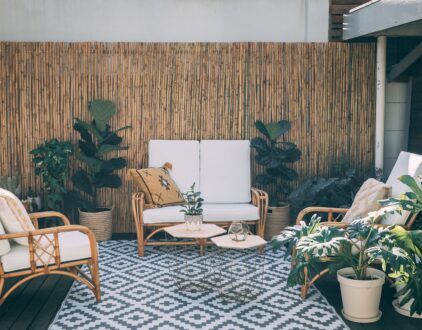 FOLLOW ALONG ON INSTAGRAM
Find us on social for more home inspiration where culture, personal style, and sophisticated shopping intersect to help you create a home where you love to live.