Having a swimming pool is one of the best assets you can have at home. Those who do own a pool often want it looking like it came straight out of a magazine. The last thing you want during the summertime is a pool filled with grime, dirt, and leaves, especially while guests are visiting. That's why this summer is the perfect time to upgrade your swimming pool.
Upgrading doesn't mean a full renovation because sometimes that just isn't an option. That being said, the atmosphere, lighting, pool toys, and cleanliness all matter in transforming your pool experience. Choosing items that are perfect for your pool can be a struggle, so if you're struggling with what to do when it comes to making your picture-perfect pool, there are plenty of items that can elevate your pool experience. Make your backyard the oasis you've been wanting with these tips.
Invest in Custom Lighting
Lighting around your pool is one of the most important aspects that can add luxury instantly. It changes the feel and look of the entire backyard and pool. Consider inside or outside pool lighting or even both. The great thing about lighting is that it doesn't always require a new installation system. There are several lighting options that will change the atmosphere. Keep it easy with underwater LED lighting, floating solar-powered lights, or solar-powered lights that you can line outside the pool.
If you already have lighting, consider a new set of lighting, or change the light setting from standard to warm or colorful lighting. Give your family and guests a great light show with different colors.
Select Luxury Inflatables
Inflatables are what make your swimming experience fun, so invest in premium inflatables that bring personality and are high quality. Instead of basic inner tubes and floats, consider mythical creatures or food as your choice of inflatables, as these can boost the aesthetic of your pool. Another item you invest in to upgrade your pool is a slide. Depending on the size and shape of your pool, adding an attachable slide will crank up the fun a notch.
Develop a Pool Maintenance Routine
You've worked so hard to invest in your pool to keep it feeling and looking luxurious, which is why it's important to maintain that cleanliness—don't let dirt and grime ruin the aesthetic. Proper cleaning is also important because it determines the longevity of your pool. Using chlorine to sanitize and chemicals like pH or alkalinity to prevent bacteria buildup is vital. Your oasis should be kept clean inside and outside the pool, so here are some items to consider to help make sure your pool is spotless:
Pool shock to keep bacteria, microorganisms, and algae out and balance the pH of the water
An underwater or above-the-ground vacuum to collect and remove stubborn dirt or deposit
A skimmer basket or pole for leaves and debris that can build up over time
Cloths to wipe down your inflatables, other pool accessories, and chairs
Create a Relaxing Environment With Seating
If your home backyard allows, be sure to utilize your deck. Add some seating to produce a relaxing and comfortable place to lay out. Whether you are sun tanning, napping, reading a book, or just taking a rest from the pool, one of the key features is the outside seating area. This area can be as simple as a few lawn chairs, or if you're lucky, as extravagant as an outdoor entertainment space with furniture. No matter what it looks like, you want to make sure it's functional for those who decide to take a break from the water.
Creating a schedule to maintain a clean pool, buying pool accessories that will enhance your swimming experience, and producing a soothing ambiance with proper seating are all ways to upgrade your pool. Whenever you ever need a break, use your oasis to escape and enter a world of tranquility.
---
---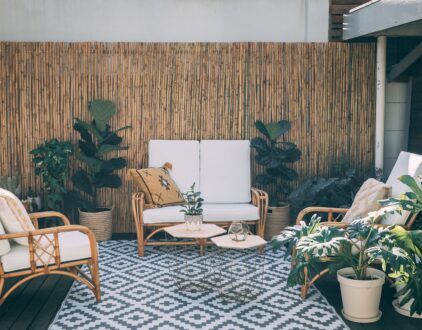 ---
Spaces
Whether it's luxury or ease, every area of your home should be as fabulous and unique as you.
FOLLOW ALONG ON INSTAGRAM
Find us on social for more home inspiration where culture, personal style, and sophisticated shopping intersect to help you create a home where you love to live.