Fancy chandeliers are classic decor pieces that add refinement to any room. In addition to their visual appeal, they offer functional benefits and come in a wide selection of styles, making them a versatile lighting option for different environments.
Why Fancy Chandeliers Are a Preferred Lighting Option
Chandeliers are a great lighting option because they can become the center of attention, enhancing the atmosphere of a room. Regardless of whether it is a sparkling crystal chandelier or a contemporary design with a sleek style, chandeliers can convert a plain space into a visually stunning one.
Different Types of Chandeliers
There are plenty of options for chandelier styles that cater to different tastes and interior design themes. Traditional chandeliers offer intricate detailing and candle-style lights for a classic and elegant feel. Meanwhile, contemporary chandeliers have minimalist designs, sleek lines, and innovative materials that are perfect for modern and minimalist interiors.
Rustic chandeliers have a cozy and inviting feel due to their natural elements and warm tones. Transitional chandeliers combine traditional and modern designs, achieving a balance between timeless and contemporary aesthetics.
Optimal Spaces To Hang Your Chandelier
Chandeliers can be placed in various areas in a home. They are commonly hung in dining rooms, serving as a focal point that creates a cozy and lavish ambiance during meals and events. Additionally, chandeliers make a breathtaking first impression in grand foyers and entryways, greeting visitors with their luminosity. Chandeliers can also enhance the elegance and allure of bedrooms, living rooms, and bathrooms.
5 Fancy Chandeliers for a Sophisticated Ambiance
Chandeliers provide both practical and decorative advantages. They can serve as a centerpiece, come in numerous styles, and can be placed in different areas around the house, making them a great lighting option. No matter what your preferred style may be—classic, modern, rustic, or transitional—a chandelier can add charm and sophistication to any room. Here are our top five fancy chandeliers to add a touch of class to your ambience:
1
Bellevue Evelyn Wide Chandelier
The Bellevue Evelyn Wide Chandelier is a beautiful lighting fixture that can enhance the look of your space with its elegant design. It has a glass body that looks sophisticated, and a grey colored seedy glass shade that creates a soft glow. It can be easily installed in different settings, including ones with sloped ceilings. The Bellevue Evelyn Wide Chandelier needs three medium incandescent bulbs with a maximum of 60 watts each for good lighting. Plus, it can be dimmed if fitted with compatible dimming bulbs to set the mood. Transform your home or office space with the sophisticated Bellevue Evelyn Wide Chandelier that merges style and convenience.
2
Minka Lavery Chandelier
The Minka Lavery Chandelier is a stylish and functional addition to your space. Made of high-quality steel, it is designed to be long-lasting. And installing the chandelier is easy since all the necessary mounting hardware is included in each order. Plus, it can be placed in any room thanks to its compatibility with sloped ceilings. The chandelier uses six candelabra bulbs, each with a maximum wattage of 60 watts. You can use vintage Edison bulbs to improve the aesthetic appeal of your space. Or, easily create the desired ambiance with compatible dimming bulbs. Even better, the Minka Lavery Chandelier is designed with an ETL rating for damp locations to ensure safety and reliability.
3
Spanish Alabaster Chandelier
The Spanish Alabaster Chandelier is a blend of metal and stone that radiates everlasting elegance. This chandelier combines metal and Spanish alabaster in a stunning way that will catch your eye and make a beautiful centerpiece for any space. Its warm and welcoming glow comes from the metal and alabaster shade. The chandelier can be mounted at different ceiling heights thanks to its adjustable cord. Designed for use in dry areas, this gorgeous chandelier is ideal for living rooms and foyers. If you want to add elegance and sophistication to your decor and enjoy a radiant glow, consider this Spanish Alabaster Chandelier.
4
Brentwood Drum Chandelier
This gorgeous Brentwood Drum Chandelier is a modern and elegant lighting fixture. It has a single-tier drum shape and a 25" wide white fabric shade that can add sophistication to your dining room or entryway. And for a touch of glamour, the chandelier also has crystal accents that add sparkle to your decor. The Brentwood Drum Chandelier has a versatile design that can match a number of interior styles, including traditional and contemporary. You can use it in any space, making it a convenient lighting option. This chandelier can make a stylish statement while providing timeless beauty through its illumination.
5
Kirkland Wide Chandelier
The Kirkland Wide Chandelier is a modern lighting fixture that can be used in various settings and makes a bold statement. It has a wide design that catches the eye and features a clear glass shade, resulting in a bright and welcoming ambiance in any area. This versatile lighting fixture can enhance the style of various interior design themes. It has a simple yet elegant design that can suit modern or traditional settings. Having this chandelier in your space can bring a touch of refinement and a cozy atmosphere. It looks great over a dining table, home library, or living room.
Our editors love finding you the best products and offers! If you purchase something by clicking on one of the affiliate links on our website, we may earn a commission at no extra cost to you.
---
---
Decorate
Access design inspiration that infuses personality and culture into your spaces.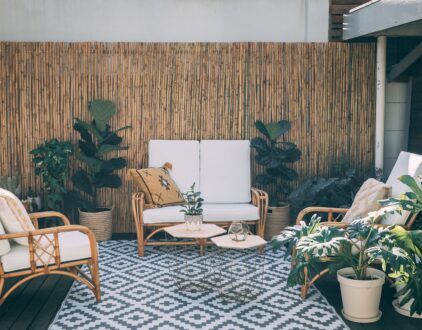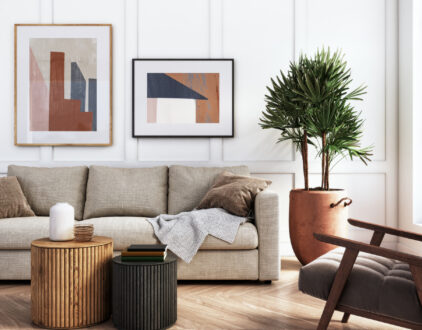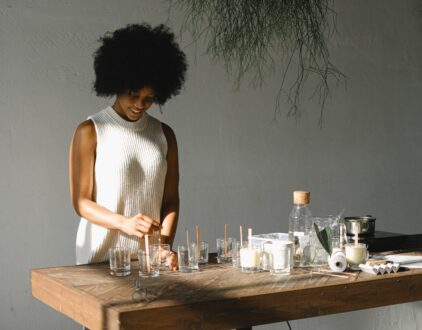 ---
Spaces
Whether it's luxury or ease, every area of your home should be as fabulous and unique as you.
FOLLOW ALONG ON INSTAGRAM
Find us on social for more home inspiration where culture, personal style, and sophisticated shopping intersect to help you create a home where you love to live.