Times have certainly changed, and so has technology. Long gone are the days when you had to use a house phone to call the movie theater to find out the times your favorite movie would start playing. Now, you likely have enough apps on your smart devices to keep you entertained, but sometimes, you miss that quality movie experience. You may not miss the prices for food at the concession stand, but the crisp imagery, surround sound and wall-to-wall picture screen can be replicated at home. So movie lovers, get ready to rejoice because it's time to shop the best projectors that will give you that movie experience from the comfort of your own home.
Best Home Projectors for an At-Home Movie Experience
A home projector, especially one that is of good quality, can be better than any flat screen you may be eyeing at the moment. With most projectors, you can use your wall as a screen, which is close to the equivalent of a movie screen.
Most projectors have the same type of setup: connect the projector to your Wi-Fi network, put the projector in the direction you want your picture to show up, and select your entertainment. If you have a living room or even a bedroom wall that's empty, that's a perfect location to cast your projector. If you are a maximalist and all your walls are busy, you can cast your projector on your ceiling for a more trippy night of entertainment, or use a bed sheet to cover any distractions.
To help you get started, here is a list of high-quality home projectors to shop. Whether you want to have a movie night inside or outside, you have a nice range of choices to choose from.
Epson Pro Wireless Projector with Miracast
If you're searching for a projector that gives you a bright, clear picture, then look no further. This Epson Pro Wireless Projector with Miracast will keep you and your guests entertained with its high-quality sound and True 3-Chip 3LCD technology.
LG CineBeam Home Theater Smart Projector
Now, you can watch all your favorite shows and movies in an impressive 4K with the LG CineBeam Home Theater Smart Projector. With breathtaking picture resolution and the ability to accommodate screen sizes up to 140 inches, you will never want to go to the movie theater again.
Optoma HD146X High-Performance Projector
Whether you love to game or watch movies, this Optoma HD146X High-Performance Projector from Amazon is a great option if you enjoy 3D content. This projector is easy to set up and has a fast response time, which makes it great for streaming live shows for any big event you don't want to miss out on.
PURSHE 5G WiFi Bluetooth Projector
If you already have too many wires for your devices and aren't trying to add any more, then you will welcome the convenience of the PURSHE 5G WiFi Bluetooth Projector. Not only does it comes with a 120-inch projector screen, you can connect it to a wireless connection and stream it inside or outside.
Philips NeoPix Prime2 Projector
For homeowners with large screens, this Philips NeoPix Prime2 Projector offers the best quality for screens up to 90 inches. Plan your next movie or game night with this projector with a lamp light that lasts over 30,000 hours.
Samsung Freestyle FHD HDR Smart Portable Projector
Unlike other projectors, the Samsung Freestyle FHD HDR Smart Portable Projector can adjust to any angle you point it. This will give you the flexibility to optimize space and entertainment in your home. Now you can game, watch movies and catch up on your favorite binge-worthy show anywhere you'd like.
Samsung Premiere 4K UHD Wireless Smart Laser Projector
Even if you don't have surround sound speakers, this Samsung Premiere 4K UHD Wireless Smart Laser Projector is packed with high-quality sound and imagery. With a voice assistant already installed, you can command your projector to stream your favorite shows anytime you want.
Wanbo T2 LCD Projector
This projector may be small in size, but it's packed with lots of power. This Wanbo T2 LCD Projector can work in your bedroom or your living room. With the ability to show quality pictures up to a screen size of 120 inches, you can bet on having plenty of cozy nights of entertainment.
XIAOYA HD Movie Projector
The XIAOYA HD Movie Projector is made for watching movies by your fire pit or on a camping trip. Compatible with both Android and iPhone devices, you can transform your outdoor area into a serene movie experience.
Xgody Projector
You don't need to be tech-savvy to use this Xgody Projector. In fact, it comes equipped with apps already installed on it so all you have to do is plug it in and let the good times roll.
Our editors love finding you the best products and offers! If you purchase something by clicking on one of the affiliate links on our website, we may earn a commission at no extra cost to you. 
---
---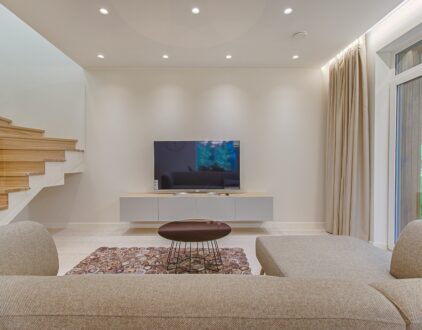 ---
Spaces
Whether it's luxury or ease, every area of your home should be as fabulous and unique as you.
FOLLOW ALONG ON INSTAGRAM
Find us on social for more home inspiration where culture, personal style, and sophisticated shopping intersect to help you create a home where you love to live.