Some of Atlanta's biggest names in the home decor and lifestyle space came together at The Garden Room to celebrate the launch of Home & Texture.  The influencers got a first glimpse at what the newest lifestyle brand has to offer. They also heard from Blavity Inc. CEO and Founder, Morgan DeBaun on what inspired her to launch this exciting venture. Influencers ranged from Mattie James, who emcee'd a Q&A session with DeBaun to interior designer Amber Guyton, the force behind Blessed Little Bungalow. It was the perfect setting for creatives to meet, greet and share inspiration.
Here's a rundown of some of the top names in the room and how you can incorporate their style in your own home!
The Mattie James
Lifestyle blogger, Mattie James, is the brains behind her self-titled brand that often features family, self care and, of course, home decor. The mom of three is based in Atlanta and often showcases a variety of boards – from cheese and fruits to turkey sandwiches – on her social media pages.
View this post on Instagram
Amber Guyton
Amber Guyton is a blog creator and interior designer who runs Blessed Little Bungalow. Her spaces tend to include bold color, plush finishes and art that speaks to the culture.
"I wholeheartedly believe that you should love where you live, and loving your home shouldn't require spending a fortune! Affordable and aesthetically pleasing home décor is well within reach, you just have to look in the right places with the right eye." Guyton writes on her blog.
View this post on Instagram
On her instagram page you'll find she puts that philosophy into action mixing high-end pieces with more affordable finds.
Courtney Michelle
The face behind @thecourtneyc, Courtney Michelle has amassed nearly 260,000 followers on Tik-Tok through sharing her luxe lifestyle, family life and fashion tips. The new mom resides in Atlanta and often posts videos from her closet full of designer wears. From day-in-the-life content to self-care regimes, if it's high-end, Courtney likely has it covered.
Dayna Bolden
Dayna Bolden's Instagram bio says it all – "A BOSS Mom inspiring women to go BOLDLY after their dreams." On her page you'll find everything from relationship content to home decor inspiration. Oh, and there's travel too! When it comes to her home, Bolden leans into neutral tones and clean lines. It's the perfect setting whether you're settling in for some self care or jumping head first into  your to-do list.
View this post on Instagram
Ashley D.
On Ashley D's Instagram page, @alexanderreneedesign,  you'll find a little bit of everything related to home. The digital creator shares advice on decor, DIY, organizing and cleaning.  She incorporates neutrals with pops of bold decor and offers accessible advice no matter where you are on your homeownership journey.
View this post on Instagram
Jump to Products
---
Extra Large Acacia Board
If you're looking to upgrade your charcuterie experience, then give this Acacia board a try. You'll find that has plenty of room to hold a variety of cheeses, meats and other accoutrement. If you aren't into meats and cheeses, then try out a dessert board, a fruit board or a sandwich board for some variety.
Seeking Joy Print
Add some culture to your home with this bold print. It comes in a variety of sizes fro 8x10 to 24x36. This handmade print is watercolor on canvas. Consider using this print as a feature piece on a wall or as part of a gallery collection in your home. Reviews mention that the print is beautifully made and once framed fits well in a variety of rooms, even a bathroom!
Closet Island
For those who are fortunate enough to have the storage space of a walk-in closet, consider another upgrade: this closet island! This glamorous storage piece has all the room you need for your essentials including jewelry and intimates. You can also use this to store small clothing items and any other valuables. The transparent top is perfect for organizing your jewels, scarves and headbands. The island features eleven drawers adorned with crystal knobs.
Bodhi Dome Pendant
This light fixture comes in two sizes. The smaller, is a perfect choice for over a kitchen island. Or, choose the larger option for a dining room to accent your table. Choose the right bulb and you'll be rewarded with warm light that is evenly dispersed thanks to the domed design. The light is handmade of aluminum and iron with a textured exterior for an aged look. The small fixture takes one bulb, the large takes three.
Vernon Upholstered Barrel Accent Chair
Bring chic style to your space with this sherpa upholstered accent chair. The barrel style curves into high armrests, along with a wide foam cushioned seat to provide you a comfortable seating experience. The chair is also available in a soft brown color. Consider placing the chair under a floor lamp and add a small drink table for the coziest reading corner. This piece arrives fully assembled so you can unpack and enjoy immediately.
---
---
Spaces
Whether it's luxury or ease, every area of your home should be as fabulous and unique as you.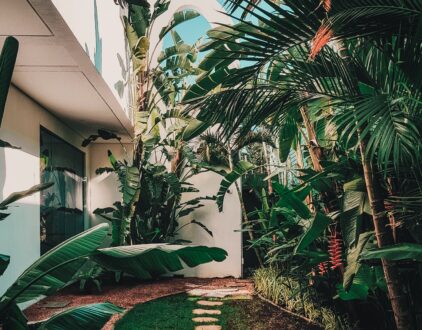 FOLLOW ALONG ON INSTAGRAM
Find us on social for more home inspiration where culture, personal style, and sophisticated shopping intersect to help you create a home where you love to live.