As the Fourth of July holiday approaches, it's time to start thinking about how to make your home festive and welcoming for the occasion. There's no better way to do this than by shopping some of the best decor sales available. From patriotic flags to outdoor furniture, there are plenty of items to choose from that will help you transform your home into a stunning display of red, white, and blue.
How To Celebrate in Style
Take advantage of the exclusive deals and discounts on a wide range of decor. Many online retailers offer excellent prices on everything from flag-themed tablecloths to festive wreaths.
Another great place to look for Fourth of July decor is at your local home goods store. Whether you're looking for a new set of patriotic throw pillows or a set of outdoor string lights, there's a good chance you'll find it at your local home goods store.
If you're feeling particularly handy, you might even consider making your own Fourth of July decor. Whether you're an experienced crafter or just starting out, there are plenty of DIY projects that can help you create stunning decorations for your home. From handmade wreaths to festive centerpieces, the possibilities are endless.
Consider anything from decorative flags and banners featuring stars and stripes to red, white and blue pillows to complement your indoor or outdoor furniture. You can also find Fourth of July sales on a number of party supplies if you're hosting a backyard barbecue, including string lights, centerpieces, and pool accessories.
Fourth of July Decor Pieces To Add to Cart
If you're looking for Fourth of July decor inspiration, here are some items you can shop right now:
1
Room Darkening Sliding Panel Pair
Get festive with this set of red, white, and blue window panels. Created with innovative printing technology, this pair of sliding panels can block light from pouring into your room. You can set them up in your living room so guests can see your festive decor, or your bedroom for quality sleep. No matter where you place them, this set is perfect for adding a festive touch to your home. Even better, they are machine washable so you preserve them for years to come.
2
Fourth of July Kitchen Mat
Celebrate the holiday from the comfort of your home with this adorable kitchen mat. Featuring patriotic colors, this mat is the perfect way to add a festive touch to your home you can enjoy while cooking. For your convenience, each mat includes an anti-slip backing to prevent accidents. But not only that, it is also soft and plush, making it comfortable to stand on for long periods of time. You can use your mat in your kitchen, bathroom, or even in front of your vanity set.
3
100-Count Red White and Blue LED Mini Fourth of July Lights
To ramp up your summer celebration, decorate your backyard with this festive string of lights. Each order includes 100 red, white, and blue lights to kickstart your party. For the sustainable shopper, LED lights use approximately 90% less energy than incandescent lights. So not only are they on sale, but they are also environmentally friendly, too. Even better, the lights shine bright in the nighttime so you can keep the party going all night.
4
Red, White, and Blue Lantern
Light up the night sky with a display of red, white, and blue lanterns! Made from eco-friendly material, the lanterns are not only an attractive way to spice up your summer party, but sustainable, too. They measure 24 inches across, so you can proudly display them in the front or back of your home. Plus, they are easy to set up, including a 12-inch standard power cord to make turning them on and off a breeze.
5
LED Net Light
Keep the party going strong with this LED Net Light from The Holiday Aisle. This enchanting net can take your poolside bungalow from day to night with its gorgeous lighting. It includes eight lighting modes so you can select the perfect setting for your outdoor gathering. Plus, it can remember your preferred setting so you can turn it on and enjoy your favorite mode the next time you turn it on. Each net comes with 30,000 hours of service life which means you can use it for a long time. Not to mention, it is also waterproof, making it even more durable.
Our editors love finding you the best products and offers! If you purchase something by clicking on one of the affiliate links on our website, we may earn a commission at no extra cost to you.
---
---
Decorate
Access design inspiration that infuses personality and culture into your spaces.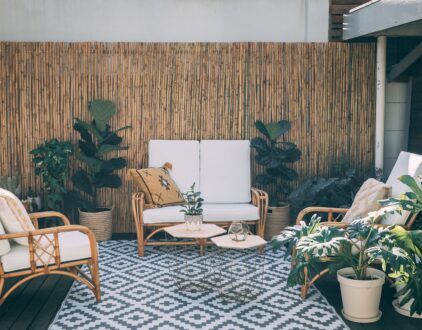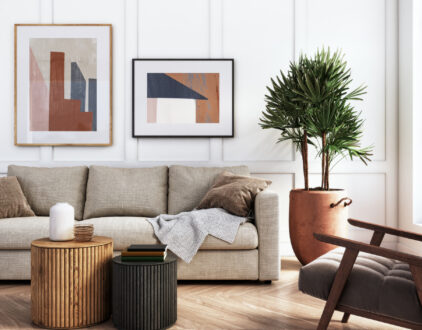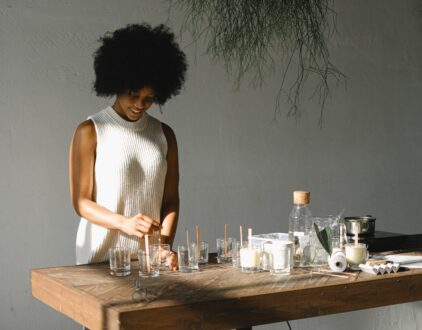 ---
Spaces
Whether it's luxury or ease, every area of your home should be as fabulous and unique as you.
FOLLOW ALONG ON INSTAGRAM
Find us on social for more home inspiration where culture, personal style, and sophisticated shopping intersect to help you create a home where you love to live.