The Fourth of July is a momentous occasion, and it's not just about celebrating America's independence. It's an opportunity to snag some fantastic deals on home decor from some of the most popular brands out there. This year, many retailers are offering deep discounts on everything from furniture to accessories. So whether you're looking to spruce up your living room or add a little pizzazz to your bedroom, there's no better time to shop than during the Fourth of July sales.
In addition to the great prices, shopping during Fourth of July sales also allows you to take advantage of the newest trends and styles. Many brands release their newest collections during this time, giving you access to the latest and greatest in home decor.
Perhaps the biggest reason to shop these sales is the opportunity to save big on high-quality, well-crafted items. Investing in quality home decor not only makes your space look better, but it also ensures that your pieces will last for years to come.
Popular brands like H&M and Anthropologie are great sources for trendy home decor. During their Fourth of July sales, you can find discounts on items such as throw pillows, candles, tableware, patterned rugs, woven baskets, eclectic wall art — you name it.
If you're looking to shop a classic department store, Macy's is another option that also offers a wide range of home decor options. From bedding to furniture, Macy's Fourth of July sale has something for every room in your home.
Home Decor Items on Sale Now
Overall, the Fourth of July is a great time to revamp your home decor without breaking the bank. With so many popular brands offering deep discounts, there's no excuse not to give your home a little facelift. To take advantage of the holiday promotions while they last, here are six discounted products you should shop:
1
Elysian Cross-Dyed Gauze Quilt​
This Elysian Cross-Dyed Gauze Quilt​ is made with an airy four-layer cotton gauze to provide a soft, cushy feel. Available in four soft colors that are easy on the eyes, this quilt is the perfect way to add a touch of sophistication to your bedroom and match well with any existing decor. Machine wash cold on gentle inside out and tumble dry to preserve the life of this quilt.
2
Indoor/Outdoor Pillow
To add a dash of island flavor to your home, try a few of these pillows featuring a handful of tropical fronds. Available in two colors — black and white or brown — these decorative pillows are perfect for setting inside your poolside bungalow or nestling atop a hammock.
3
Peighton 3 Piece Bar Set
Crank up the fun with this premium 3-piece bar set! Made from quality wood, this bar set is sturdy and durable. Each order includes a mixing surface, sliding doors, shelf storage, a wine rack, and a large drawer for all your bartending needs. Whether you mix up a mimosa or whip up a tropical cocktail, this bar set has everything you need to get the party started.
4
Angelica Dining Arm Chair Set
Enjoy a fancy dinner at home with friends with this set of sophisticated dining arm chairs. Each chair is expertly decorated to evoke a sense of luxury and grandeur. Plus, its round arms and high back provide the perfect amount of class and charm to make your dining space more inviting.
5
Embroidered Cushion Cover
For an easy way to spice up your living room, look no further than this beautiful Embroidered Cushion Cover! Its soft velvet material make it a comfortable addition to any space. Plus, it features an array of embroidered critters to provide a uniquely attractive decorative item that is sure to impress.
6
Seagrass-framed Mirror
To celebrate the summer in style, this rounded mirror framed in seagrass is the way to go. Its irregular shape perfect for creating an au naturale feel to give your home a touch of the tropics. The perfect complement for any room in need of an extra something special, this statement mirror is the besy way to brighten up your interiors.
Our editors love finding you the best products and offers! If you purchase something by clicking on one of the affiliate links on our website, we may earn a commission at no extra cost to you.
---
---
Decorate
Access design inspiration that infuses personality and culture into your spaces.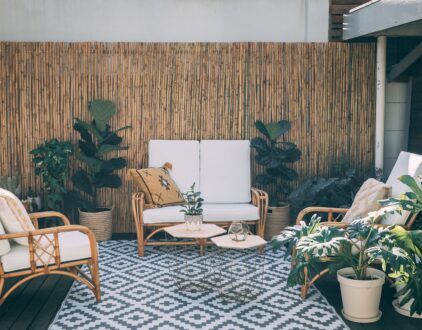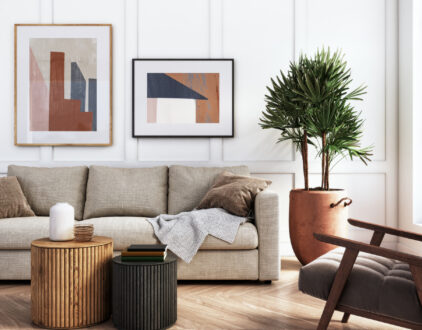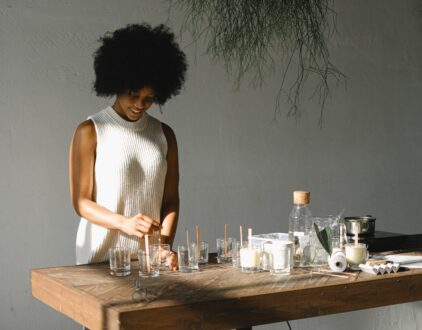 ---
Spaces
Whether it's luxury or ease, every area of your home should be as fabulous and unique as you.
FOLLOW ALONG ON INSTAGRAM
Find us on social for more home inspiration where culture, personal style, and sophisticated shopping intersect to help you create a home where you love to live.