Getting a good night's sleep is not just a luxury — it's a necessity. If you lead a fast-paced, high-stress lifestyle, getting uninterrupted sleep at night is crucial. Achieving the epitome of restful sleep doesn't have to be a difficult task, either. With the right items, your bedroom can transform into a sanctuary for blissful relaxation.
Here are the essential items you need to ensure the best sleep ever.
Premium Mattress
Investing in a top-tier mattress is the cornerstone of quality sleep. A great mattress offers a balance of support and comfort. Consider memory foam mattresses with cooling technology or a hybrid model that combines the best of both worlds: foam for comfort and springs for support. High-quality mattresses come with a hefty price tag but are a long-term investment in your overall well-being.
Luxury Bedding
The quality and texture of your bedding can make a significant difference in your sleep quality. Opt for luxurious materials like Egyptian or Pima cotton with a high thread count. These fabrics not only feel incredible against the skin, but they have enough breathability to ensure you're not overheating throughout the night.
Adjustable Bed Frame
Having an adjustable bed frame in your bedroom can be a game-changer for your sleep routine. With the click of a button, you can elevate your head or feet to relieve pressure points, aid in circulation, and even reduce snoring. Some advanced adjustable bed frame models come with built-in massagers and charging ports for the ultimate bedtime convenience.
Noise-Canceling Technology
Traditional white noise machines are great, but you should also consider upgrading to a more advanced noise-canceling technology. Smart speakers often have noise-canceling soundscapes that provide soothing sounds of the rainforests and gentle waves of the ocean. Some models can even sync with your home automation system to control the temperature, lighting, and mattress settings.
Aromatherapy Diffuser
Scents have a powerful effect on our state of mind. Having a high-quality aromatherapy diffuser dispersing essential oils at night, like lavender or chamomile, can create a calming environment to fall asleep. Opt for diffusers with timer settings so they shut off automatically, saving energy and ensuring safety.
Bedtime Essentials for the Best Sleep Ever
Avocado Luxury Organic Mattress
Experience a new level of opulence with the updated 2022 Luxury Plus Mattress by Avocado Green. This certified organic and handmade mattress is made in Los Angeles and boasts 17 layers of premium organic and natural materials such as latex, wool, silk, hemp, and cotton. This mattress is designed for ultimate comfort and support. It features up to 3,145 individually pocketed coils that are strategically arranged in five zones for optimum motion isolation and targeted support. In addition to being the brand's softest mattress, it's Climate Neutral Certified, making it a great eco-friendly choice. This mattress ships flat and requires deep pocket sheets.
Saatva Adjustable Base
Transform your sleeping experience with Saatva's deluxe Adjustable Base Plus. This base elevates your head and feet for personalized comfort, providing an almost weightless sleep experience. The base is controlled by an easy-to-use wireless remote. The quiet motor is discreetly out of sight, which ensures a peaceful, clutter-free environment. With the touch of a button, you can activate the zero-gravity or anti-snore preset to optimize your sleeping position effortlessly. When you're not enjoying a blissful night of sleep, you can indulge in a full-body wave massage with three-speed settings. This is perfect for relaxation, reading, or work. This base also has added features like under-bed lighting and a built-in remote flashlight for nighttime convenience.
Sunday Citizen Snug Quilted Comforter
Discover the epitome of luxurious slumber with the Snug Quilted Comforter by Sunday Citizen. With chic square quilting and a two-sided design — fluffy on top and smooth underneath — this comforter offers the perfect balance of warmth and breathability, ensuring you stay at the right temperature throughout the night. Beyond being extremely comfortable, this all-in-one bedding solution is eco-conscious, featuring filling from over 50 recycled PET bottles. This comforter is buttery-soft and incredibly plush, replacing the need for a duvet, duvet cover, and top sheet. It's a simple way to elevate your sleep experience. Machine washable and designed with durability at the forefront, this comforter promises long-lasting comfort and care.
Pura 4 Home Diffuser
Transform the ambiance of your bedroom with the Pura 4 Smart Fragrance Diffuser. This diffuser was designed to elevate your scent experience in medium-to-large spaces like your bedroom, kitchen, and living room. This innovative diffuser combines cutting-edge smart features with premium, safe, clean fragrances. This allows you to tailor your space to your preference. Using the Pura app, you can adjust the fragrance intensity, set schedules and times, and control your sensory environment. The unique Adaptive Diffusion feature adjusts the scent output based on your home's temperature, ensuring there's a consistently pleasing aroma. Puralast technology gives a long-lasting fragrance experience with up to 120 hours of incredible scent.
SNOOZ White Noise Machine
Get the best sleep of your life with the SNOOZ White Noise Machine. This machine was designed to reduce sleep-disrupting disturbances and create a tranquil bedroom environment. This innovative device emits peaceful background noise, allowing you to drift off into peaceful, uninterrupted sleep. SNOOZ is confident in its sleep-enhancing capabilities. So much so that they offer a hassle-free, 100-night trial with free returns, even covering the cost of return shipping. Every SNOOZ order comes with fast, free shipping so you can experience better sleep as soon as possible. This brand will deliver white noise and a complete, rejuvenating sleep experience.
Our editors love finding you the best products and offers! If you purchase something by clicking on one of the affiliate links on our website, we may earn a commission at no extra cost to you.
---
---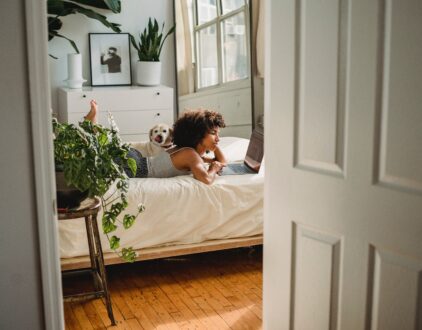 FOLLOW ALONG ON INSTAGRAM
Find us on social for more home inspiration where culture, personal style, and sophisticated shopping intersect to help you create a home where you love to live.