When it comes to choosing the perfect, cozy rug for your home, natural fiber rugs are a great option to consider. They not only are providing a timeless aesthetic, but also come with a variety of benefits that synthetic rugs can't match.
What Are Natural Fiber Rugs?
Natural fiber rugs consist of materials derived from plants or animals. That makes them eco-friendly and sustainable options for your home. These rugs are also grown or raised without the use of synthetic chemicals or hormones. They definitely will add warmth and texture they add to your space.
The Benefits
Aside from their eco-friendliness, natural fiber rugs tend to come with a variety of benefits that make them a worthwhile investment for any home. They also tend to be extremely durable and able to withstand heavy foot traffic, allowing them to last for years. Many of the materials used in manufacturing, such as wool and jute, naturally are hypoallergenic. They don't harbor dust or allergens, making them a great choice for those with allergies or respiratory issues.
They're also extremely easy to clean and maintain with regular vacuuming and spot cleaning.
Types Used in Rug Production
Many types exist on the market, but here are some of the most popular types of materials used in natural fiber rugs.
Wool
Derived from the fleece of sheep, you'll love wool for its soft, durable and naturally stain-resistant qualities.
Jute
Jute is a plant-based fiber that is grown in warm, humid climates. It is durable and affordable, making it a popular choice.
Sisal
Produced from the leaves of the agave plant, sisal is strong, durable and moisture-resistant. It makes a great choice for high-traffic areas.
Bamboo
Bamboo is a naturally fast-growing plant, making this material extremely eco-friendly. These rugs are durable, moisture-resistant with a smooth, sleek feel.
Jump to Products
---
1
Wooly Natural Fiber Contemporary Rug
Made from natural wool fibers, this rug provides a soft and comfortable surface for your feet while adding a touch of elegance to your space. The contemporary design of the rug features a unique pattern of concentric rectangles that creates a sense of depth and movement. The neutral color palette of beige and ivory adds warmth and sophistication to your room, while the wool fibers provide a cozy and inviting texture that is perfect for living rooms, bedrooms, and other areas of your home where a soft and comfortable surface is desired.
2
nuLOOM Daniela Farmhouse Chunky Jute Area Rug
This 100% jute rug, handwoven in India, is a perfect addition to your home. Its organic simplicity complements any space, whether it's in the bedroom, living room, dining room, kitchen, office, or entryway. The rug is hand-woven with a medium thickness of 0.45 inches, which provides a comfortable and sturdy base for your feet. The chunky weave of the rug adds texture and depth to your space, while the off-white color provides a neutral backdrop for your furniture and decor.
3
SAFAVIEH Natural Fiber Collection Area Rug
Made from natural sisal fibers, this area rug is an exquisite and durable piece that combines the beauty of natural materials with expert craftsmanship. It's made of natural materials such as jute, sisal, and sea grass, which are known for their strength and texture. Power-loomed construction adds to the rug's durability, so you can feel good knowing it's a piece of decor that will last. Each rug is hand-made and hand-woven, giving it a unique, artisanal feel that cannot be replicated by machines. The pile height of this rug is 0.5 inches, providing a comfortable and plush feel under your foot.
4
iDesign Bamboo Non-Skid Water-Resistant Floor Mat
This bamboo rug is a stylish and practical rug that is perfect for use in high-moisture areas such as bathrooms, entryways, or kitchens. Made from natural bamboo, this rug is water-resistant and provides a durable and long-lasting solution for your flooring needs. The rug's unique texture and color make it a versatile addition to any room. Its natural beige color and intricate bamboo pattern blend seamlessly with a variety of furniture styles and color schemes. The rug's non-skid backing ensures that it stays in place, providing a safe and secure surface for your feet.
5
Anji Mountain 5-Foot-by-8-Foot Natural Fiber Rug
This stunning rug features an intriguing camo pattern in dark brown and mahogany colors with a black border. The rug is made from natural fibers that are harvested from native bamboo trees in the Anji Mountains of China. Its patented, ventilated, non-skid backing ensures that it stays in place while also providing cushioning for extra comfort. The mitered cotton borders provide a natural and clean design that complements the rug's natural fibers. This rug is truly one-of-a-kind — slight color variations may occur due to the unique, natural qualities of the fibers.
Our editors love finding you the best products and offers! If you purchase something by clicking on one of the affiliate links on our website, we may earn a commission at no extra cost to you.
---
---
Decorate
Access design inspiration that infuses personality and culture into your spaces.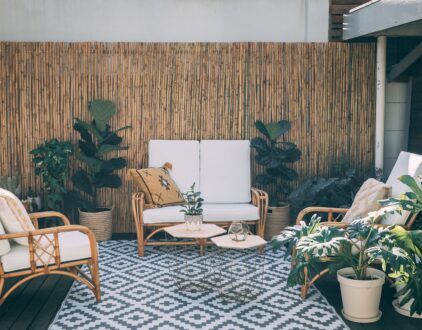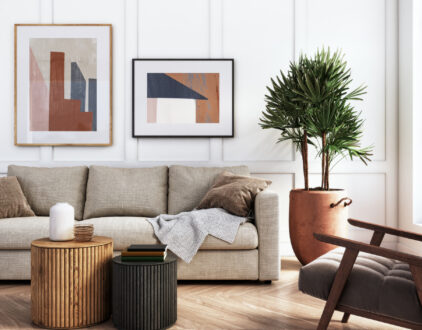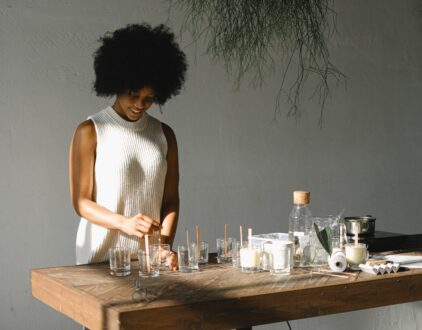 ---
Spaces
Whether it's luxury or ease, every area of your home should be as fabulous and unique as you.
FOLLOW ALONG ON INSTAGRAM
Find us on social for more home inspiration where culture, personal style, and sophisticated shopping intersect to help you create a home where you love to live.