A living room rug is a great way to add warmth, texture, and style to any space. It can also help define different areas in an open-concept living room or anchor furniture arrangements. With so many options available, where do you even begin to choose the perfect one for your space? We've done the research and compiled a list of the 10 best living room rugs that will totally level-up your space's atmosphere.
What to Consider When Choosing a Living Room Rug
Before you explore the different kinds, it's important to consider several different factors such as size, material, color, pattern, and budget.
Size: The size of your rug will depend on the size of your living room. You want it to be large enough to fit all of your furniture on top of it. A general rule of thumb is to leave at least 18 inches of space between the edge of the material and the walls.
Material: The material will also affect how it looks and feels. Wool is a popular choice for living room rugs because it is soft, durable, and easy to clean. If you want a more luxurious feel, consider one made of silk or shag. Meanwhile, natural fibers such as jute or sisal can add texture and depth to your space.
Color: As for color, think of it as a complement to your existing decor. If you have neutral walls and furniture, you can add a pop of color with a bold rug. If your walls are already colorful, a neutral choice can help balance the space.
Pattern: The pattern can also affect the overall look of your living room. If you have a lot of patterns in your furniture and decor, a solid-colored piece can help anchor the space. If you want to add more visual interest, consider a patterned rug.
Budget: Finally, consider your budget. Living room rugs can vary greatly in price, so it's important to set a budget goal before you start shopping.
Jump to Products
---
1
Persian Rug
A Persian rug is a stunning piece of decor that will give your living room a feeling of elegance and sophistication. The rug is made of soft and durable chenille material, which gives it a luxurious feel under your foot. It's also easy to clean and maintain, just blot any spills with a sponge or cloth. You'll also want to vacuum regularly to keep it in its pristine condition. This rug has a traditional design, featuring intricate floral and geometric patterns in shades of blue, beige, and ivory. It has a soft yet durable surface and features a no-slip backing to make sure it stays in place and holds up for all the activities!
2
Contemporary Rug
A contemporary rug is not only a beautiful addition to your home decor, but it also offers a range of practical benefits. Made from high-quality polypropylene, this rug is durable and long-lasting, making it a great investment for any home. The material is also stain-resistant and easy to clean, which means that spills and messes can be easily wiped away without leaving any unsightly marks or stains. It features a contemporary striped design that is versatile and timeless. You'll love that it comes in a range of colors and sizes, helps absorb sound and reduce noise. This makes it ideal for use if your living room gets a lot of foot traffic by little ones, pets, and guests.
3
Shag Rug
Can you say hello, glamorous?! A shag rug is a luxurious choice if you're looking to add an updated twist to a classic look. This rug is made of high-quality synthetic fibers that feel soft and plush underfoot, providing a comfortable surface for relaxation and lounging. The shaggy texture of the rug adds depth and dimension to your space. It is durable and long-lasting as long as you vacuum regularly. Stains can also be removed with a gentle detergent. Just be sure to keep it out of any direct sunlight, as the rays can cause the colors to fade over time.
4
Braided Rug
The unique braided design of this rug is not only visually appealing but also offers a number of practical benefits. Crafted from high-quality materials, this rug is incredibly durable and long-lasting. And, to make something great even better — it's also reversible, so you can flip it over and get even more use out of it. The rug features an earthy, woodstone color scheme that's soothing to your senses. Its neutral tones blend seamlessly with a wide range of color palettes. Additionally, you'll love this rug if you prefer eco-friendly items. It's crafted from natural materials and free from harmful chemicals.
5
Sisal Rug
Sisal is a great eco-friendly material for rugs since it's made out of the renewable agave plant fibers. This particular rug is made of a blend of sisal and jute, making it easy to care for. Its features a low pile height, which makes it shed-free. The neutral color options, such as beige and gray, make it easy to incorporate this rug into any decor style, from traditional to modern. Its durability, stain resistance, and low-maintenance design make it a versatile addition to your home. However, the material isn't known for being the softest. If you're looking for a long-lasting, decorative piece over comfort, this is it!
6
Jute Rug
Made from 100 percent natural jute fibers, this rug is not only sustainable but also durable and long-lasting. The long, shiny jute fibers are handwoven in India to create a unique, textured look that is both rustic and modern. The natural fibers and earthy tones of the jute create a cozy and inviting atmosphere. It's also easy to clean and maintain. This rug is also a great choice for those with allergies or sensitivity to synthetic materials. Jute is a natural material that is hypoallergenic and non-toxic, making it safe and comfortable for everyone in your home.
7
Cotton Rug
This soft rug is made from 100 percent natural cotton. One of its key benefits is that it's machine washable, making it easy to clean and maintain. It is also designed to resist stains and fading. This way, you can tread comfortably knowing it will maintain its vibrant colors even after multiple washes. In addition to its durability and functionality, this cotton rug is also stylish and trendy. It features a unique printed design that can add a pop of color and personality to any space. It is also soft and gentle on bare feet, providing a comfortable surface for you or your family to walk on.
8
Wool Rug
Wool is a natural fiber that has excellent insulating properties, making it ideal for use in colder climates or in homes with tile or hardwood flooring. This 100 percent wool rug is also naturally flame-resistant and has excellent durability. Its hand-tufted construction gives it a long life, even with heavy use. It features a stylish honeycomb pattern that adds elegance to any room. The rug has a low pile height, making it easy to clean and maintain, and it is also shed-resistant, ensuring that it will look great for years to come.
9
Bamboo Rug
If you're looking for an eco-friendly, sustainable, and durable option for your living room, consider a bamboo rug. It's made from 100 percent natural bamboo, a sustainable and environmentally friendly material. One of the most significant benefits you'll enjoy with this bamboo rug is its ability to regulate temperature. This rug is naturally insulating, which means it can help keep your living room warm in the winter and cool in the summer. Bamboo fibers are also naturally moisture-wicking, which helps prevent the buildup of mold and mildew. In addition to being practical, bamboo rugs are also stylish. The natural color and texture of the bamboo give the rug a unique and elegant look that can complement a wide range of interior design styles.
10
Animal Print Rug
Animal prints are making a comeback, and not just in clothing! This rug features a bold and beautiful animal print that will add a chic, edginess to your living room. It's made of a high-quality wool blend that's 80 percent mod-acrylic and 20 percent polyester. Combined, the hand-tufted materials make it soft, durable, and resistant to wear and tear. Additionally, the rug is easy to clean and maintain, which is a huge plus for busy households. As a whole, its high-quality construction, versatile design, and easy maintenance make it a top choice if you're looking to show off your unique tastes.
Our editors love finding you the best products and offers! If you purchase something by clicking on one of the affiliate links on our website, we may earn a commission at no extra cost to you.
---
---
Decorate
Access design inspiration that infuses personality and culture into your spaces.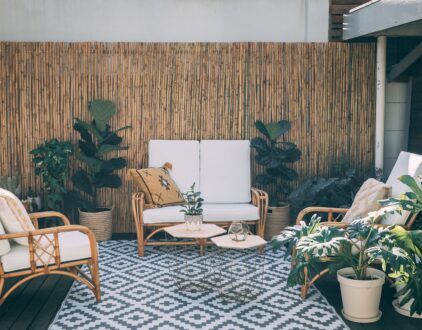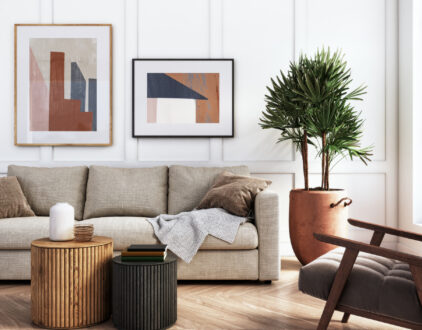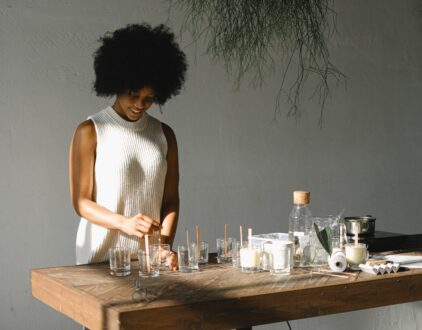 ---
Spaces
Whether it's luxury or ease, every area of your home should be as fabulous and unique as you.
FOLLOW ALONG ON INSTAGRAM
Find us on social for more home inspiration where culture, personal style, and sophisticated shopping intersect to help you create a home where you love to live.