If you're anything like us, you more than likely scroll through social media in the wee hours of the night, neglecting to charge your phone. And we all know that few things are more frustrating than waking up in the morning only to realize that you forgot to charge your devices overnight. This is where nightstand charging stations come into play. These charging stations offer convenient and organized solutions to ensure you never miss a night of sleep while ensuring your devices are fully charged when you wake up.
Why Nightstand Charging Stations Matter
Effortless Charging
Even the most forgetful person will have no issues with charging their phones at night with a charging station. You won't have to fumble with cords or the annoying task of crawling under the bed to find your outlet.
Stress-Free Mornings
Wake up to fully charged devices and less anxiety. You'll no longer have to panic over having a dying phone or tablet when you're rushing to get ready for the day.
Optimal Organization
Nightstand charging stations often come with multiple USB ports, wireless charging capabilities, and designated compartments to keep your devices neatly organized. Say goodbye to cluttered cables and hello to a tidy nightstand.
Safety First
Quality charging stations are designed with protection from your devices overcharging and overheating. This gives you peace of mind when charging your devices overnight.
Versatile Charging
Many are compatible with various devices, including smartphones, tablets, smartwatches, and even laptops. This versatility ensures that all your tech is ready to go in the morning.
What to Look for in Nightstand Charging Stations
Consider these factors when shopping for the right charging station for your nightstand.
Compatibility
Ensure that the charging station of your choice is compatible with your devices. Look for models that offer a mix of USB ports and wireless charging pads to accommodate various devices.
Design
Opt for a charging station that complements your bedroom decor. Many sleek, minimalist designs blend seamlessly with any style.
Safety Features
Check for safety features such as surge protection and temperature control. These features ensure that your devices are protected.
Cable Management
Look for models with cable management solutions so your cords won't get tangled.
Portability
There are great portable charging stations on the market. Portable ones are great for traveling or moving to different areas of your home.
Check out some of our favorite charging stations for nightstands below.
Large Courant Catch Tray
This premium wireless charging solution is designed for smartphones and earbuds. It is versatile enough to be placed conveniently on bedside tables in addition to end tables, desks, counters, and more for a quick and hassle-free charging experience. Crafted with high-grade matte aluminum and topped with fine pebble-grain Italian leather, this tray boasts a sleek appearance and features nonslip pads to prevent movement. The Catch series offers options for charging one, two, or multiple devices. Each unit includes a durable braided nylon USB power cable, making it a stylish and functional addition to any space. This tray was awarded the Red Dot Design Award and is endorsed by Oprah's Favorite Things.
Wood Phone Docking Station for 1-3 Phones
Declutter your life with this versatile phone docking station. Designed for both men and women, this station charges your phones and tablets while neatly organizing your cables and essentials. With separate spaces for 1 to 3 phones in the front and room for a tablet, notebook, or laptop in the back, it's the perfect charging solution for those with multiple devices. Additionally, it custom-fits your Apple Watch charger, offers hooks for keys and rings, a shelf for sunglasses and everyday carry items, a slot for pens and knives, and even a drawer for valuable items. Crafted from premium solid ash, this docking station is available in brown and black finishes. Say goodbye to tangled wires and clutter, and enjoy the convenience of having everything you need at your fingertips.
Minimalist 3-in-1 Wireless Nightstand Charger
Discover this minimalist wireless charging dock designed for style and functionality. Crafted from premium walnut wood and aircraft-grade anodized aluminum, this dock features triple wireless charging coils, supporting rapid charging for your iPhone, AirPods, and Apple Watch all at once. The package includes the charger, a braided USB cable, and a wall plug. With its natural walnut finish, non-slip rubber feet, and heat-dissipating vented base, this 3-in-1 charging solution offers efficiency and style.
Multifunctional 3-in-1 Wireless Charging Holder with Magnetic Suction Base
Experience the future of wireless charging with this pagoda-inspired charging station. This charger supports a wide range of devices, including iPhones, AirPods, and Samsung. Its original, sleek design incorporates a super magnetic induction coil for precise alignment and efficient wireless-fast charging. The dual lighting design adds a touch of elegance, allowing you to adjust the lighting to your preference with a simple click or long press. Advanced chip technology ensures safety with foreign object detection protection, over-temperature protection, over-voltage protection, and short-circuit protection. With thoughtful details like a raised charging position to protect your phone's lens, a circular array of heat dissipation holes for efficient cooling, and a soft silicone pad for stability, this charger provides a safe and efficient charging environment while elevating your charging experience.
Courant Mag 2: Classics Charging Station
Elevate your charging experience with this must-have accessory for iPhone and AirPods users. With MagSafe compatibility, this charging station effortlessly snaps your iPhone 12-15 onto the stand. The base of the charger accommodates AirPods. Designed with a touch of elegance inspired by home decor, this charging dock is the perfect addition to your bedside. This charger offers dual wireless charging ability, allowing you to charge two devices simultaneously. Crafted with premium pebble-grain Italian leather, this charging station exudes luxury.
Our editors love finding you the best products and offers! If you purchase something by clicking on one of the affiliate links on our website, we may earn a commission at no extra cost to you.
---
---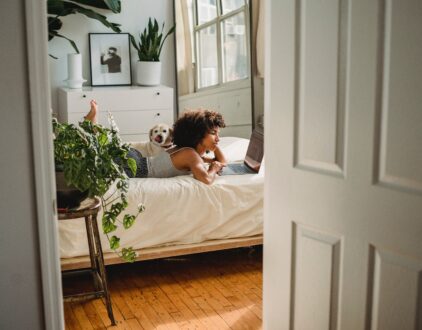 FOLLOW ALONG ON INSTAGRAM
Find us on social for more home inspiration where culture, personal style, and sophisticated shopping intersect to help you create a home where you love to live.