A brand new home or apartment can be both the most inspiring and the most daunting canvas. This is especially true if this is your first, or if you've chosen to start from scratch for any number of reasons. You want furniture that screams "YOU," but you know that also means leaving room for growth and evolution. So how do you fill your space with a sense of personality without breaking the bank or having to redecorate from scratch every couple of years?
Turning to designs and pieces that feel like throwbacks to inspiring eras is a great way to not only give your home some character and fill it with great conversation starters, it's also a way to make yourself feel like this space has always been yours.
Check out a few easy ways to tap into the architecture and design of the past to create a curated home that inspires the future.
Bring Warmth and Culture Into Your Home
In the mid- to late-70s, African Americans, Latinx and Native Americans all began to lean more heavily into their cultural heritage and find ways to incorporate that heritage into their very modern lives. To that end, many turned to home decor, finding textures, patterns and colors that spoke to their ancestral homes.
Today, you can find the same comfort in design by incorporating small, key pieces and accents that have the same textures, patterns, and colors of that era. This Better Homes & Gardens Modern Farmhouse 24″ Round Wood Wall Mirror, for example, features clean lines that can fit into a variety of decor options. But the wooden frame adds a rustic element that will allow you to give any room a touch of added personality.
Throw pillows are also a great way to inject a bit of visual interest into your living space, whether you go with a bold pattern like this Wanda June Home Aztec Cotton Chenille Pillow or let the texture do the talking using a vintage-looking piece like the Better Homes & Gardens Tufted Trellis Decorative Throw Square Pillow. Seeking out items with prints and colors that complement personal pieces that you've picked over time or from your family can help you create a home that feels collected and thought out.
Wood, wicker and rattan are also always a way to add a bit of tropical heat to your home. These Noble House Marten Fabric Upholstered Wood Counter Stools, for example, are the perfect way to add a rich element to your dining or lounging area. Or try this Better Homes & Gardens 18″ Woven Rattan Table Lamp or this Better Homes & Gardens Artificial Peperomia Plant in Wicker Basket, which offers the added bonus of infusing your home with that good, healthy green energy… even if you cheated a little.
And if you're not ready to commit to bigger pieces, try textured pillar candles like this one or this set of three– both options by Better Homes & Garden.
Tap Into The Vintage Futuristic Vibes Of Mid-Century Functionality
In addition to changing what many people considered art, Minimalism also revolutionized how homeowners in the late 1960s furnished their homes. Soon, large, stately pieces were being replaced with clean, ergonomic designs that balanced simplicity with elegance. Now you can revisit that era to give your home Dominique Deveraux levels of understated elegance.
Interestingly enough, one of the quickest ways to bring that minimalist look to life is by building the room in question around a large statement piece. Geometric elements like the ones built into this Mid-Century Style Modern Dining Table by Mainstays, Queer Eye's Liam Round Coffee Table or this Gold Finished Better Homes & Gardens Nola Coffee Table draw the eye without wasting space or adding unnecessary details.
Once you've selected the focal point of the room, enhance the vibes with equally understated accent pieces full of small eye-catching details like this gorgeous Fitzgerald Bar Cart with Matte Gold Metal Finish or Brushed Brass Metal Floor Lamp by Better Homes & Gardens. Or choose to keep the geometric motif going with end tables that echo the shapes found in your centerpiece, like this wood and marble option by Better Homes & Gardens. Then finish off the room with contrasting textures and colors like this Better Homes & Gardens Faux Sherpa Pillow Lounge Chair. Or go for even more subtle add-ons like this Mainstays Terrazzo Table Lamp or this Artificial Monstera Plant in Tan and White Pot for a pop of color that doesn't clash.
And you can extend this look into your bedroom too, by starting with this Hillsdale Arden Upholstered Pillow Queen Platform Bed as your statement piece, for example.
Who Said The Heirlooms Can't Start With You
Just because you didn't inherit your great-grandmother's hutch or the oak dresser your grandfather carved with his own hands, doesn't mean you can't fill your home with a sense of history with some carefully curated pieces.
To achieve this aesthetic, the most important thing to consider is material and texture. With its vintage walnut finish, this Better Homes and Gardens Montclair 6-Drawer Dresser will automatically bring a certain air of rugged luxury to your bedroom– or living room if you decide to switch up its functionality. The faux rattan accents contrasting with the black oak finish on this Queer Eye Wimberly 3 Drawer Dresser, on the other hand, instantly make this piece look like it's got a story to tell.
The same could be said for this Better Homes & Gardens Pillow Lounge Accent Chair, which, in the brown faux leather upholstery could instantly bring character to your living room or office.
If you want to capture luxurious inheritance feels in a lighter colorscape, try something like this Anna Upholstered Diamond Tufted Platform Bed by My Texas House paired with this Better Homes & Gardens Modern Farmhouse USB Nightstand for a touch of "lived in" rustic chic.
---
---
Decorate
Access design inspiration that infuses personality and culture into your spaces.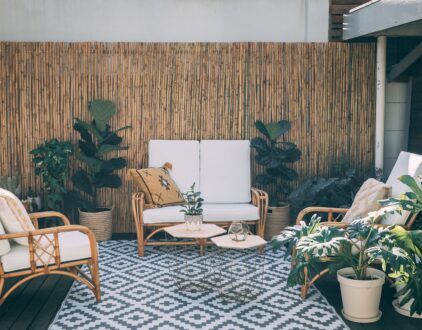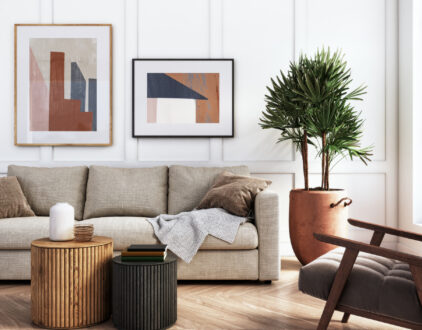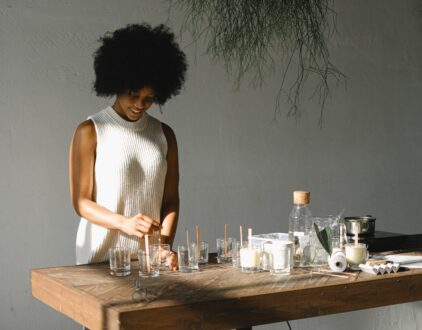 ---
Spaces
Whether it's luxury or ease, every area of your home should be as fabulous and unique as you.
FOLLOW ALONG ON INSTAGRAM
Find us on social for more home inspiration where culture, personal style, and sophisticated shopping intersect to help you create a home where you love to live.