Summer nights should be spent in comfort, not sweating, tossing, and turning because the heat makes it unbearable to sleep at night. One solution to finding a way to stay cool and comfortable during summer sleeping is investing in a lightweight duvet. Duvet comforters that are specifically designed for summer and hot climates help to regulate body temperature and provide a comfortable sleeping environment.
Here's why you should consider purchasing a lightweight duvet this summer:
Breathability
Lightweight duvets are made with breathable materials that are great for promoting air circulation. This helps prevent overheating during hot summer nights. These duvets are constructed with natural fibers like cotton and bamboo, which is great for keeping you cool and dry throughout the night.
Easy To Maintain
One of the many benefits of investing in a lightweight duvet is that they are easy to clean and maintain. These duvets are often machine washable and quick drying. They're perfect for regular cleaning and care.
Versatility
Lightweight duvets are perfect for summer sleeping but can also be used in transitional seasons or warm climates throughout the year. These duvets provide a comfortable sleeping experience without needing multiple bedding options. This makes it a great investment that will last for years.
Style and Function
Lightweight duvets are functional, but they're also very stylish. There are a variety of colors, patterns, and designs to choose from to enhance your bedroom decor and show off your personal design style. You can choose a duvet that complements your current bedding or choose a fresh look for the summer.
Cost-Effective
Instead of blowing the bank by constantly adjusting your thermostat or installing new air conditioning, invest in a lightweight duvet for the summer. Duvets provide a comfortable sleeping environment without increasing energy consumption or utility costs.
Lightweight White Goose Feather Comforter Duvet for Summer
Add luxury to your summer bedtime routine with this lightweight UltraFeather comforter. This lightweight duvet is filled with 95% feather fiber and 5% down. There is no doubt that you will get quality sleep throughout hot summer nights. The feather fiber does not have a calamus, which prevents potential discomfort. There is box stitch construction, which keeps the fill from shifting. This is an ideal duvet to use in the summer or if you live in hot or tropical climates. There are loops on all four corners of this duvet, making it perfect to use with a duvet cover. This duvet is perfectly fine to wash in the washing machine.
Down Alternative All-Season Comforter, Medium Fill Weight
This cozy all-season comforter can be used throughout the year. It's perfect for use on cold winter nights as well as sweltering summer evenings. It's crafted from 100% microfiber with 100% polyester fill. There is a baffle box design to ensure that the fill is evenly distributed. The great thing about this duvet comforter is that it's available in a variety of solid colors to match your bedroom's aesthetic. There is a reversible design for versatility. You can use this duvet on its own or with a duvet cover. This duvet is machine washable. Make sure to tumble dry on low and remove it from the dryer as soon as it is finished.
Lightweight Solid Microfiber Down Alternative All-Season Comforter
Add a relaxed and casual vibe to your summer bedroom decor with this lightweight solid microfiber down alternative all-season comforter. There are a variety to choose from that will add a pop of color to your bedroom. Your bed will be transformed into a comfortable haven. This duvet is reversible and perfect to use all year. A 14-inch sewn-through box construction keeps the fill evenly distributed throughout the duvet. There will never be any clumping or cool spots when using this duvet. You can machine wash this duvet on a cold and gentle cycle, making it easy to clean to maintain. Tumble dry on low to get the best results and preserve the life of your duvet.
ComfortSure Soft Box Stitched Down Alternative Bedding Comforter Duvet
Made from 100% polyester, this comforter will deliver softness and comfort to your bed nightly. Advanced bedding technology is implemented in this comforter, which keeps the growth of unpleasant scents at bay. Your bed will stay fresh and durable. It is also easy to remove stains and wrinkles from this duvet. To care for and clean this duvet, machine wash it cold on a gentle cycle. Tumble dry this comforter on low. There is sewn-through construction which ensures that the fibers in this comforter stay in place and do not shift from one side to the other. You can tie your duvet cover and comforter with built-in corner loops, keeping everything in place.
3-Piece Reversible Lightweight Summer Duvet
This reversible comforter is made with an ultra-soft fabric, guaranteeing comfortable sleep. There are eight tabs on each corner of the comforter, which secures the duvet cover. The box stitching on this comforter is a beautiful design and prevents the fill from shifting while sleeping at night. The down alternative material is perfect for creating a comfortable sleeping environment, whether it's a cold or warm night. To care for this comforter, machine wash it separately with cold water on a gentle cycle. It is recommended to sun dry this comforter to maintain its quality. This three-piece set comes with a reversible cotton comforter and two pillowcases.
Our editors love finding you the best products and offers! If you purchase something by clicking on one of the affiliate links on our website, we may earn a commission at no extra cost to you.
---
---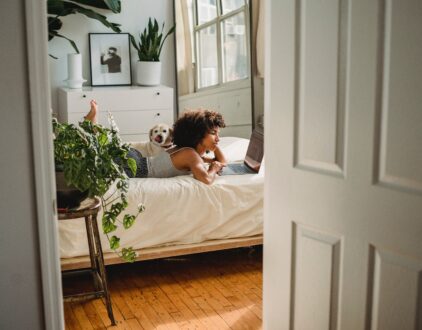 ---
Spaces
Whether it's luxury or ease, every area of your home should be as fabulous and unique as you.
FOLLOW ALONG ON INSTAGRAM
Find us on social for more home inspiration where culture, personal style, and sophisticated shopping intersect to help you create a home where you love to live.