When it comes to technology we've come a long way since the days where being on the phone and internet was impossible in the same household. Now, we can control our lights, entertainment system and thermostats through an app, and it's not unheard of for our appliances to require Wi-Fi. Everything in our homes is now smart—and that also means pet technology has seen some serious upgrades. Check out our recommendations for pet tech that's created innovative ways to improve the well-being and safety of your fur family.
Smart Collars: Keeping Tabs on Your Pet
One of the most innovative developments in pet technology is the smart collar. These high-tech accessories are equipped with GPS tracking, so you can monitor your pet's whereabouts in real time. Whether your dog enjoys adventurous escapes or your cat likes to explore the neighborhood, a smart collar gives you peace of mind so you can always locate them with ease.
Automated Feeding Systems: A Timely Solution
Busy schedules used to leave you worried about feeding your pet on time. Smart automated feeding systems come to the rescue by allowing you to schedule and monitor your pet's meals remotely. Never experience guilt from having to work late or be away from your pets again. In fact, some even have cameras to help you keep an eye on them, too.
Pet Cameras: Keeping an Eye on Your Furry Friend
Pet cameras have become a staple in many households. These convenient gadgets allow you to check in on your pets throughout the day. With two-way audio and even treat dispensing capabilities, you can interact with your pet and ease their anxiety, even when you're miles away.
Enhanced Security
Smart pet tech isn't just about convenience; it also provides added security. Some devices come with security features, such as motion sensors and notifications, that alert you to any unusual activity in your home. This can be particularly reassuring when you're away from home and want to ensure your pet and property are safe.
1
Automatic Pet Feeder for Cats and Dogs
Are you a pet parent with a crazy schedule? Meet your new best friend. It's not just a convenient solution for those times when work or travel keeps you away from home; it's a game-changer in maintaining your pet's healthy diet. With the Wansview Cloud app, you're in control, setting portion sizes and feeding times to make sure your furry companion gets the nourishment they need, right on schedule. It even comes with a built-in camera and two-way audio, so you can keep tabs on all your pets at once, making sure they're all well-fed and content. Plus, there's a motion detection feature that pings you when your pet's ready for a meal andwith real-time notifications about your pet's dining habits.
2
tractive GPS Pet Tracker for Dogs
Ever wondered where your dog disappears to during those mysterious outings? With Tractive's dog GPS tracker, you don't have to wonder anymore. You can literally follow your pup's every move in real-time, all from your smartphone. Tractive's got you covered with subscription plans that fit your lifestyle, starting at just $4.99 per month. Whether you need it for a month or want to secure your pet's safety for years to come, they've got flexible options. And the best part? You can try it risk-free with a 30-day money-back guarantee. So, you can enjoy peace of mind without any worries. With all-day activity tracking, you can keep tabs on their playtime, rest periods, and calories burned.
3
eufy Security Pet Camera for Dogs and Cats
This cutting-edge system keeps your beloved dog or cat always in your sight, using advanced tracking technology that eliminates blind spots. You can watch your pet's every move in real-time through the eufy Pet app. But it's not just about tracking; this system also comes with a powerful camera that captures HD footage, even in the dark, thanks to its night vision capabilities. Your pet will be the star of the show, with advanced camera features so you never miss those precious moments. For added fun and interaction, there's a treat dispenser that can toss treats at various distances.
4
Cleanpethome Self Cleaning Cat Litter Box
Tired of the never-ending chore of cleaning your cat's litter box? This high-tech marvel takes away the need for scooping and sifting, thanks to its advanced self-cleaning mechanism. Your cat will always have a fresh and hygienic place to do their business, and you can say goodbye to daily litter box maintenance. Not only does it keep things clean, but it also tackles those pesky odors with a cutting-edge elimination system. What's even better is that this litter box is eco-friendly and cost-effective, reducing litter waste and your expenses. With quiet and discreet operation, it won't disrupt your daily life, and its sleek design blends seamlessly with your home decor.
5
Power Pet Large Electronic Pet Door PX-2
Upgrade your pet's daily routine with a cutting-edge pet door featuring a motor-driven vertically-sliding door, activated by the MS-4 ultrasonic collar. This door doesn't just swing open randomly; it's smart enough to open only when your pet is making a direct approach, so they can come and go without a problem. Customization is key with a four-way access control system, allowing you to choose from In Only, Out Only, Full Access, or Closed & Locked, based on your pet's needs and your home's security. This pet door is wind and weatherproof, sealing out the elements and keeping your home cozy.
Our editors love finding you the best products and offers! If you purchase something by clicking on one of the affiliate links on our website, we may earn a commission at no extra cost to you.
---
---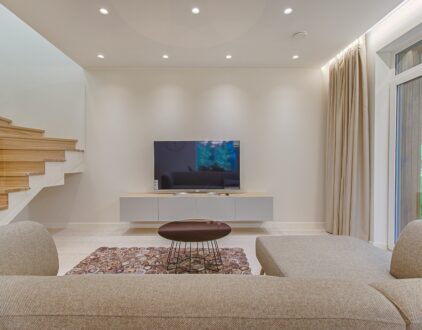 ---
Spaces
Whether it's luxury or ease, every area of your home should be as fabulous and unique as you.
FOLLOW ALONG ON INSTAGRAM
Find us on social for more home inspiration where culture, personal style, and sophisticated shopping intersect to help you create a home where you love to live.