Bar carts have evolved from being mere pieces of furniture to becoming essential elements of modern interior design. It adds playfulness to your decor and lets you showcase your favorite spirits and accessories. Whether you're a seasoned entertainer, aspiring mixologist, or someone who just enjoys the occasional cocktail, mastering the art of styling your bar cart can transform your living space into a chic and welcoming environment. Check out these tips for creating a stylish and functional bar cart setup that will leave your guests both impressed and inspired.
Choosing the Right Cart: The Foundation of Elegance
Selecting the perfect bar cart is the critical first step in creating a stylish and functional setup. The right cart can serve as the centerpiece of your living or entertainment area, so it's important to choose one that not only complements your existing decor but also meets your specific needs.
Material Matters
The material of your bar cart plays a significant role in determining its overall aesthetics. For a classic look, consider carts made from materials like gold, brass, or chrome. However, if you prefer a more rustic or relaxed vibe, wooden bar carts with a distressed finish can add warmth and charm to your decor.
Size and Space
Bar carts come in various sizes, so it's essential to measure your available space to make sure it has a proper fit. Think about where you intend to place the cart and how much room you have for it to maneuver. Ideally, you want a cart that provides ample space for your liquor collection, glassware, and accessories without overcrowding the area.
Mobility
One of the unique features of a bar cart is its wheels, giving it the ability to turn any room into a mini bar! Look for a cart with sturdy wheels, so you can move it effortlessly from room to room or even outdoors when entertaining.
Glassware Galore: Raising the Bar on Elegance
Investing in a variety of glassware is essential for a well-rounded bar cart setup. Your choice of glassware can significantly impact the overall look and feel of your cart.
Variety is the Spice of Life
Include a diverse selection of glassware in your bar cart. From wine glasses to cocktail glasses, highball glasses to whiskey tumblers, having an array of glass types not only adds versatility to your setup but also allows you to cater to different drink preferences. Don't forget to add a touch of uniqueness with some vintage or artisanal finds.
Keep It Crystal Clear
Crystal or clear glassware not only looks elegant but also allows the colors and textures of your cocktails to shine through. Make sure to keep your glassware clean and sparkling, as it's an essential element of your cart's presentation.
Mix Up the Accessories: Tools of the Trade
To truly make your bar cart stand out, incorporate a range of accessories. These tools not only make your cart look professional but also enable you to craft a wide array of cocktails with ease.
Add Stylish Trays and Caddies
Add some personal layers by using stylish trays or liquor caddies to keep your bottles in place and create a designated area for them. These accessories effortlessly elevate the aesthetics of your bar cart, but they can also be extremely useful for preventing spills and accidents.
Essential Cocktail Tools
Invest in high-quality cocktail tools, including a cocktail shaker, jigger, muddler, and strainer. Having these essentials on hand ensures that you can create your favorite cocktails with precision and style.
Add Decorative Elements
Don't underestimate the power of decorative elements on your bar cart. Fresh flowers in a stylish vase, scented candles, or unique coasters can add personalized detail that enhances the visual appeal of your cart and creates a welcoming ambiance.
Stock the Essentials: Be Ready for Any Occasion
A well-stocked bar cart should include essential mixers and garnishes so that you're ready to mix up a variety of drinks at a moment's notice.
Mixers and Garnishes
Keep a selection of mixers such as tonic water, soda, and a variety of bitters on hand. Fresh citrus fruits like lemons, limes, and oranges are perfect for garnishing your drinks.
Personalize Your Bar Cart: Last But Not Least
Your bar cart is not just a functional piece of furniture; it's also an opportunity to showcase your personality and style.
Display Your Favorites
Don't be afraid to display your favorite bottles of liquor prominently on the cart. Whether it's a rare vintage find or a bottle with a unique label, these items can become conversation starters and add character to your setup.
Unique Collectibles
Consider incorporating unique collectibles or items that hold sentimental value. Vintage barware, antique cocktail books, or even a framed photo can all add a personal touch to your bar cart. These additions make your cart not only functional but also a reflection of your individuality.
---
---
Decorate
Access design inspiration that infuses personality and culture into your spaces.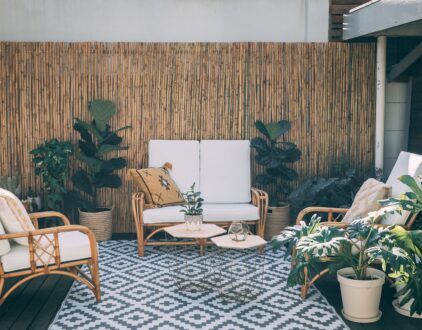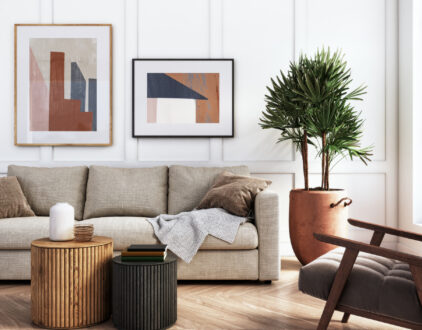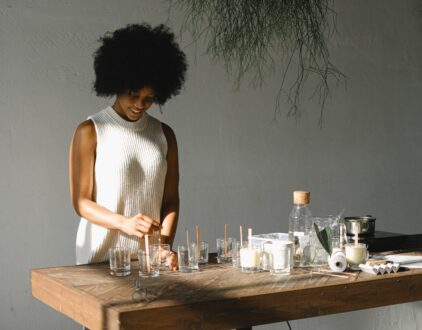 ---
Spaces
Whether it's luxury or ease, every area of your home should be as fabulous and unique as you.
FOLLOW ALONG ON INSTAGRAM
Find us on social for more home inspiration where culture, personal style, and sophisticated shopping intersect to help you create a home where you love to live.