When it comes to DIY projects and breathing new life into outdated furniture, chalk paint has emerged as a versatile and go-to choice among creative enthusiasts. With its unique matte finish and effortless application, chalk paint offers endless possibilities for transforming various surfaces into personalized works of art. However, with a plethora of options available, selecting the best chalk paint can be overwhelming. We've rounded up some of our favorites that will unleash your creativity and bring your vision to life.
The Big Deal About Chalk Paint
Chalk paint has the advantage of adhering exceptionally well to different surfaces without needing elaborate preparation. For example, it works great with wood, metal, glass, and even laminate, making it a popular choice among DIY enthusiasts and people who want to renovate their furniture without the inconvenience of extensive priming or sanding.
Another benefit is its versatility in creating multiple finishes and effects. If you want a vintage look, you can easily distress it to achieve a weathered and aged appearance. It is also great for creating clean lines and can be blended with other colors for a custom look. It has a consistent texture that allows for smooth and easy brush strokes. As a result, you have a user-friendly option even for beginner painters.
Plus, it can be applied to furniture, cabinets, walls, home decor items, and fabrics. This enables you to create a cohesive design throughout your home by easily matching your painted furniture to the walls or other decorative elements. In addition, chalk paint provides excellent coverage, often requiring fewer coats than traditional paints, which saves both time and money.
Chalk paint also has a low odor and minimal VOC content. This makes it a more environmentally friendly paint option than others. For this reason, it is a popular paint choice for individuals who have sensitivities to strong odors or who prefer eco-friendly alternatives.
Best Chalk Paints
The matte and chalky finish of chalk paint is especially great for creating a vintage look. This adds an authentic and charming touch to furniture and decor, giving them a weathered and aged appearance. To learn which ones can help you get the job done, here are five of the best chalk paint for a vintage aesthetic:
1
Sage Advice
Try Sage Advice, a lovely cottage-style color in the shade of sage green. It perfectly complements light natural wood tones or soft, warm neutrals. Sage Advice is an eco-friendly, all-in-one furniture paint that includes a built-in primer and top coat, making it ideal for a wide range of indoor and outdoor surfaces such as wood, laminate, glass, or metal. Plus, due to its adhesion and full coverage, you can use fewer coats. Designed for furniture, kitchen cabinets, upholstery, and craft projects, this paint delivers a beautiful chalky matte finish. It can also be easily distressed for an antique aesthetic. The best part? It dries in up to 30 minutes to save you time so you can start enjoying your newly painted project sooner.
2
Metallic Gold
Discover the beauty of Metallic Gold chalk paint, brought to you by Jeanne d'Arc Living Vintage Paint. This paint offers an excellent way to display an authentic vintage appearance for your furniture or walls. It can be used on almost any surface without prior preparation, making it a convenient option for busy homeowners. This water-based paint is sure to provide the results your desire. Each 6.8-ounce container is imported from Europe to guarantee quality for your creative projects. And for the sustainable shopper, the company promotes environmental sustainability, using only recycled cardboard for packaging. Additionally, the tins are made from recyclable metal.
3
Dixie Belle Cotton
Dixie Belle Cotton paint makes designing and decorating your space super easy. So easy, in fact, anyone can do it. This bright, white paint is perfect for creating a modern, classic, or vintage aesthetic in just about any space. Whether you decide to paint a chair, walls, or accessories, this paint is certain to make your project appear professionally done. You can cover quite a bit of surface area with this full-coverage paint, so be careful to use it sparingly. For example, a single 8-ounce jar will be enough to paint a small dresser. For best results, begin with a damp brush.
4
Vintage Duck Egg
Introducing Vintage Duck Egg, a pale blue shade with notes of green and gray. This gorgeous vintage color creates a sense of calm and clarity in your space. Plus, it can help promote restful sleep in your bedroom or create a relaxing atmosphere in your living room. And its antique charm also adds a touch of sophistication to your decor. For a distinct and classic look, try matching Vintage Duck Egg with dark wax. The combination of pale blue and the shading effect from the wax makes for a stunning finish that lasts. Whether you plan to redecorate your coffee table or revamp your entire home, Vintage Duck Egg is a flexible and captivating color that will add a sense of serenity and beauty to your space.
5
Renaissance Burgundy
To give your space a facelift, try Renaissance Burgundy chalk paint. This non-toxic paint includes a beautiful chalk finish and comes in 8 ounces or 16 ounces so you can paint small and large decor pieces. The Renaissance Burgundy paint is created with consumer safety and sustainability in mind. Formulated with premium ingredients, this chalk paint contains zero emissions and VOCs. Designed to require one or two coats, this paint offers excellent coverage for the perfect result. Now you can forget about undertaking long and tiresome painting projects. You can easily apply the paint because due to its self-leveling coverage thanks to its 100% acrylic formula. Plus, it dries quickly — only 30 minutes — so you can finish your projects quickly.
Our editors love finding you the best products and offers! If you purchase something by clicking on one of the affiliate links on our website, we may earn a commission at no extra cost to you.
---
---
Decorate
Access design inspiration that infuses personality and culture into your spaces.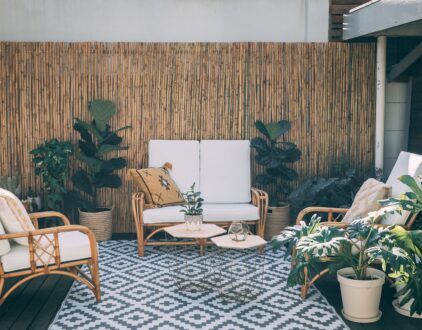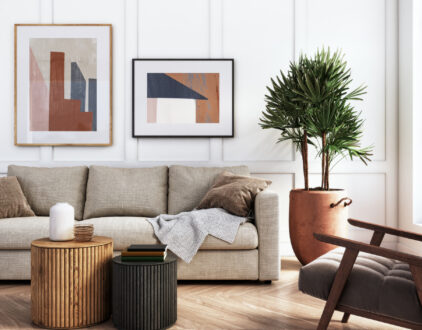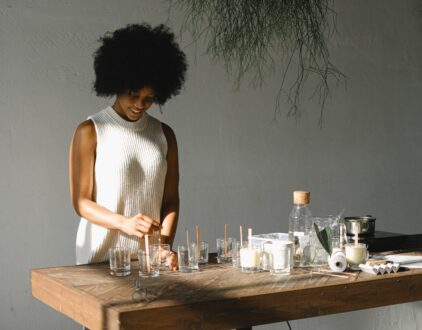 ---
Spaces
Whether it's luxury or ease, every area of your home should be as fabulous and unique as you.
FOLLOW ALONG ON INSTAGRAM
Find us on social for more home inspiration where culture, personal style, and sophisticated shopping intersect to help you create a home where you love to live.