Your home deserves the best, and when it comes to painting wood surfaces, selecting the right paint is crucial. The type of paint you choose can affect the longevity, appearance, and overall quality of the finish. We'll guide you through the process of choosing the best paint for wood, providing you with valuable insights and recommendations.
The Importance of Choosing the Right Paint
The choice of paint can significantly impact the final result and the longevity of the painted surface. To make an informed decision, it's important to take these steps:
Consider These Factors
When selecting the best paint for wood, whether you're painting furniture, cabinets, or any other wooden structure, there are several factors you should take into account:
Durability: The paint should be resistant to chipping, peeling, and cracking, ensuring the longevity of the finish.
Adhesion: The paint should adhere well to the wood surface, preventing premature flaking or bubbling.
Coverage: The paint should provide good coverage, minimizing the number of coats required.
VOC Content: Volatile Organic Compounds (VOCs) can have harmful effects on your health and the environment. Opting for low-VOC or VOC-free paint is a more eco-friendly choice.
Finish: Consider the desired finish—whether you prefer glossy, satin, or matte—to achieve the correct look for your wood project.
Avoid Common Mistakes
To ensure a successful wood painting project, it's essential to steer clear of common mistakes that can compromise the quality of the finish. Avoid the following pitfalls:
Skipping surface preparation: Properly preparing the wood surface by sanding and cleaning ensures better adhesion and a smoother finish.
Using the wrong type of paint: Different types of wood require specific paints. Using the wrong paint can result in poor adhesion, peeling, or premature wear.
Neglecting priming: Priming is essential for sealing the wood and creating a smooth base for paint application. Skipping this step can lead to uneven coverage and adhesion issues.
Applying inadequate coats: Applying too few coats of paint can result in an uneven or translucent finish. Follow the manufacturer's recommendations for the number of coats needed.
Rushing the drying process: Allow sufficient drying time between coats and after the final coat to ensure proper curing and durability.
All things considered, here are some of the best paints to ensure your wooden painting project is a success:
Jump to Products
---
1
Chalk Style Paint
Discover the incredible features of an all-in-one DIY chalk paint. This paint boasts a built-in primer and top coat, making it the perfect choice for painting various wood surfaces. No more hassle of additional wax or sealants, as this paint has you covered. Trust the exceptional quality of this product, backed by a respected manufacturer with over 80 years of experience. Experience its amazing adhesion and great coverage, requiring fewer coats and saving you valuable time and effort. Enjoy a long-lasting and durable finish that stands the test of time, with minimal prep work required on your part. Embrace the beauty of a chalky matte finish, as this paint dries within 30 minutes.
2
Rust-Oleum Milk Paint Finish
Accentuate the details of your interior décor and furniture with this extraordinary brushed effect. You'll love how this water-based formula, with its low VOC and low odor, easily cleans up with just soap and water. Say goodbye to waiting around, as this paint dries to the touch in just 30 minutes and is ready for recoating in only two hours. Its durability is exceptional, thanks to its excellent adhesion and one-step buildable coating. This means you can effortlessly finish new, vintage, or antique items with ease. Its unique quality allows for layering with different techniques, enabling you to achieve a custom look that suits your style perfectly.
3
Retique It LiquidWood
Experience the authenticity of genuine liquid wood with this remarkable product. It's not a faux finish—it looks like wood and feels like wood because it is wood. Discover the innovation behind wood particles that are 1/5th the size of your red blood cells, carefully incorporated into a paintable system. Benefit from the inclusion of 66% recycled wood by volume in this product, a breakthrough patented in 2018. Simply paint it, stain it, and seal it. Apply a layer of unfinished wood, paint it with the non-penetrating stain of your choice, and then seal it with a polyurethane finish. Rest assured, this product is safe to use. It's water-based, ultra low in VOCs, and virtually odorless.
4
Wolman Outdoor Furniture Paint
Revitalize and safeguard your exterior wood surfaces with this exceptional product. It's perfect for your refinishing and protection needs, whether it's picnic tables, chairs, swing sets, or more. Experience the advantages of its water-based formula, which is four times thicker than other outdoor furniture paint. This provides deeper color and solid coverage, promising a vibrant and long-lasting finish. Save time with its quick-drying properties. Within two to four hours, the paint will dry to the touch, allowing you to enjoy your refreshed wood surfaces sooner. This paint goes the extra mile in durability, extending the life of your wood even in the harshest environments.
5
ALL-IN-ONE Paint by Heirloom Traditions
Experience the convenience of an all-in-one paint that eliminates the need for sanding, priming, or applying a top coat. With its low luster, velvet sheen finish, it's perfect for both interior and exterior applications. Paint your entire house effortlessly using this versatile product. It's ideal for a wide range of hard surfaces, including walls, doors, cabinets, counters, furniture, metal, glass, ceramics, as well as floor and wall tile. Enjoy the durability of this paint, as it withstands daily wear and tear. Additionally, it has the flexibility to adhere to smooth fabrics, vinyl, and leather, allowing you to revitalize and transform various items in your home.
6
DWIL Wood Paint
Forget the hassle of sanding with Dwil furniture refinishing paint. This paint adheres to most surfaces without the need for any prep work. It provides excellent coverage and durability, ensuring a long-lasting finish. Enjoy the fast drying time with this wood furniture paint set. Your furniture will be ready to use within two hours of painting. After one day, it will be completely dry and lightly usable. After seven days, it will be fully hardened and ready for full use. Experience the strength and durability of this water-based paint. It forms a solid, long-lasting film on the surface, surpassing the endurance of chalk and milk paint.
Our editors love finding you the best products and offers! If you purchase something by clicking on one of the affiliate links on our website, we may earn a commission at no extra cost to you.
---
---
Decorate
Access design inspiration that infuses personality and culture into your spaces.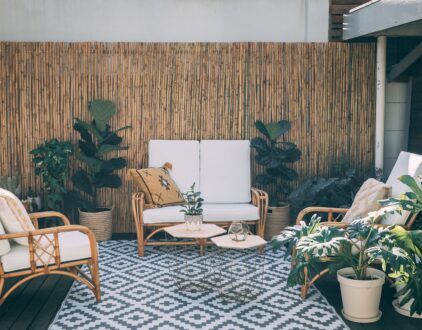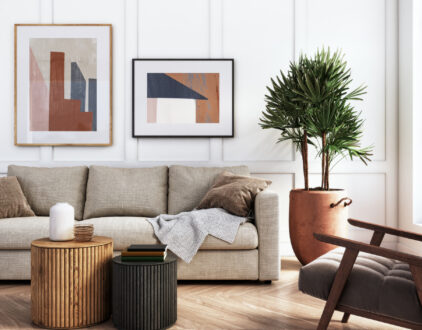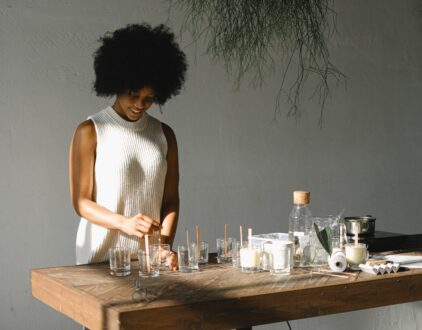 ---
Spaces
Whether it's luxury or ease, every area of your home should be as fabulous and unique as you.
FOLLOW ALONG ON INSTAGRAM
Find us on social for more home inspiration where culture, personal style, and sophisticated shopping intersect to help you create a home where you love to live.