August is Black Business Month. And to celebrate, Home and Texture is featuring Black brands and artists transforming the home space. Goodee is a popular Black company on a mission to provide its customers with the best quality furnishings and decor from across the diaspora. And the cherry on top? This innovative company is dedicated to preserving Black culture with every purchase.
What Is Goodee?
Following the success of their company WANT Les Essentiels, twin brothers Byron and Dexter Peart decided to start a new company with others in mind. They founded Goodee, a home design and decor store that centers products made by artists committed to making a positive change in the world, either socially or environmentally.
But the brothers aren't new to this, they're true to this. They also set out to create their own line of products made using sustainable practices. From teak wood serving trays to teeny tiny table sets for little ones, Goodee has quickly proven to be a powerhouse when it comes to its expert quality product selection.
And since its inception, the modern home brand has curated a strong customer base, with many of its top products selling out very quickly.
The Importance of Supporting Black Businesses for Black Business Month
Celebrating this special month is important for the betterment of the Black community. By supporting Black businesses, you can help do your part in bridging the gap when it comes to socioeconomic inequality.
Black Business Month is a reminder that supporting Black businesses not only helps the business itself but also provides an opportunity for business owners to create jobs in order to invest back into the Black economy.
Shopping at Goodee During Black Business Month
Goodee is an innovative Black business taking the home decor space to new heights. From armchairs to planters, this rising Black company is the ultimate place for homeowners seeking a refined lifestyle. To see what this one-stop shop has to offer, here are seven home decor finds from Goodee:
1
Medium Tumbler, Set of 2
Sip your favorite ice-cold beverage with this set of two medium tumblers. Handcrafted in Mexico, this bright and beautiful set is perfect for entertaining or for gifting as a housewarming gift. And its flamboyant pattern adds a nice pop of color to your tablescape.
2
Wishbone Chair
Made from certified beech, this premium wishbone armchair is strong and sturdy. Plus, its classic design makes it perfect for daily use. Even better, you can select from a wide range of colors to mix and match with the rest of your decor.
3
Canopy Self Watering Planter
Water your houseplants with ease with this super cool self-watering planter. Made from recycled glass, this planter is not only attractive but healthy for the environment. Whether you place it on your coffee table or bathroom counter, this pretty little planter is a great complement to your space.
4
Round Ornament Candle Holder
For an exciting twist on an old classic, try this beautiful candle holder for your bedroom or entryway. Made from steel, this candle holder is designed with a modern, minimalist aesthetic.
5
Tulip Earthenware Pot
If you appreciate a more rustic aesthetic, this Tulip Earthenware Pot is the perfect find! Each pot is handmade by skilled artists in Northern Uganda and crafted with care. And because the pots are made from thick, locally-sourced clay, they can withstand daily wear and tear.
6
Hand Painted Flow Towel
Made from organic cotton, this carefully crafted towel is soft yet thick enough for spending days at the park or beach. It includes a beautiful floral design that matches a number of design styles. And it's highly absorbent, which means you can dry off quickly after swimming or playing.
7
Open Palm Bowl
Crafted from Egyptian clay, this artisan Open Palm Bowl is ideal for entertaining loved ones. It features a unique design that is sure to impress your guests. And whether you use it to serve food and snacks or as a decorative element, this handmade bowl is sure to enhance your home.
Our editors love finding you the best products and offers! If you purchase something by clicking on one of the affiliate links on our website, we may earn a commission at no extra cost to you.
---
---
Decorate
Access design inspiration that infuses personality and culture into your spaces.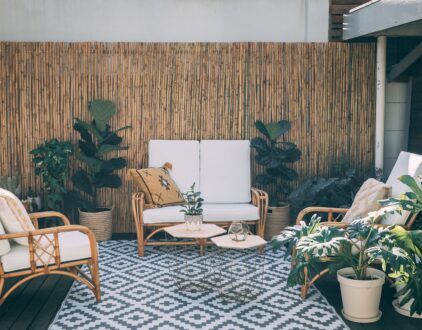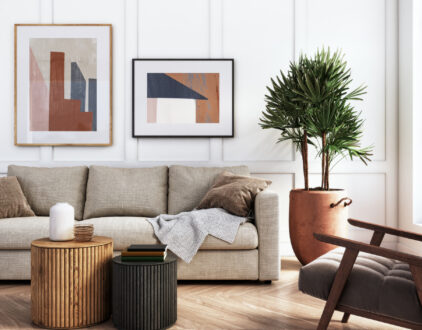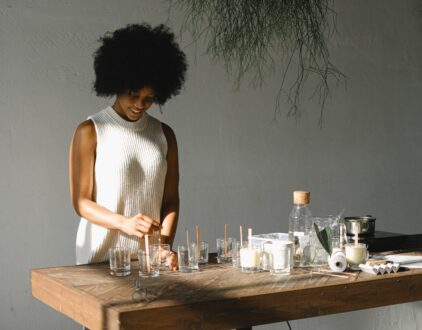 ---
Spaces
Whether it's luxury or ease, every area of your home should be as fabulous and unique as you.
FOLLOW ALONG ON INSTAGRAM
Find us on social for more home inspiration where culture, personal style, and sophisticated shopping intersect to help you create a home where you love to live.