Spring is in the air, and Easter is near. The Easter holiday is filled with beautiful pastel colors, sweet treats, and gatherings with loved ones. If you're hosting an Easter dinner this year, surprise and delight your guests with a beautiful, on-theme charcuterie board.
Charcuterie boards have become all the rage among millennials in recent years. They're perfect for grazing and can be tailored according to the occasion. Curating an Easter-themed charcuterie board is quite simple. All you need are traditional Easter treats with cheese, fruits, and savory snacks. The possibilities are endless, and the results are equally delicious and aesthetically pleasing charcuterie boards.
Whether you're hosting an Easter brunch, lunch, or dinner, curating an Easter-themed charcuterie board will surely impress your guests.
Here are 5 Easter-themed charcuterie board ideas we love:
Bunny And Chic-shaped Cheese
View this post on Instagram
Beyond The Board takes an Easter-themed charcuterie board to the next level with bunny and chick-shaped cheeses. You can achieve this board with cutters. There are various cutters in shapes like an egg, bunnies, bunny ears, and more. Complete the board with berries, pistachios, dried fruit, jelly beans, and traditional easter sweets like Cadbury eggs and chick-shaped marshmallows.
Bunny-Loving Board
View this post on Instagram
Why use a regular board when you can use a bunny-shaped one? Add all of your usual charcuterie items like cheese, meats, berries, nuts, and jam to a bunny-shaped board or dish. This instantly transforms your charcuterie board into an Easter-themed delight. Add chocolate bunnies for a delicious finishing touch.
Pastel Colors Are EGGciting
View this post on Instagram
Egg hunts usually come first to mind when thinking of Easter activity traditions. Create an egg-shaped charcuterie board to celebrate the occasion. All you need is an egg-shaped board. Add berry-covered goat cheese, green grapes, prosciutto slices, and edible flowers to bring your Easter-themed charcuterie board to life.
An Easter Sweet Tooth Delight
View this post on Instagram
Perfect for dessert lovers and those with a sweet tooth, this pastel board features all the Easter sweet treats you can think of. To recreate this board, combine all your favorites like Marshmallow Peeps, chocolate-covered eggs, pastel yogurt-covered pretzels, and egg-shaped sugar cookies. Intentionally place them to look like a dessert lover's dream.
Easter-themed Chocolates
View this post on Instagram
One of the easiest ways to add an Easter flair to your charcuterie board is to add chocolate-shaped bunnies. Create your board as usual with your favorite cheese, meats, fruits, nuts, crackers, and jams. Add chocolate-covered bunnies, eggs, and chicks to bring your Easter-themed charcuterie board together.
Jump to Products
---
Must-have items for curating an Easter-themed charcuterie board
Easter Cookie Cutters
Who says cookie cutters can only be used for cookie dough? Put these cutters to use by transforming your favorite cheeses into the cutest easter bunnies, eggs, and chicks. Your guests will be impressed with your Easter-themed charcuterie board, and you'll be relieved that it didn't take a lot of effort to curate. These spring-themed cutters make shape-shifting your edible treats a breeze. The polished stainless steel cuts through the dough and cheese with precision. Included in this 8-piece set are two bunnies, an egg, lamb, butterfly, flower, carrot, and chick. The cutters are easy to clean and should be hand-washed and placed on your drainboard.
Bunny-Shaped Wooden Charcuterie Platters
These two matching wooden bunny-shaped charcuterie boards are perfect for hosting many guests. There is a larger tray for a savory board and a smaller one that is perfect for a dessert-filled charcuterie board. This Easter-themed board is a simple way to elevate your charcuterie board. This board works well in homes with modern farmhouses and rustic, country, and vintage design styles. Made with quality mango wood, this recessed tray will keep your berries, chocolate-covered almonds, and other small treats in place. The rubber feet on the bottom of the trays will protect your table and surfaces from slipping and scratching.
Easter Hand-Painted Resin Handle Cheese And Butter Spreader Knives
Is there a cuter way to cut cheese and spread your jam and butter than this hand-painted resin handle set? We think not. This 4-piece set includes a bunny holding a carrot, three Easter-painted eggs, a chick hatching from an egg, and a chocolate-covered bunny. The handles are made with durable poly resin and are built to last the test of time. Made with high-quality stainless steel, the blade is durable. This is the perfect set for hosting your loved ones this Easter. It complements your on-theme charcuterie board and can be used to cut cheeses and spread jam on crackers. It will also look great in photos and videos and spark joy.
Personalized Easter Bunny Board
Add a personal touch to your Easter-themed charcuterie board this year with an engraved board. This laser-engraved bamboo and wood board is a memorable way to welcome guests into your home. You can personalize it with your family members' names, the year, or whatever else you like. The artwork includes a cute Easter bunny to usher in the holiday festivities. The board has plenty of room to add both savory and sweet treats. Fill the personalized board with your favorite cheese, nuts, seeds, chocolates, candies, dried fruit, crackers, and more. When the board is empty, your guests will get a surprise and see the Easter-themed artwork and personalized message.
Egg-Shaped Bamboo Charcuterie Plates
Egg-shaped Easter charcuterie plates are a great addition to your display this holiday. These plates come with multi-colored bunny-shaped easter toothpicks, which are perfect for your guests to choose their favorite meats, cheese, fruit, and other soft treats. The plates are made with bamboo wood and are 100% compostable, biodegradable, recyclable, and zero-waste. These eco-friendly plates have no dyes, toxins, or chemicals, so you can feel confident serving your guests delicious treats while being eco-friendly. The plates are microwave-safe and can be used for hot foods as well. They can withstand up to two minutes in the microwave. This set comes with 25 plates, so you can create various charcuterie boards to suit the taste of your guests. This is a perfect way to entertain a party of vegans, meat lovers, and dessert fanatics.
Our editors love finding you the best products and offers! If you purchase something by clicking on one of the affiliate links on our website, we may earn a commission at no extra cost to you.
---
---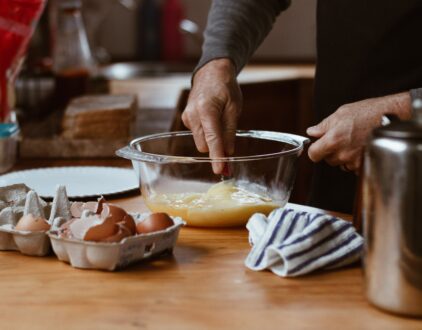 ---
Spaces
Whether it's luxury or ease, every area of your home should be as fabulous and unique as you.
FOLLOW ALONG ON INSTAGRAM
Find us on social for more home inspiration where culture, personal style, and sophisticated shopping intersect to help you create a home where you love to live.