Easter is a joyous time of year, representing fresh starts and new beginnings. It's a time to express gratitude and celebrate with friends and family. Good food and drinks are needed if you're hosting Easter celebrations at your home this year, but Easter-themed decor also adds a nice touch. There's a way to preserve traditional Easter decor while giving it a modern update. Here are some ways you can modernize your home's Easter decorations.
Easter Wreaths
Welcome your guests with a beautiful wreath honoring the season. Easter wreaths with pastel-hued flowers, eggs, and ribbons are a great way to honor the holiday and spring while maintaining a modern look and feel. You can create an Easter wreath yourself or purchase one.
Easter Tablescapes
Perfect for hosting Easter brunch or dinner, putting time into your tablescape is vital to bringing a modern touch to your Easter decor. You can achieve this look with a centerpiece made of Easter eggs, fresh flowers, pastel-colored napkins, placemats or tablecloths, and Easter-themed plates or cups.
Decorative Easter Eggs
Easter celebrations would not be complete without decorative eggs. Traditionally, eggs are dyed in pastel colors. Modernize decorative eggs by painting ceramic or wooden eggs. Add line art or patterns for a modern edge.
Spring Florals
This season is all about blooming, a fresh start, and feeling renewed. Add a beautiful flower bouquet or arrangement to your home to incorporate spring into your decor. Pastel-colored flowers like tulips, hyacinths, and daffodils are perfect for Easter. Florals help create a fresh look to your decor.
Jump to Products
---
Modern Eastern Decor For Your Home
Easter Egg Wreath
Add a touch of Easter decor to your home with an easter egg wreath. A warm welcome to guests, this wreath is adorned with long flowers and berry-tipped stems. The wreath is trimmed with Easter eggs in pastel colors and various sizes. It can be used indoors and outdoors, adding a modern perspective to traditional decor. Whether you're hosting friends and family this year for Easter brunch, lunch, or dinner or decorating your home for the love of spring and Easter, this wreath is the perfect touch. This seasonal decor can be used on your doors, walls, windows, and other areas you see fit. It's a beautiful way to celebrate Easter and the joyous season of spring.
Robin Birds Nest Blue Speckled Spring Easter Plate Set
Easter brunch or dinner should be served on beautiful plates to enjoy the memorable moment. Add a design update to your Easter dishware with this plate set featuring blue-speckled robin's eggs. The plates are great to be used all season and perfectly represent what it looks like to celebrate Easter in the modern world. They also look great displayed in your dining area to commemorate the season. Although the plates are dishwasher safe, it is recommended to hand wash them when cleaning. They are durable enough for everyday use and are a beautiful addition to homes with a contemporary, bohemian, or minimalist design style.
Easter Egg Napkin Rings
These Easter egg napkin rings are the perfect addition to your festive tablescape. It will give your decor a polished look and be a talking point for guests. The Easter egg napkin rings come in a set of 4 and look absolutely adorable with its mix of pastel-colored Easter eggs speckled with polka dots. The set is made from premium metal and can go with all home design styles to celebrate Easter and spring. This set is a great way to complement your dining area, adding a spring look and feel. It keeps your cloth napkins organized and welcoming for your guests. To clean, simply wipe with a rag or a soft cloth.
Easter Egg Floral Bundle
Nothing says Easter more than a beautiful floral bundle. Skip the traditional flower arrangement and opt for a modern look with this Easter egg floral bundle. It's the perfect way to accentuate your dining table, adding Easter vibes. The rustic-inspired bundle has cuts and curls of wood to look like blooming flowers. In the arrangement are circling vines, leafy stems, and pastel-colored eggs. The result is a stunning bouquet reminiscent of a beautiful spring day. The bouquet is handmade and hand painted and is brought together with a ribbon and bow made with a cotton cord. It's the perfect way to transform your dining space for Easter gatherings and celebrations without being too traditional.
Easter Menu Rabbit
If you'll have a full house of guests this Easter, hosting friends and family for a delicious meal, why not add an official menu? Greet guests with this menu rabbit. The rabbit sculpture is holding up a chalkboard where you can write the dishes that will be served or a welcome message for guests as they arrive. The hand-painted rabbit is 21 inches tall and 10 inches wide and weighs 8.6 pounds. It's the perfect size for your kitchen counter or table. The rabbit is handmade and hand-painted and made with poly resin. To care for the modern decor piece, dust it with a soft, damp cloth.
Our editors love finding you the best products and offers! If you purchase something by clicking on one of the affiliate links on our website, we may earn a commission at no extra cost to you.
---
---
Decorate
Access design inspiration that infuses personality and culture into your spaces.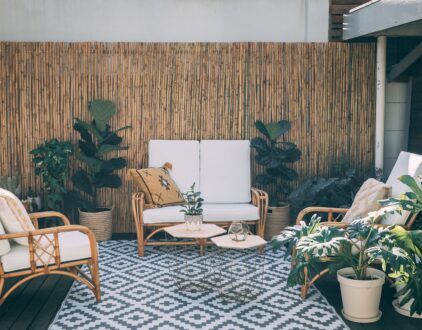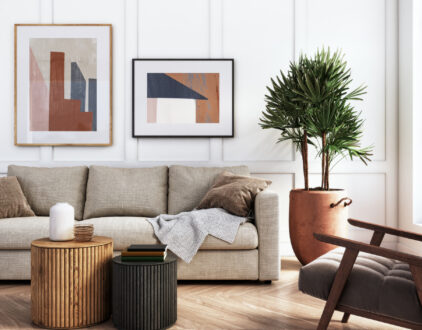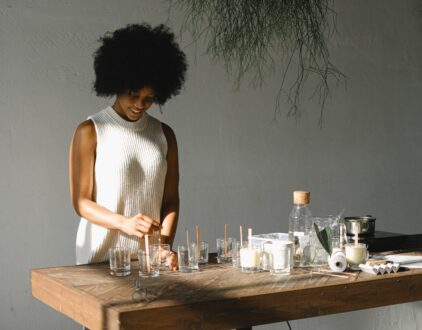 ---
Spaces
Whether it's luxury or ease, every area of your home should be as fabulous and unique as you.
FOLLOW ALONG ON INSTAGRAM
Find us on social for more home inspiration where culture, personal style, and sophisticated shopping intersect to help you create a home where you love to live.