After a few years, the stresses of your sofa begin to reveal themselves. Faded color, accidental spills, wear and tear, and flat cushions all make your couch look a little rough around the edges. Those are the results of a couch that may need some refurbishing or could be a sign to throw it out and start fresh, but buying new furniture can get expensive. That's where sofa covers come in. Sofa covers are the key to protecting your couch, and you can also refresh your home decor without breaking the bank on new furniture pieces. Not to mention, there's a sofa cover that suits any home and space—they come in numerous styles, materials, colors, sizes, and patterns.
Four Benefits of Sofa Covers
Your sofa is the most common piece of furniture in your home. It's where most gather to rest their legs and the furniture piece that contributes to your home decor the most in your living area. Having a sofa cover can be an essential part of any home. Here are a few benefits.
Protection and Increased Longevity
If you have pets, kids, or both, unwanted stains and accidental spills are all prone to happen. This could potentially ruin the fabric. However, with a sofa cover, you can say hello to a protected and clean sofa. You won't have to worry about permanent damage, giving you peace of mind.
Pocket Your Money
By investing in a sofa cover, you'll save money. It's much cheaper than buying new furniture or doing any upholstered work on your sofa.
Offers Versatility to Your Home Decor
Sofa covers come in all shapes, sizes, styles, materials, and patterns. Want to take your living room from traditional to contemporary? No problem. Start with the couch and find a slipcover that offers modernity and best suits your style. With new material, you can renew and update the look of your home any time you want.
Easy to Clean
When the time is right, slip off you sofa cover and throw it in the washing machine for a nice, crisp clean. It's much easier and inexpensive to clean rather than your actual couch.
Finding the Right Sofa Cover
There are so many factors in finding the right cover that fits your couch. Different attachment styles like elastic for a more fitted feel or ties for easier access are how most slipcovers are categorized. Ties are exactly how they sound—you tie the cover to the couch, whereas an elastic style is more form-fitting. Consider these few features before buying your sofa cover.
Material
You'll find that most slipcovers come in polyester material, but sometimes it can be associated with looking cheap. Opt for other materials like velvet, spandex, microfiber, cotton, or faux mink. With these materials, you can guarantee your covers will be soft and breathable, fitted, lush in texture, and stain-resistant.
Durability
The main point in purchasing any slipcover is for protection. So when you're searching for the right one, think about those that are stain, water, and fade resistant. For extra durability, choose covers that come with more filling making them more plush in texture and comfortable.
Storage
In need of extra storage? Solve that problem with purchasing a slipcover that comes with pockets. This is a great way to store small items and stay organized.
Pet Proof
Some slipcovers are more slippery than others, making it easy for pets to slip and get their claws stuck. This can cause rips and tears, which is what you want to avoid. Therefore, one thing to look out for if you have pets is to make sure the product is pet proof. You'll usually find if it's good for pets on the label.
---
---
Decorate
Access design inspiration that infuses personality and culture into your spaces.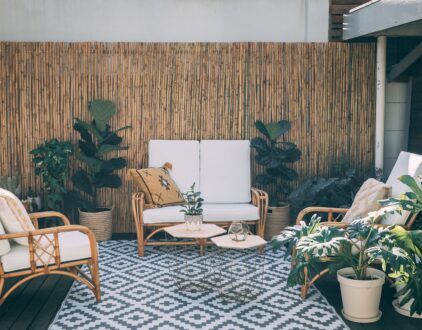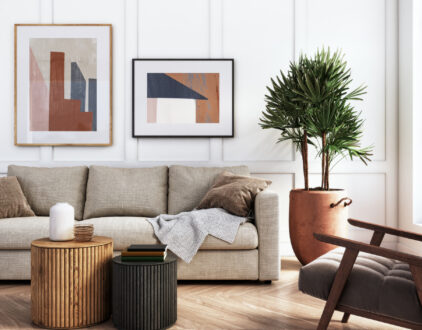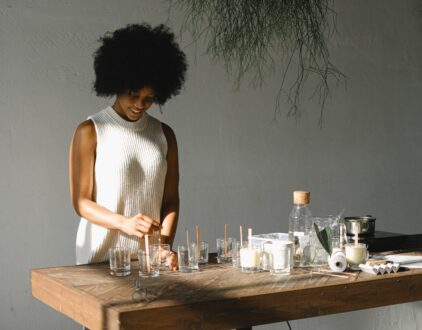 ---
Spaces
Whether it's luxury or ease, every area of your home should be as fabulous and unique as you.
FOLLOW ALONG ON INSTAGRAM
Find us on social for more home inspiration where culture, personal style, and sophisticated shopping intersect to help you create a home where you love to live.