When working with a new client, interior designer and creator of Blessed Little Bungalow Amber Guyton likes to get to know them as a human first. "Getting to know your clients can feel like peeling back an onion. There are so many layers, many of which you don't discover until further in the process," Guyton tells Home & Texture.
View this post on Instagram
The Atlanta-based designer believes everyone should love where they live. She also believes that curating a home you love doesn't have to break the bank. For her latest project, Guyton was tapped by a single woman new to Atlanta. The client recently moved into a brand new construction, and Guyton's role was to design the main floor foyer, kitchen, dining and living spaces, and the loft space and master bedroom on the second floor.
Entitled "Style & Grace," the home truly reflects its owner. Home & Texture had the chance to talk with Guyton about her process in designing this project, the most challenging part of the project, and how she ensures that each client's personality shines in their home decor.
Home & Texture: What was your first step when approaching your client's design brief?
Amber Guyton: I like to get to know a client as a human first before I even enter their home. My client, Crystel, recently moved to Atlanta for the next phase of her career. Her new construction craftsman-style home was a completely blank canvas, and she wanted to add some color, class, and character to it that made it feel like home. After learning more about Crystel, designing each space into one she'd love and be proud to dwell in was easy.
H&T: Can you talk more about the color palette you chose and why?
AG: For the main floor, we went with a cool palette of neutrals with pops of blues, greens, and teals, layered patterns, and artwork. Trees surround Crystel's new home, so although the vast amount of windows offer natural light, it doesn't receive direct sunlight. I wanted to keep most of the main floor's walls neutral while using paint and graphic wallpaper to add interest and pattern to the entryway and dining space.
We would have continued with this color palette and patterned wallpaper upstairs in the flex space; however, I wanted to do something a bit different in the master bedroom that would be a place that would help Crystel wind down. We chose a mauvy brown for the walls with black and neutral accents throughout.
H&T: How would you define your client's design style?
AG: Crystel's style is very modern, clean, and comfort-first. We wanted to create a "grown-up" space that felt bright, inviting, and livable while adding color and culture in a subtle way. We also wanted to make the bedroom moody and a haven for Crystel to escape to. She also loves art and celebrating Black women, something I could really relate to! We made that statement with our art selections in each space.
H&T: What is your favorite room from this project and why?
AG: I'm obsessed with the color story in Crystel's master bedroom. Crystel loves black and white, and I'm obsessed with the Sherwin-Williams' Mulberry Silk walls and pops of aubergine we added that contrasted so well with the white cerused oak furniture and acrylic and chrome accents throughout. It's such a vibe! I'm a gold girl, so using brushed nickel and chrome throughout her home was outside of my comfort zone; however, it surprised me how much I loved adding silver elements to her bedroom. They contrasted so well with the sultry, moody colors.
H&T: When working with clients, how do you ensure their personality shines in their home decor?
AG: I truly believe that your home should be a reflection of you. Getting to know your clients can feel like peeling back an onion. There are so many layers, many of which you don't discover until further in the process, but getting to know Crystel was a pleasure. She loves her family and welcoming guests into her home, so I wanted to make it a space she'd be proud to show off, but most importantly, I wanted her to feel good in her home. I wanted her to love every crevice while feeling like an integral part of the design process, but leave room for her to add items over time and make them her own long after I'm gone.
H&T: What was the most challenging part of this project?
AG: New construction can feel overwhelming, and this was a pretty big house. Whether you're a new homeowner, relocating like Crystel, or have a limited budget, I encourage clients to take their time.
Prioritize the space you'll spend the most time in and the furniture and items that deserve investment. Designing and decorating a home is truly a marathon, not a sprint. Avoid buyer's remorse and feeling "house poor" by taking it one step at a time. Your mind may change, and your style will evolve, but your home should always feel good to you. Keep that your priority, and the rest will work out just fine.
H&T: How can potential clients book you?
AG: Potential clients may reach out to me using the contact form on my website, blessedlittlebungalow.com.
This article has been edited and condensed for length and clarity.
---
---
Decorate
Access design inspiration that infuses personality and culture into your spaces.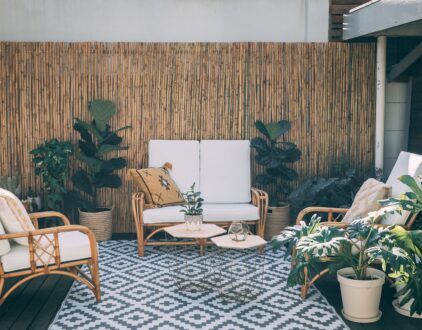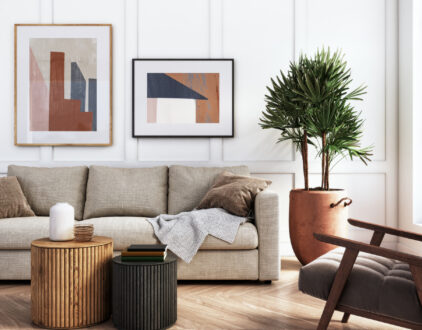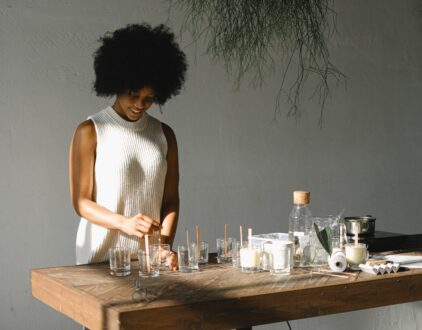 ---
Spaces
Whether it's luxury or ease, every area of your home should be as fabulous and unique as you.
FOLLOW ALONG ON INSTAGRAM
Find us on social for more home inspiration where culture, personal style, and sophisticated shopping intersect to help you create a home where you love to live.