When TJ Jones made the move from New York City to Los Angeles, he was looking forward to new adventures and joy. His move and approach to life led him to lean into a more vibrant color palette for his home. The beauty brand Vice President wanted his Los Angeles space to reflect how he wants to live and make him smile, which influenced his latest design style.
"One of my visions for my life in [Los Angeles] was to spend weekends shopping at flea markets," Jones said. His home is curated with beautiful vintage pieces that tell the story of his design style, giving his home tons of personality.
Home & Texture had the chance to chat with Jones about how his design style has changed after the move, how he practices self-care at home as a busy beauty brand executive and tips for transforming a home into a well-designed space.
Home & Texture: How would you describe your design style?
TJ Jones: When designing a space, I tend to respond to the architecture and tailor the design based on what the space says to me. In the case of my place in LA, I really became intrigued with the idea of mid-century and contemporary pieces juxtaposed with the 1920s Spanish architecture of the home [and] a bit of organic texture thrown on top.
While I'm not a maximalist by any stretch, I do love a layered space that tells the story of the home's inhabitants. I love chairs, and I love lamps. As a result, I tend to view them as art objects and not purely utilitarian.
H&T: How has moving from New York City to Los Angeles influenced how you approach styling your home?
TJ: The decision to leave NYC and move to LA was driven by a desire for a new adventure and the search for some personal and professional joy. This has driven me to lean into designing rooms that make me smile and live the way I want to live. For example, this home has way more color than any of my homes in NYC. From the midsummer gold in the dining room to the vibrant Brazilian blue of the office and the pink gym, I wanted to bathe this space in color and pattern. My home has a northern, eastern and western exposure, which allows the light to play beautifully with the colors throughout the day.
One of my visions for my life in LA was to spend weekends shopping at flea markets. When I bought my car, one of the must-haves was enough cargo space to load up all my flea market finds. As a result, my LA home is curated with a lot more vintage than was incorporated into my spaces in NYC. Lastly, I've been able to find several affordable resources for fabric and upholstery, which has allowed me to customize pieces, making my home more personal and reflective of me and my love of patterns.
H&T: How do you practice self-care at home after a busy week?
TJ: I think of self-care as something we should practice every day. For me, it starts with designing a space that serves you and how you want to live rather than how you think you should live.
When I moved into my house, I set up a workout space in the garage. I quickly realized that working out in the garage wasn't supporting my health and wellness goals and that I needed to make a change. Ultimately, I decided to convert my bedroom into a gym and merge my former dressing room into a hybrid dressing room and bedroom. Now, I rise every day at 5 a.m. and go work out in my gym, which has become an integral part of my self-care routine.
Another space that supports me in taking a moment to care for myself is the massive vanity I put in my dressing space. This was inspired by a stay at the Nomad Hotel, where I realized how calming the act of sitting down to apply skin care products or a bit of concealer was for me. I came home from that trip and immediately set up a 7-foot vanity with what used to be a dining table.
It looks out onto the palm trees in my front yard and is a place for decorative objects, lotions, potions and fragrances. I use it every day, and it encourages me to take a pause each morning and do something for myself that makes me feel good and prepares me to face whatever the day may bring.
H&T: What is your favorite room in your home and why?
TJ: My favorite room is the dining room, which is much more than a dining space. When I first moved in, I had a large dining table that was big enough to seat ten people, and the space was solely focused on dining. I quickly realized that, most of the time, it would be me. I didn't enjoy sitting by myself at a large table. I decided to make the space function as another lounge space where I can hang out, listen to my vinyl, have a flat white or read a book.
Out went the large table and dining chairs [and] in came a custom record cabinet made by a craftsman based in Venice, [California], named Peter Feeble, and a vintage extendable dining table I found at Rose Bowl Flea Market. Now, the space is perfect for me.
I'm obsessed with all the art in this room from the Cameroonian mask to the large cheeky drawing of the swimwear by NYC-based artist John MacConnell to the painting of a dancer I picked up at an art festival in Beverly Hills. All the elements in this room just make me happy to be in it, regardless of what I'm doing.
H&T: What advice do you have for busy homeowners who want to transform their homes into well-designed spaces?
TJ: The biggest piece of advice I have is to remember a home should always evolve as your life evolves and that it's never really finished, so don't feel like you need to hit an artificial deadline. The process of decorating and styling a home should take time in order to truly reflect your spirit.
Working with a designer is the beginning of the process, and you should add things to your space on top of the great foundation your designer has helped you to build. I'm constantly rearranging furniture and art as I add pieces. These days I even lend pieces out to friends when I fall in love with something else.
H&T: Is there a specific piece in your home that represents who you are and really shows your personality?
TJ: I don't think there is one piece that represents the entirety of who I am because I like to think I'm a complex intersection of identities and that I have many passions. I would say the two things that give a sense of who I am would be my art collection and my wardrobe.
My art collection includes pieces from flea markets and galleries from my travels, and some things of sentimental value. The collection touches on topics ranging from politics to Blackness to queerness to cheeky humor. My wardrobe is rich in color and bold silhouettes [that] defy conformity.
H&T: Any big plans or DIY projects you have for your home soon?
TJ: There's always something, or I'll see something that I love and redo a room around that. The one project on my list is painting the hallway and stairwell. The stairwell has a 20-foot ceiling, and I'm not a fan of heights. It's been on my list for quite some time for that reason.
H&T: What makes your home feel like a home? 
TJ: My home feels like home because it is built with things representing chapters in my life. In each room, I can look at something that reminds me of a moment from my past. I have these two vintage chairs in my living room that have been reupholstered multiple times. When I look at them, I think about this rainy day in 2009 when I found them at Angel Thrift Store in Chelsea. I remember my best friend cosigning the purchase and us trying to get them to my apartment in Harlem in the pouring rain. It's a wonderful memory. They were also a steal at $200.
I look at the sketch of my mom and remember how much she supported my dreams and showered me with love. My home reflects the life I've lived, and that is why I feel so connected to it. When I design spaces for others, I try to understand what pieces are truly meaningful to them and always incorporate those pieces into the design in an important way. Those pieces are the ones that create a connection with the building.
This article has been edited and condensed for length and clarity.
---
---
Decorate
Access design inspiration that infuses personality and culture into your spaces.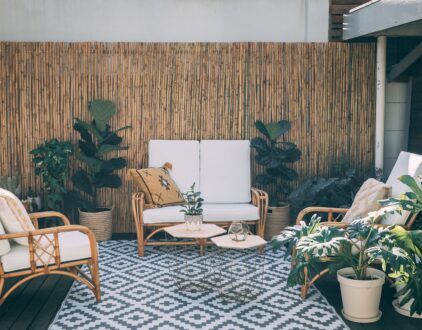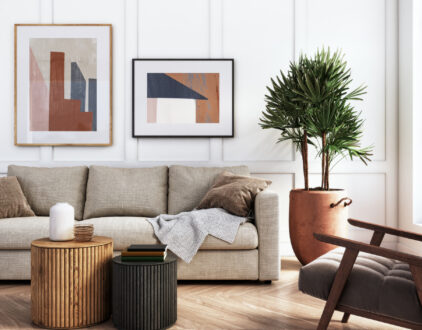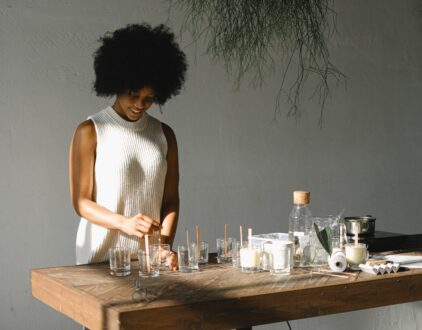 ---
Spaces
Whether it's luxury or ease, every area of your home should be as fabulous and unique as you.
FOLLOW ALONG ON INSTAGRAM
Find us on social for more home inspiration where culture, personal style, and sophisticated shopping intersect to help you create a home where you love to live.