A celebration was held to usher in the start of a new era: Home & Texture. Our brand was created with intention. It's a source of inspiration and community for multicultural readers purchasing homes, curating their spaces, and starting families. It's more than furniture and decor. Home & Texture is about diving deeper into your identity and expressing it through your home's design. 
To mark the launch of Home & Texture, we celebrated with the ultimate soiree. Our community joined us over food, laughter, and a united love for celebrating our cultures and perspectives. 
The event was held in Atlanta at The Garden Room, a garden bar and small plates dining experience. Entering The Garden Room is like being transported into a magical place. Beyond being an Instagram-worthy spot, The Garden Room is where you go to stimulate your senses. Located next door to Atlas at the St. Regis Hotel, this restaurant is adorned with flowers and greenery hanging delicately from the ceiling. The cherry blossom trees complement the green walls and bar area perfectly. 
View this post on Instagram
The glass-and-steel roof and sliding windows are the perfect juxtapositions of luxurious interior and exterior design. The eclectic design style features emerald green and magenta fringed pillows and floral fabrics. 
Additionally, the food at The Garden Room is just as incredible as the decor. Dishes like Soft Burratta (tomato jam, pistachio, grilled baguette), Westholme Wagyu (baby carrot, button mushroom, bacon, whole grain mustard jus), and Are You "Trippin" (vanilla apple jam, apple creme, spiced crumble) are amazing recipe inspirations for your next at-home dining experience.
View this post on Instagram
This year is all about curating our homes to be spaces we're proud to invite people into and celebrate life with.
If The Garden Room's design is your dream aesthetic, shop these pieces with the same whimsical vibe and childlike charm. 
Jump to Products
---
Green Velvet Barstools
These green velvet barstools are incredibly beautiful and perfectly compliment eclectic and contemporary design styles. The gold metal legs of the barstools work well with the curved back and vivid color. With carbon steel legs and metal construction, these barstools can hold up to 350 pounds. The plush padded velvet upholstery is comfortable and supportive of your back.  The barstools are easy to assemble and come with an anti-noise rubber bottom to prevent your floors from being scratched.  Whether you use these barstools for your kitchen island or breakfast bar table, it's a purchase that you'll be happy with for years to come. 
Porcelain Pink Dish Set
Add a pop of color to your dishes with this 26-piece square dinnerware set. Perfect for a party of 6, this porcelain pink set comes with dinner plates, soup plates, cereal bowls, and platters. These dishes are unique in their shape and color and a beautiful addition to any at-home dining experience with friends and family.  The dishes are great for hot and cold meals and are non-toxic. Dining with these dishes feels like you're at The Garden Room in Atlanta. Invite your friends and family over, cook a delicious meal, bring out your best wine and cocktails, and toast to the splendor of life. 
Art Deco Martini Glasses
These hand-blown Italian-style martini glasses are stunning additions to your dining space decor. The glasses are great for serving cocktails, martinis, and champagne. A gold rim on all the glasses adds a luxe detail to this beautiful set.  The glasses come in pink, yellow, orange, green, blue, and purple. A glossy finish and detailed lines make these modern glasses the perfect elevated finishing touch to your bar. Whether you want to drink out of these glasses to add a bit of luxury during your day or pull them out when guests come over, they're sure to elevate your experience. 
Faux Greenery Wall
If you want to truly feel like you're at The Garden Room, a faux greenery wall is a necessity. This set comes with 12 boxwood backdrop tiles. The leaves have a realistic appearance and are UV protected so that they won't fade easily. The wall can be used indoors and outdoors, including your backyard, office, porch, living room, and more.  Setting the wall up is easy and can be done in minutes. All you have to do is cut, trim, and shape. A manual is included with step-by-step information. This wall will perfectly complement colorful furniture pieces, dishware, and glasses. 
Gold Silverware Set
Every day should feel like you're in a whimsical space. Details are extremely important, especially when curating an at-home dining experience that rivals places like The Garden Room. This gold silverware set is modern, artsy, and incredibly chic.  This set comes with four dinner knives, four dinner spoons, four dinner forks, four salad/dessert forms, and four dessert spoons. It's crafted from stainless steel and won't bend or rust. If you're a contemporary design enthusiast, this set is the perfect addition to your dining space. If you want a meal similar to what's served at The Garden Room, serve a fresh beet salad, grilled Cornish hen, and dark chocolate mousse. 
---
---
Decorate
Access design inspiration that infuses personality and culture into your spaces.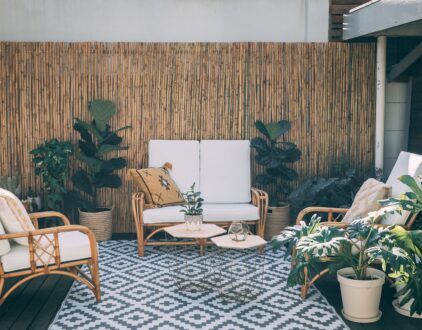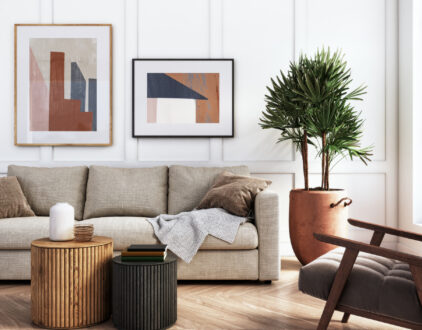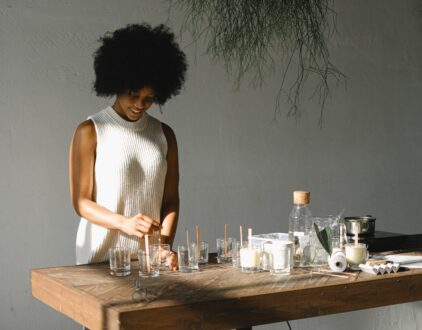 FOLLOW ALONG ON INSTAGRAM
Find us on social for more home inspiration where culture, personal style, and sophisticated shopping intersect to help you create a home where you love to live.