Lugging groceries inside can be a daunting task, especially after a long day at work or when you have a lot of bags to carry. It's not just the struggle of juggling multiple bags, awkwardly maneuvering through doors, and desperately searching for a semblance of balance while navigating stairs, but also the challenge of keeping everything organized and not dropping anything.
Fortunately, there are several easy solutions that can make the process of bringing groceries inside much simpler and help make your grocery shopping experience more manageable and less stressful. Whether you live in a large house or a small apartment, these solutions can make a big difference in your life and help you save time and energy. Discover how to make grocery shopping a breeze with these easy solutions for lugging groceries below.
Advantages of Using a Grocery Bag Holder
A grocery bag holder is beneficial for providing support when carrying bags inside your home. Holders tend to have large frames and reinforced bottoms that ensure the bags remain upright during transportation. This is great because you can forget about constantly adjusting or balancing the bags, leading to fewer spills and fewer groceries shifting when you carry them.
Using a grocery bag holder with wheels and adjustable handles can make carrying heavy bags more convenient. They allow you to roll your bags, which reduces physical strain and gives you more control over your groceries. This is especially helpful when moving through busy parking lots or uneven surfaces.
Grocery bag holders also help to keep your bags organized. They have compartments and pockets, which distribute the weight evenly and prevent your goods from getting crushed or damaged. They also make it easy to access exactly what you need when unpacking.
Another benefit of using a grocery bag holder is that they provide a sustainable storage solution. People can reduce waste and minimize their ecological impact by opting for reusable bags instead of disposable plastic ones. Many holders are made with sustainable materials, adding to their positive impact on Mother Nature.
Easy Solutions for Lugging Groceries Inside
Grocery bag holders provide stability, convenience, and organization, making the process much easier and more pleasant. By purchasing a dependable grocery bag holder, people can forget about the frustration of carrying too many groceries at a time and instead enjoy a less stressful shopping experience. To make your shopping experience more convenient, here are five holders to shop:
1
Reusable Grocery Bags, Army Green
For a grocery bag holder with a minimal design, try this set of Reusable Grocery Bags. Each bag includes recycled plastic reinforcement on its sides and bottom, which makes it super easy to clean and maintain. The bags also have a film coating that repels water, so you can use them without worrying about rips or tears from rainy weather or spills. Each collapsible bag is not only functional but stylish, too! They are perfect for organizing in your trunk and can be easily stored when not in use. Available in sets of three or four, it's great for carrying anything, anywhere. Plus, they are also eco-friendly and sustainable.
2
Carrycruiser
Presenting the grocery bag holder designed to make your arduous shopping trips much easier. This holder has a stable aluminum frame and can attach to a grocery basket for your convenience. You can rest assured that your groceries are secure as they are protected by the removable and washable lining with a toggle fastener. Not to mention, it includes a removable mesh inner pocket that provides extra storage for smaller items. It also features an adjustable, padded shoulder strap and a two-stage telescopic handle, so you can carry your groceries with ease. Its large, smooth-turning wheels and plastic base feet provide stability and easy maneuverability. And because it is made using premium polyester material with a water-repellent finish, this holder is built to withstand everyday use no matter the weather.
3
Foldable Compact Shopping Cart
This foldable trolley is here to make your shopping experience so much easier! Thanks to its retractable wheels, you can pack it up and transport it whenever you need it. Fold it three times to save valuable space in your trunk or closet. This adorable polka dot trolley is not only cute, but provides safe transportation of your groceries. Its main compartment can be easily closed with a push button. And it is made of water-repellent material and has edge protection on the lower back wall and a stable base plate. For added convenience, its pull handles can be attached with a Velcro handle for better comfort.
4
Jumbo Grocery Cart
This Jumbo Grocery Cart is the way to go if you purchase loads of groceries at a time. Made of low-carbon stainless steel, this cart is resistant to scratches and rust, making it extremely durable. It can hold up to 285 pounds of weight, thanks to its double-layer steel wire construction. The bottom of the cart features an intensive mesh with a bar that can support heavy loads without bending. Even better, this Jumbo Grocery Cart has a waterproof liner made of durable 600D Oxford cloth with PVC coating to not only protect your groceries but also ensure privacy. The cart comes with hard rubber wheels that make it easy to move around. Its front wheel can rotate 360 degrees, and its rear wheel has a diameter of 7.3 inches for convenient transport.
5
Heavy Duty Utility Shopping Cart
Try this Heavy Duty Utility Shopping Cart made of premium low-carbon stainless steel. It includes a strong and sturdy steel frame and wider design, ensuring it can carry up to 450 pounds of weight, which is twice the capacity of regular carts! This means you can easily transport multiple grocery bags in one trip. Its upgraded wire mesh bottom and reinforced bar are helpful for preventing any bending. Plus, its handle has thick padding for better comfort. This shopping cart has oversized rubber wheels on the back which are resistant to wear and noise. And you can easily navigate corners and tight spaces with the 360-degree swiveling front wheels.
Our editors love finding you the best products and offers! If you purchase something by clicking on one of the affiliate links on our website, we may earn a commission at no extra cost to you.
---
---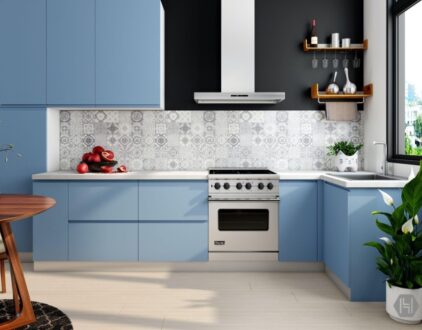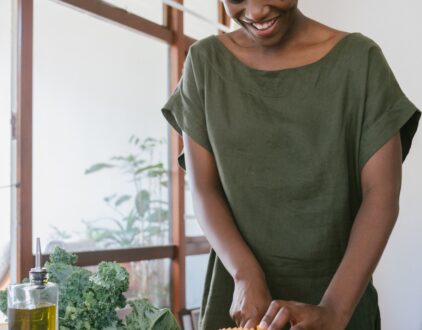 ---
Spaces
Whether it's luxury or ease, every area of your home should be as fabulous and unique as you.
FOLLOW ALONG ON INSTAGRAM
Find us on social for more home inspiration where culture, personal style, and sophisticated shopping intersect to help you create a home where you love to live.