Smaller homes can be cozy and intimate, but finding enough storage space for all of your belongings can be a challenging task. In a small living area, every inch counts. This can make it difficult to make the most of the limited storage space available. Fortunately, there are plenty of clever storage ideas for small spaces.
These ideas can help maximize your living area and keep it organized. With some creativity, planning and proper storage solutions, you can make the most out of your limited space and create a comfortable, clutter-free home.
Ways To Maximize Your Storage Space
An important aspect of small space storage is to use every inch of available space to its full potential. This means thinking vertically and using the height of the room to create storage solutions. It also means being creative with furniture. For instance, you can choose a bed with built-in drawers or a table that can fold up when not in use. If you have a small space and are looking for way to maximize, here are some tips to do that.
5 Storage Ideas for Small Spaces
If you want to create a functional, organized and comfortable home with little space, you definitely can. Here are five storage ideas for small spaces:
Use Multi-functional Furniture
One of the most efficient ways to maximize storage space in a small home is to use multi-functional furniture. For example, a sofa bed or a futon can serve as a seating area during the day and a comfortable bed at night. A coffee table with built-in storage compartments can be used to store books or magazines.
Install Shelving
One of the most popular storage ideas is using shelving to make use of vertical space and provide additional storage. You can install shelves above doors, around windows or in unused corners.
Utilize the Space Under Your Bed
Invest in a bed with built-in drawers or use storage containers to keep items organized and out of sight.
Use an Over-the-Door Organizer
View this post on Instagram
Over-the-door organizers are a great way to maximize space in a small home. Hang one on the back of your bedroom or closet door to store shoes or accessories.
Create a Wall-Mounted Desk
View this post on Instagram
If you don't have room for a traditional desk, then you can use a shelf. This can create a surface that can be mounted on the wall in your home office or study room. Add storage compartments or hooks for extra functionality.
Jump to Products
---
1
Bathroom Storage Cabinet
This bathroom storage cabinet is great for keeping your essentials organized and accessible. Due to its slim build, it can fit into tight spaces, which makes it ideal for bathrooms. Each sleek cabinet comes with three open shelves. The shelves gives you enough storage space for toilet paper, candles, small plants and wipes. Featuring a convenient shutter door, this cabinet allows you to conceal your personal belongings in style. In addition, this storage cabinet is made from polyvinyl chloride, which will keep your valuables safe from spills or splashes. The slatted design promotes air circulation to ensure that your towels, clothing or paper goods remain dry.
2
Double Laundry Hamper with Shelf
For a versatile storage solution, try this multi-functional laundry hamper. Featuring built-in shelving, it not only helps separating laundry, but also is great for organizing your space. The laundry hamper has a large capacity making it the perfect solution for families. You can use the two pull-out bags to sort your clothing for a quicker and more convenient laundry process. The double shelves allows you to store laundry detergent, bleach and other laundry room essentials. This storage solution is built with a sturdy metal frame and wooden panels and includes a base plate and adjustable feet. This basket is a strong and durable choice that you can enjoy for a long time.
3
Invisible Floating Bookshelves
To store your books in style, try this set of invisible floating bookshelves from STORAGE MANIAC. This strong and durable metal shelf creates an illusion that your books are floating in mid-air. The best part about this item is that each steel shelf can hold up to 15 pounds. It leaves you with plenty of wiggle room to store heavier valuables. The set includes four floating bookshelves, and each set is available in multiple colors. It allows you to mix and match the set with your furniture and home decor. All the tools you need to mount the floating bookshelves are included for a quick and easy installation process.
4
Storage Ottoman Bench
If you are looking for an inconspicuous way to store your valuables, then this stylish Storage Ottoman Bench from Ao Lei is the perfect choice. This ottoman not only features a classic design, but also is multi-functional. It can serve as a footrest, storage space and additional seating. It is a great choice for holding multiple items. It comes in multiple colors, so you can match it to the color scheme in your space. Its wooden legs make it a charming and sturdy piece that you can use for years to come.
5
Magic Pants Hangers
This 2-pack of magical hangers makes finding your favorite pair of pants so much easier. Each hanger holds a minimum of five pairs and allows you to hang your clothing horizontally or vertically. This helps you to keep your closet clean and orderly while maximizing limited space. This set of magic hangers is made from quality, stainless and ABS plastic, which makes them sturdy and long-lasting. Each set includes an anti-slip ring to prevent your clothing from slipping and sliding around. That feature leaves your clothes perfectly crisp and free from wrinkles.
6
Under Bed Storage With Wheels
One of the best ways to organize your bedroom is by using an under-the-bed storage organizer.  This organizer is made from premium quality metal. It is strong and durable, unlike traditional plastic options that can easily break under the weight of your valuables. It comes with a 360 degree rotating silent wheel system, which means you can transport it whenever you need to. The innovative wheels also include a locking function to keep it in place.
7
Pull Out Spice Rack
If you enjoy cooking, you probably have quite a few spices stored away somewhere in your kitchen. To keep organized, try this Pull Out Spice Rack from Sakugi. This spice rack is made from premium metal, which makes it extra durable for lasting use. Perfect for small spaces, this spice rack is a great way to keep your kitchen cabinets and counters neat and clean. It is designed to accommodate spices of varying shapes and sizes.
Our editors love finding you the best products and offers! If you purchase something by clicking on one of the affiliate links on our website, we may earn a commission at no extra cost to you.
---
---
Spaces
Whether it's luxury or ease, every area of your home should be as fabulous and unique as you.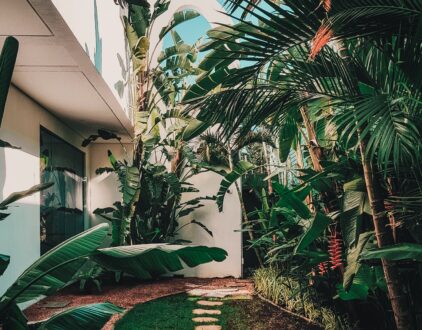 ---
Spaces
Whether it's luxury or ease, every area of your home should be as fabulous and unique as you.
FOLLOW ALONG ON INSTAGRAM
Find us on social for more home inspiration where culture, personal style, and sophisticated shopping intersect to help you create a home where you love to live.