If you're looking for a way to live more eco-consciously, consider a paperless lifestyle. Going paperless doesn't just reduce your carbon footprint; it streamlines your home, bringing a sense of calm to your personal sanctuary. In a world where practically everything is digital, going paperless is more attainable than ever.
Here's how you can start leading a paperless life:
Digitize important documents.
Instead of filing cabinets taking up room in your home filled with years of old documents, why not digitize them? Use a high-quality scanner or the scanner on your iPhone to digitize essential documents like birth certificates, tax records, and warranties. Google Drive and apps like Evernote are great cloud-based storage solutions. By digitizing your documents, you'll be able to easily search for them and access them from anywhere without having to look through stacks of paper.
Switch to e-bills and e-statements.
Most service providers offer paperless billing. Opt for electronic bills and statements for your bank accounts, credit cards, and utilities. It's convenient, allows you to check statements anytime, and is an eco-friendly option.
Leverage smart home tech.
Use voice-activated assistants to manage to-do lists, shopping lists, and reminders. You can get rid of sticky notes and scrap papers lying around your home.
Review your subscriptions.
Whether it's magazines, newspapers, or monthly snack boxes—if these subscriptions are not contributing to your well-being, then you should avoid them. Switch to digital versions of the subscriptions you love. This way, you avoid clutter, and it's a more eco-friendly option.
Declutter regularly.
The more things that you own, the more likely you are to lead a cluttered lifestyle. Regularly review what you have and what can be converted to a digital version.
Switching to a paperless lifestyle is an intentional way to reduce waste and lead a sustainable lifestyle.
---
---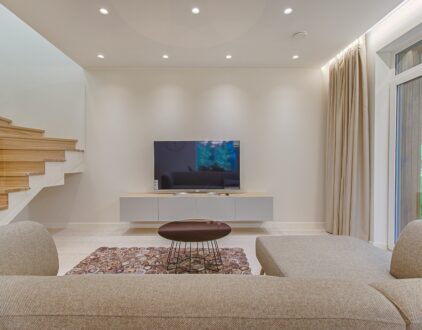 ---
Spaces
Whether it's luxury or ease, every area of your home should be as fabulous and unique as you.
FOLLOW ALONG ON INSTAGRAM
Find us on social for more home inspiration where culture, personal style, and sophisticated shopping intersect to help you create a home where you love to live.