Seasonal allergies can be a huge pain. Not only can allergies make you uncomfortable, but it can hurt your quality of sleep, too. When you have a runny nose or itchy, watery eyes, you might toss and turn at night, trying to make yourself more comfortable. And waking up in the morning having had little to no sleep is the worst way to start your day. To prevent your allergies from hijacking your rest, hypoallergenic blankets can help.
How Hypoallergenic Blankets Help Sleep Quality
Hypoallergenic blankets are made from materials that shoo away common allergens such as dust, pollen, pet dander, and mold. This protective barrier helps to reduce the risk of an allergic reaction, delivering a better quality of sleep.
As an added bonus, these blankets can also be more breathable than other blankets. This is perfect for regulating your body temperature to keep you cool as you sleep. Many blankets are designed to wick away moisture — i.e. sweat — so you stay dry, comfortable, and well-rested.
Types of Hypoallergenic Blankets
There are so many kinds of blankets to choose from, it all depends on your personal preference. If you need help falling asleep, a weighted blanket can reduce stress and anxiety so you can fall asleep faster without a care in the world.
Or if you tend to get too hot at night, a blanket equipped with cooling technology can help you stay cool even on the hottest summer days. And for the one who likes to lounge around, a lightweight throw blanket is perfect for cuddling up to read a book or catch up on the latest TV show.
8 Hypoallergenic Blankets for Seasonal Allergy Sufferers
Suffering from allergies can make sleeping more difficult than it should be. But fortunately, hypoallergenic blankets can help you get the rest you need. To break free from the sniffles, take a look at this list of eight hypoallergenic blankets for a more sound sleep:
1
Earthlite Premium Quilted Blanket
For a quality you can feel, try this hypoallergenic blanket from Earthlite. Made from microfiber material, this blanket is soft and comfortable to use. Plus, its quilted design makes it the perfect accompaniment to a homey and inviting space.
It's also reversible, which means you can flip it over whenever you want to switch up your style. And whether you sleep underneath it or snuggle up with it on the couch, this premium blanket is sure to help you relax and unwind.
2
Hospitology White Comforter
Upgrade your sleep quality with this super plush White Comforter from Hospitology. This comforter is made from the highest quality polyester material that contains no treatments and other additives, making it a great buy for people with allergies. And its microfiber shell is soft and smooth to ensure you sleep comfortably every night.
3
Revolutionary Cooling Comforter
If you toss and turn from feeling too hot at night, try this Revolutionary Cooling Comforter from Elegear. This soft, lightweight comforter is the perfect complement to your bedroom.
It uses Japanese Arc-Chill cooling technology to absorb your body heat so you stay as cool as a cucumber all night long. And its breathable material means you can rest soundly without waking up feeling too hot and sweaty.
4
Alpaca Wool Throw
If you've never experienced the softness that is alpaca wool, shop this super soft and smooth Alpaca Wool Throw! This hypoallergenic throw is not only suitable for allergy sufferers, but it's also breathable to keep you cool as you sleep.
It includes a gorgeous colorful print inspired by the rich Sud American heritage. And whether you use it to cuddle up with your beau or as decor for your living room couch, this extra-large throw blanket is a beautiful way to add a touch of cultural charm to your space.
5
Cotton Cooling Weighted Blanket
Experience sheer bliss with this cooling weighted blanket designed to ease your mind as your sleep. Each blanket is filled with premium glass beads that hug your body to provide soothing comfort as you sleep. And its quilted pattern is not only beautifully detailed, but it also helps keep the glass beads in place to avoid them spilling into your bed or washing machine.
6
Cooling Bamboo Waffle Blanket
If you prefer your room on the cooler side as you sleep, this blanket is the perfect accompaniment. The Bedsure Cooling Bamboo Waffle Blanket regulates your body temperature so you can sleep soundly without feeling too hot or too cold. And as its name suggests, this blanket is made from a premium blend of cotton and bamboo-derived rayon for a soft, cushiony feel that wicks away moisture with ease.
7
Vangao Fuzzy Throw Blanket
This fuzzy throw blanket is perfect for snuggling up on the couch with a book or loved one. It's made from soft and fluffy polyester for a comfortable sleep. Plus, you can reverse it for multiple, lasting uses.
8
Big Blanket Co Premier Plush
The Big Blanket Co. Premier Plush is the perfect complement to any home decor. Weighing in at a whopping 10 pounds, this extra-large blanket is great for cuddling with your partner or friends.
It's made from premium, breathable microfiber material that helps to keep you cool no matter the season. And its plush texture means you can enjoy maximum comfortability all night long.
Our editors love finding you the best products and offers! If you purchase something by clicking on one of the affiliate links on our website, we may earn a commission at no extra cost to you.
---
---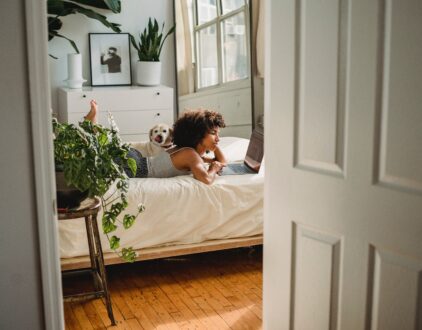 ---
Spaces
Whether it's luxury or ease, every area of your home should be as fabulous and unique as you.
FOLLOW ALONG ON INSTAGRAM
Find us on social for more home inspiration where culture, personal style, and sophisticated shopping intersect to help you create a home where you love to live.