Choosing how to design your bedroom is personal. Your room is a sanctuary and a place where you go to rest, rejuvenate and feel at peace. If you're a minimalist, decorating your room is all about simplicity, intentionality and functionality. Minimalist bedroom decor honors the ethos that less is more. It uses clean lines, natural materials and neutral colors to create a cohesive and robust aesthetic.
If you're on a budget, minimalist design can still be achieved. You don't have to break the bank to create a stylish, sleek, comfortable bedroom.
Here are some tips for minimalist bedroom decor on a budget.
Stick to a neutral color palette
Neutral colors, including white, beige, gray and black, are great for building a minimalist color palette. These colors are great for your walls, furniture and decor objects. They're easy to look at and add a chic finish to your space.
Keep your furniture simple
The first step to curating minimalist bedroom decor is to keep it simple. This holds true for the furniture you add to your space. Avoid bulky furniture that takes up unnecessary space in your room. Focus on sleek pieces that are functional with a simple design. Minimalist furniture should make your room feel spacious and free of clutter.
Invest in high-quality bedding
A proper bed looks beautiful in your room and is great for your overall wellness and rest. Invest in high-quality bedding for your room. Focus on bedding made from natural fibers, like bamboo, cotton or linen. A solid neutral color or simple design keeps your bedding minimalist.
Add a pop of green
If you're worried about your space looking boring or needing a finishing touch, then you should add a touch of green. You can add a small potted plant on your nightstand, a flower arrangement in a sculptural vase or a large succulent plant. Greenery will add tranquility and calmness to your bedroom.
Jump to Products
---
Shop These Minimalist Decor Pieces For Your Bedroom Under $100
Round Decorative Wall Mirror
Mirrors are a great way to add design and function to your bedroom. Before leaving your home to face the world, you must look in the mirror to ensure everything is on point. This mirror brings depth to your space in a clean, chic and minimal way. The round silhouette adds a minimalist touch to your space, while being inviting. Pair this mirror with a sleek black bed frame, vases and furniture with neutral tones, clean lines and functionality. A minimalist bedroom doesn't have to be bare. You can add all the furniture you need while maintaining a minimalist aesthetic.
Ribbed Black Vase
A vase is a perfect way to add decor and personality to your bedroom without overwhelming a space. It's also great for adding the finishing touches to a floral arrangement. Keeping fresh flowers in your space is a great way to practice self-care and brighten your mood. This minimalist and artsy vase will complement your flowers or pampas grass perfectly. This stoneware vase is handcrafted in Portugal and finished with a black glaze. A CB2 exclusive, every vase is unique and differs in tone. To clean this vase, wipe it with a soft cloth. It's a simple yet elevated touch to your dresser or night table.
Minimalist Black Picture Frame
This black stained picture frame is perfect for minimalists who appreciate simplicity and functionality in their home decor. Its versatile design allows for it to be hung horizontally or vertically, ensuring it fits perfectly in any space. The acid-free mat prevents photos from discoloring, preserving your memories for years to come. The frame is available in various sizes, allowing you to create a personalized picture wall with your favorite images. The plastic front protection is safe and enhances the visual appeal of your photographs, ensuring they remain the focal point of any room.
Black Knotted Double Taper Candle Holder
If you are looking for a candle holder that doubles as a piece of art, then this is it. This sculptural candle holder is a stunning addition to any bedroom and adds an intentionally artful piece to a minimalist-designed space. The matte black finish works well with the candle holder's natural texture. This piece is a CB2 exclusive and definitely a conversation starter. There's nothing more delightful than completing your nightly self-care routine in a space that feels like a sanctuary. Light your candles, set the vibes with a calming playlist and finish your skincare routine or take a hot bubble bath. However, you choose to spend time in your bedroom, this sculptural piece will bring you joy and inspiration.
Square Teak Storage Box
If you're looking for a place to store your knick-knacks or accessories without taking up too much in your bedroom, then try a discreet storage box. This box is a CB2 exclusive and allows you to store items in a chic way. Crafted with certified sustainable teak by the Forest Stewardship Council (FSC), this storage box is useful and environmentally friendly. Avoid leaving the box in direct sunlight for long periods of time to preserve its life and original finish. The box is easy to clean. Simply wipe it with a dry or damp soft cloth. Add this box to a black dresser with a neutral tone or black wall to bring your minimalist room together. For a pop of color, add artwork or a plant.
Our editors love finding you the best products and offers! If you purchase something by clicking on one of the affiliate links on our website, we may earn a commission at no extra cost to you.
---
---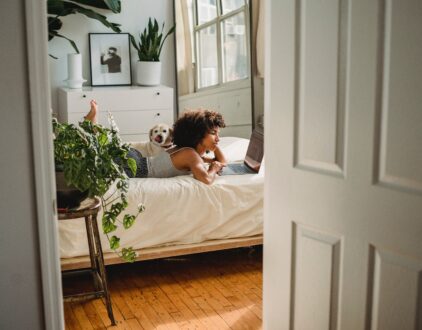 ---
Spaces
Whether it's luxury or ease, every area of your home should be as fabulous and unique as you.
FOLLOW ALONG ON INSTAGRAM
Find us on social for more home inspiration where culture, personal style, and sophisticated shopping intersect to help you create a home where you love to live.