Your bedroom is your most personal room in the house. It's a place where you go to rest at night, dream about the future and feel at ease. To fully enjoy your bedroom, it's important to curate a cozy and comfortable atmosphere. Although everyone has their own design preferences and color palettes, there are bedroom essentials that should be included to make your room both comfortable and functional.
Quality Bed = Quality Sleep
The most essential piece in your bedroom is a sturdy bed frame. Choosing a bed frame that will support the weight of your mattress ensures that your investment will last for years. High-quality mattress are bedroom essentials for a good night's sleep. Sleeping on a bed supporting your neck and spine is important. A good bed should reduce pressure points, so you wake up refreshed and well-rested. There are many mattresses to choose from to fit your personal preferences.
Comfortable Pillows and Bedding
Pillows are bedroom essentials that are necessary for a good night's sleep. Choosing a quality pillow that supports your head and neck will reduce back pain.
Quality bedding is another essential component to every bedroom. A cozy comforter and sheet set will make a huge difference in the quality of sleep that you get every night. It's important to choose bedding that is comfortable and breathable. If you're all about self-care and luxury, then splurge on bedding that will last for years.
Furniture Pieces
In addition to a great quality bed, other pieces of furniture, such as a nightstand or a full-length mirror, are bedroom essentials. Nightstands are great for storing your bedside essentials, such as a phone charger, lamp or alarm clock. Choose a nightstand with drawers to keep your items organized and out of sight.
A full-length mirror is helpful in making a room feel larger. Mirrors reflect natural light, which creates a more spacious bedroom appearance.
Here are some Home and Texture's top picks for these bedroom essentials that will aid in creating a cozy and functional room.
Jump to Products
---
Camilla Queen Monaco Citrone Channel Bed
It's time to elevate your sleep experience with the perfect frame. There are a variety of bed frames on the market to choose from covering all designs styles and layouts. The Camilla Queen Monaco Citrone Channel bed from Crate & Barrel is simple yet chic. The color is perfect for brightening your bedroom and can be dressed minimally with white sheets or eccentrically with a patterned sheets and a colorful throw blanket. The clean lines and upholstered frame will make you feel like royalty at bedtime.
Transition Turkish Silk Throw Pillow With Down Alternative Insert
Throw pillows are a great way to add extra comfort, color and style to your bed. You can find throw pillows in every style, color, shape, size and texture. Add a few throw pillows to the mix, if you want to style your bed minimally. However, if you're all about maximalism, you can mix and match throw pillows and have fun filling your bed with throw pillows galore. This Turkish silk throw pillow works beautifully in bohemian, contemporary and minimalist bedrooms. The silk threads are hand-loomed to create a luxe throw pillow fit for the finest of bedrooms.
Luxe Starter Sheet Set
Bedsheets are essential for a good night's sleep. You want to choose soft and comfortable sheets that have great quality. Feeling luxurious when getting into bed is a must. If you want sheets that are easy, then opt for linen sheets. Bamboo sheets are great for regulating your temperature at night. To protect the health of your hair and skin, sleep with silk sheets. This luxe starter sheet set by Brooklinen is a great option to start with if you're looking for new sheets. The set comes with a fitted sheet, a flat sheet and two pillowcases. The cotton sateen sheets are luxurious and buttery smooth.
Down Comforter by Brooklinen
A comforter or duvet is the finishing touch to a comfortable night's sleep. Whichever choice you make, make sure it's ultra-cozy, so that you sleep like a baby. This down comforter by Brooklinen is a cult favorite. It is made with a 100 percent long-staple cotton sateen shell, this comforter is hypoallergenic and treated with ultra-fresh antimicrobials. You can choose between lightweight, all-season and ultra-warm, depending on how you like to sleep at night. Lightweight is ideal for hot sleepers. It has a cloud-like softness that comforts you. All-season is perfect for use all year round. Ultra-warm is great for those who love to be extra cozy when they sleep. It's the ideal comforter for snuggling at night.
Continental Bedding Goose Down Pillows Set of 2
Investing in pillows that give the right amount of support during rest is important. Regardless of the type of sleeper you are having a great quality pillow will help you wake up every day without feeling sore. A great pillow is essential for those who deal with neck and back pain. This 100 percent down goose pillow is soft and fluffy and supports your body for a pain-free morning. With a hotel-like feel, these hypoallergenic bed pillows are engineered ergonomically to give you the best night's sleep without falling flat. This set includes two queen-sized pillows with 300 thread counts.
Helix Luxe Midnight Medium-Firm Queen Mattress
Purchasing a mattress is a huge investment, but it is well worth it. You should choose a mattress that has exceptional quality because it will affect how well you sleep at night. This medium-firm mattress combines foam and spring technology to create something that is perfect for side sleepers. The memory foam is great for pressure point relief on your hips and shoulders. This mattress is also a great choice for couples who have different preferences. This medium-firm mattress is the most popular in the brand's luxe series. It has a 15-year limited warranty. You can try it for 100 nights and receive a full refund if you are unsatisfied.
Our editors love finding you the best products and offers! If you purchase something by clicking on one of the affiliate links on our website, we may earn a commission at no extra cost to you.
---
---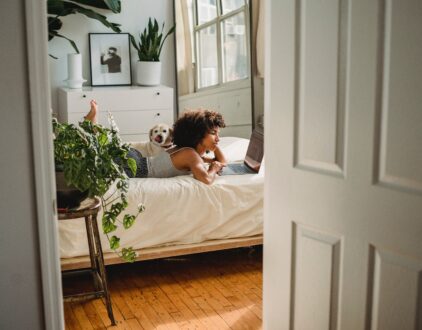 ---
Spaces
Whether it's luxury or ease, every area of your home should be as fabulous and unique as you.
FOLLOW ALONG ON INSTAGRAM
Find us on social for more home inspiration where culture, personal style, and sophisticated shopping intersect to help you create a home where you love to live.